I am glad to announce that Lin_guider 3.1.0 has been released. It can be found here: http://sourceforge.n...ects/linguider/
Lin-guider is an open source astronomical auto guiding software for Linux.
Supported cameras:
* QHY5, QHY6, QHY5L-II-M, QHY5L-II-C, QHY5-II
* Meade DSI II Pro
* Atik (all except Atik GP)
* Starlight Xpress
* ZWO ASI
* Various webcams
Supported Pulse drivers:
* FTDI chip-based
* parallel port-based (LPT)
* GPIO-based
* GPUSB devices
* Direct support for Celestron Nexstar protocol based mounts
* All supported cameras with ST4 port.
What is new in 3.1.0:
* Make reticle and square dragging responsive (independent of the exposure time)
* Reticle can be moved if the square is over it
* Last used square is now saved in configuration
* Make ASI buffer cleaning optional for better performance
* Add new dithering commands GET_DISTANCE and DITHER_NO_WAIT_XY
* Accept commands over TCP or Unix Sockets(default)
* Make Atik and SX drivers prefer the first camera with ST4 port
* Fixes in Atik, ASI and QHY5 drivers
* Created lg_tool.pl to be used as a dithering agent or as standalone application
Here is a screenshot of Lin-guider 3.0.0 used for guiding the 2-meter Ritchey-Cretien telescope with the Echelle Spectrograph of Bulgarian National Observatory (the hole in the center is where the optical fiber is, so it is guided with what is left from the stellar image, trying to keep the most of the starlight in the optical fiber for the spectrograph):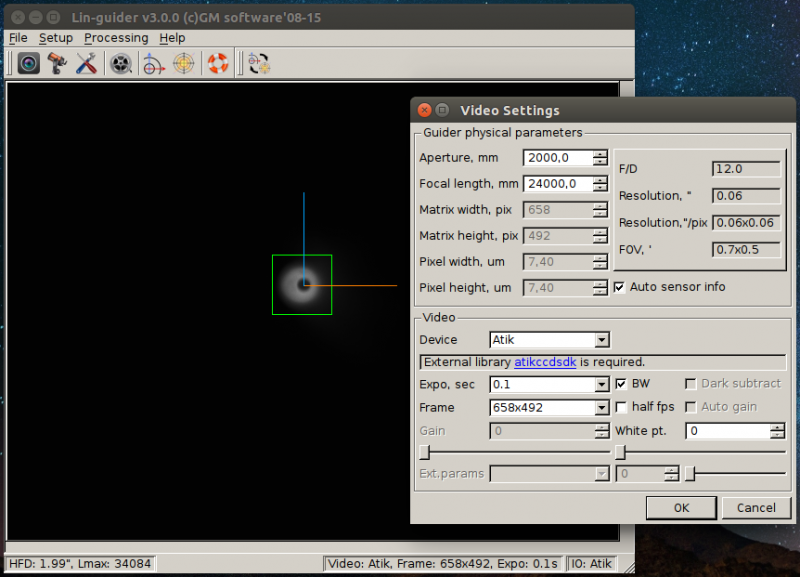 Edited by rumen, 14 April 2015 - 06:30 AM.