I had posted a brief first light review here soon after capturing my first image on the Avalon M Uno. However that was with my SVR90T. I promised to do a formal review after more time with the mount and after more challenging long focal length imaging with the 9.25" Edge HD. So here it is. Please note that my technical knowledge is limited. I have no background in engineering, mechanical design or software development. So this review is more a condensed blog by an amateur imager looking to produce high quality images with as little trouble as possible.
When I first began looking for a new mount about a year ago, I knew for the most part what I was looking for. I had been imaging with an LX200 fork mount. I loved the simplicity but the periodic error, tracking and guiding left a lot to be desired. I was able to get decent images, but it required a lot of work in processing, particularly with star rounding techniques and sharpening. Although on a good night I was able to sleep the night through, as the fork mount required no interruption for a meridian flip, this was inconsistent. Guide stars were frequently lost, and often I woke up to mostly wasted subs. I wondered why, when many large professional research grade observatory telescopes are fork mounted, there were no commercially available equatorial fork mounts that could track as well as the readily available German equatorial mounts. I began to inquire about GEMs that would allow imaging well past the meridian before requiring a flip. And while a number of them could, none could do it consistently without regard to latitude, target altitude, pier configuration, etc. And no one with a GEM could image all night, tracking a target from horizon to horizon without a flip as I had become used to. So I considered a Losmandy G11 with Ovision worm, which seemed to be an excellent performer for the cost, but mixed reviews and tinkering requirements were a concern. Being used to and comfortable with Meade, I looked at the LX850 but quickly realized that it was way too massive to be portable, since I am in and out of the garage with my setup. Also I wasn't sold on the Starlock concept, nor would I need it with my OAG. I then began looking at "entry level premium" mounts that would handle a 30-40 lb imaging load, such as the Takahashi EM 200 Temma II and Astro Physics Mach 1. The Software Bisque MyT was not yet available.
However, none of these offered what I really wanted, which was horizon to horizon flip free imaging. I know that many fully automate the flip successfully with plate solving, automation software, encoders etc., but I believe that it is a small minority with portable mounts that can truly sleep through a 6-8 hour imaging session and wake up without a wasted sub. And in my opinion why would anyone want to deal with a flip, which is unnecessary and inherently inefficient, if they didn't have to. Then I came across an article describing the original Mesu mount from 2008 which was exactly what I was looking for: a flip- free friction drive mount with a reported native periodic error of 2".
http://www.astro-ima...ount_Engels.pdf
Unfortunately, I soon learned that this version of the Mesu was long discontinued. Finally after placing myself on the obligatory six month waiting list for a Mach 1, a Cloudy Nights member told me about the Avalon mounts from Italy, specifically the M Uno, a belt driven, single arm equatorial fork mount with an imaging capacity of 20 kg. I read the few reviews available including Ted Saker's article in Astronomy Technology Today.
https://www.astronom...45_pgs42-51.pdf
And after seeing some amazing images being produced by M Uno users in Europe, I wondered why I hadn't known about these mounts before and why they weren't more popular in the US. Anyway, after some discussion with Ed Thomas of Deep Space Products (the sole US distributor) I was quickly sold. I purchased at discount the demo model used in the ATT article in August. Ed was and remains a pleasure to deal with, as has Luciano Dal Sasso at Avalon.
Arrival and Unpacking:
Within a week of ordering, FedEx arrived with two boxes. The box containing the tripod was mashed up nicely, though the tripod itself, other than showing minimal use wear, was unblemished.
http://www.pbase.com...image/160640760
I purchased the mount with a Geoptik Hercules mount. It is a heavy duty, attractive wooden tripod with more than 125 kg capacity and quite well matched with red metal trim. It came with a glossy red soft nylon Avalon logo bag.
http://www.pbase.com...image/160640763
http://www.pbase.com...image/160640761
Though the Avalon T-Pod 110 is somewhat lighter and might have made more sense, the Geoptik is very sturdy, demonstrating minimal image vibration and quick damping even after a direct hit.
The mount was shipped in a matching red re-enforced soft nylon case. While packed securely, I wish the foam was more custom form fitting for future transport. Perhaps it was because this was a demo model.
http://www.pbase.com...image/160640765
The mount itself is a work of art. Its Ferrari red finish is superb and the materials, anodized aluminum, stainless steel and brass are obviously high quality and precision machined. There is no plastic (other than the knobs) or decals. Even the prominent "Made in Italy" is machine etched into the fork arm. The base plate on the Geoptik is color matched and the mount, when seated, moves smoothly with no stiction when making Azimuth adjustments. The altitude adjustments are similarly smooth.
http://www.pbase.com...image/157081134
The mount came shipped with a two pin European style AC adapter which I had to exchange, and the M Uno manual was somewhat dated referring to the older synscan controller rather than the current StarGo system. And the instructions seemed to lose a bit in the rough translation from Italian. A separate manual for the StarGo controller, however, was also sent on a thumb drive. This manual has since been updated and is available online.
StarGo Controller:
A brief word on the StarGo control system. I had some early growing pains when trying to connect various ASCOM based programs with StarGo. However, Luciano Dal Sasso at Avalon and his team, have been immediately available to not only answer my questions, but also to promptly implement changes in the firmware when glitches were noted. The controller is already up to firmware version 4.4.6(?) and I've seen at least four different versions in the past year, reflecting the fact that it is an ongoing work in progress. Despite this, I find it to be a very intuitive system with great capabilities and compatibilities. The software and ASCOM drivers presently run seamlessly with Starry Nights PP7, Sequence Generator Pro, Alignmaster, PHD2, Maxim LE, StarTarg, Optec Focuser, Team Viewer and a web browser simultaneously on my laptop with no conflicts.
http://www.pbase.com...image/160640788
I believe that the fact that StarGo is indeed a work in progress is a good thing. It seems to be a system that is remarkably adaptable and upgradeable to new technologies and will not likely become outdated.
Two minor points:
1) The StarGo hand controller at first seems somewhat out of place, more Fischer Price than Avalon in terms of it being light plastic, and with minimal functionality outside of directional, speed and focus control. There is no display, data base or go to on the handset.
http://www.pbase.com...image/160640769
So you need a laptop in the field, even if just observing. However, StarGo allows connection via Bluetooth, at least with tablets and android devices (i-phone compatibility is pending, I believe). Also the control system can manage focusers, filter wheels, rotators and other accessories which can connect directly to the aux ports on the control box. So I rarely use the hand controller.
2) In the case of the M Uno, the StarGo control box is embedded in the fork base which is a little awkward as the connecting cables can become disconnected as the fork rotates, though this hasn't happened since I followed Luciano's advice regarding cord routing. All of the cords can be conveniently routed through the aperture where the polar scope would normally sit. However this, and the fact that the saddle plate with scope attached blocks the polar scope view, makes using the polar scope impossible when assembled in imaging configuration. But Avalon can provide a bracket that will side mount the polar scope. Also there are saddle plate extenders that are "columned" allowing polar viewing between the columns when the scope is centrally attached.
http://www.pbase.com...image/160640766
These extenders also allow the mounting of longer optical tubes which would otherwise hit the fork base. I drift align every session so never use the polar scope in any event and just leave the cords and scope on.
Balancing:
This is fairly simple in both axes due to the single fork arm design and the absence of stiction. It requires a minimum of counterweights. And smartly, the mount has attachments for weights on either the scope side or opposite the scope. Balancing my SVR90T refractor requires no counterweights at all, and my 9.25 Edge HD with dew shield, finder scopes, Optec focuser and QSI 540wsg requires only 5.5 lbs of counterweight on an optional 80 mm bar (the mount comes standard with a shorter bar). It would require even less than this if I chose the fork arm configuration that would be most appropriate for this SCT. However, I chose this specific configuration so that I could use it for the refractor as well and not have to dissemble the fork when swapping scopes. Finally, because it is driven by a tooth belt / pulley system, it requires no "east-heavy" or off balancing of any kind. Just balance it perfectly and it will track perfectly. No guess work of any kind.
The fork arm that holds the optical tube is meant be user adjusted with respect to saddle plate to polar axis distance. Lighter tubes, such as small refractors would obviously be further from the polar axis and can be thus balanced without counterweights. While this adjustment is described as simple, I found it to be not so much so (though easier each time) and would be difficult at best for one person to do in the field. There are two (A and B) sets of positioning holes on the fork arm and three sets on the fork arm base for attaching the lateral shaft plate which holds the two components together.
http://www.pbase.com...image/160640859
This allows for six different positions, and therefore six fixed distances to place the saddle plate from the polar/RA axis. Initially I was using the A3 position for the refractor, and the B1 position for the SCT. I eventually determined that I could use the A1 position for both scopes if I changed the lengths of the saddle extender columns (multiple lengths are available from Avalon) and placed weights on the scope side when using the refractor.
http://www.pbase.com...640786/original
http://www.pbase.com...image/160640784
This was certainly much simpler than dissembling the fork, and now allows for easy scope swap. If there were a way to manage this fork arm adjustment in a continuous dial in fashion, similar to making alt-az adjustments, without having to dissemble the mount, it would greatly simplify the process.
One note: A freak mishap with a hanging automatic garage door opener cord which brought my setup crashing to the concrete. Beware of this:
http://www.pbase.com...image/160640779
Or your mount could meet the garage door.
http://www.pbase.com...image/160640781
Or the concrete floor.
http://www.pbase.com...image/160640780
Afterwards I thought that I noticed a small amount of stiction in the RA axis which might have affected my ability to achieve perfect balance. However, after a brief discussion with Ed, I was promptly emailed a custom made video from Luciano showing me how to simply address the problem. Stiction gone.
Portability and Remote Capabilities:
Portability was one of my requirements. Despite its 20 kg imaging capacity (and I suspect this is conservative), the mount itself weighs only 15 kg. I can easily lift and carry the mount loaded with my refractor to and from the garage, though the 9.25 Edge is a bit more of a chore, and I usually take off the OTA first in that instance. An 11 Edge would be easily moveable on a Scope Buggy. As mentioned, swapping one tube for another is a snap. And the mount is easily separable from the tripod. I would have no concerns travelling often to a dark site with this setup.
Because this mount has no encoders nor homing sensors and requires guiding for optimal performance, it would not seem to be well suited to permanent remote imaging. However, Avalon is working on just that using the M Uno as its integrated mount with the Avalon Merlino Personal Remote Observatory.
http://www.avalon-in...ote-observatory
Although at this point, 10 Micron and Software Bisque have better offerings for remote imaging, I'm curious to see how this develops. I suspect that Avalon will consider encoder equipped mounts and have heard that a mount with greater load capacity is in the works.
Polar Alignment and Pointing Accuracy:
Interestingly, the mount came with no documentation about or instructions regarding use of the polar finder scope. It seems like your basic non-illuminated CGEM type polar scope with simple setting circle and etched big dipper and Cassiopeia.
http://www.pbase.com...image/160640768
As mentioned it can either be mounted on axis or with the side bracket. I've never used it so I don't need to know more about it.
The M Uno / StarGo does not have a pointing model, and though I understand Avalon is working on a multi star alignment routine, I don't find it necessary. Even at a focal length of 2350 mm, after setting the home position and doing a single star sync, the next chosen star regardless of location is always on my chip. And if I sync on a star near my target, the target is always very nearly centered. This might be different if I had a lot of cone error. Plate solving / centering is making pointing models somewhat obsolete anyway.
Mount Operation and Performance:
This mount is very quiet. In the garage at ten feet away, even at maximum slew speed (up to 1400X sidereal at 12V) I cannot hear it. And when close enough to hear, the high pitched musical note is delightful. The innovative belt pulley drive system has other benefits. The complete absence of backlash is wonderful, one of characteristics that makes this mount so superbly guidable. It is advertised as maintenance free and though I can't fully comment after a year, I would not be surprised if, barring another freak accident, I never had to touch the innards again. Periodic error as we commonly understand it with worm/gear drives is not applicable and PEC is not needed. However, even multistage belt driven mounts have periodic error, but it is averaged over the four pulleys, over a much longer cycle and is easily guided out. So again the numbers are not truly applicable if guiding. I've not measured mine, but it has been measured in the 6-8" range.
http://www.unitronit...-Muno-Mount.pdf
Guiding performance is subjectively superb. The guide graphs and RMS error are, as would be expected, dependent on atmospheric seeing (which is typically below average here in northern NJ). Imaging with the 9.25 Edge HD at f/10, on nights of uncommonly good seeing, the total RMS error will be in the 0.3" range, though more typically is in the 0.4-0.6" range. This is a typical guide graph:
http://www.pbase.com...image/160640787
Others using the M Uno have reported better numbers. However, with this mount, numbers are just numbers and I am often astonished by the quality of the subs despite of the PHD graphs. I have had sessions when conditions were so poor due to wind and bad seeing, that the guide trace looked more like a polygraph, and RMS was at best in the 1.5" range. Yet somehow I wound up with impossibly round and relatively tight stars. Star FWHM is also of course seeing dependent, but is in the 2.5" range on good seeing nights for my skies with roundness always less than 0.05 as measured in Maxim. Even when absolute corrections are large, it seems that the mount responds so quickly to pull the star right back on pixel. It has been suggested that because of the elasticity of the belt system, the Avalons would perform poorly in windy conditions. While I have had good results in mild to modest wind, the one and only night in an entire year of imaging that I had out of round stars and had to discard subs was on a night with fairly steady wind at 10-15 mph with strong gusts. I suspect most mounts would have suffered under those conditions. I don't typically set up on windy nights anyway, so this doesn't bother me. My sub exposure duration is no longer mount limited. I have begun imaging faint targets with one hour long subs at FL 2350, still with round and tight stars. If it weren't for star saturation, I could probably expose indefinitely.
Support:
I had reservations initially about purchasing this mount because it is relatively unknown here in the US. I am used to discussing gear issues with other users here and on other forums, and was concerned that the support would be lacking. This should be no concern for anyone interested in this mount. Ed Thomas of Deep Space Products and Luciano Dal Sasso of Avalon have been prompt and thorough in their responses to my many inquiries. In fact, I've never had better service with any product that I have owned. Luciano is an amazing resource, and a developer who seems to thrive on solving problems and on constantly improving his product. He has drawn diagrams for me, created help videos, and offered to video conference when I had software compatibility issues. Ed created a Yahoo support group that had one member when I joined, and now has more than forty. It is truly a pleasure interacting with both of them.
Conclusion:
This mount is absolutely everything that I was looking for. It is highly innovative. Despite being an equatorial fork mount, it tracks and guides as well as a high quality GEM. It is beautiful in its simplicity. It has not once in a year failed to image a target uninterrupted from horizon to horizon. There are other excellent mounts in this "entry level premium" price range, including the AP Mach 1, the SB MyT and the Mesu Mount 200. But clearly, given my needs I made the right choice. In the end if tight round stars at a long focal length, and unlimited sub exposure duration on a portable mount is the ultimate goal ... then the Avalon M Uno is all that … and without a meridian flip.
Thanks for reading and looking. Images taken on the M Uno can be found in the first couple of pages of the "latest images" gallery here:
http://www.pbase.com/dsantiago
Derek Santiago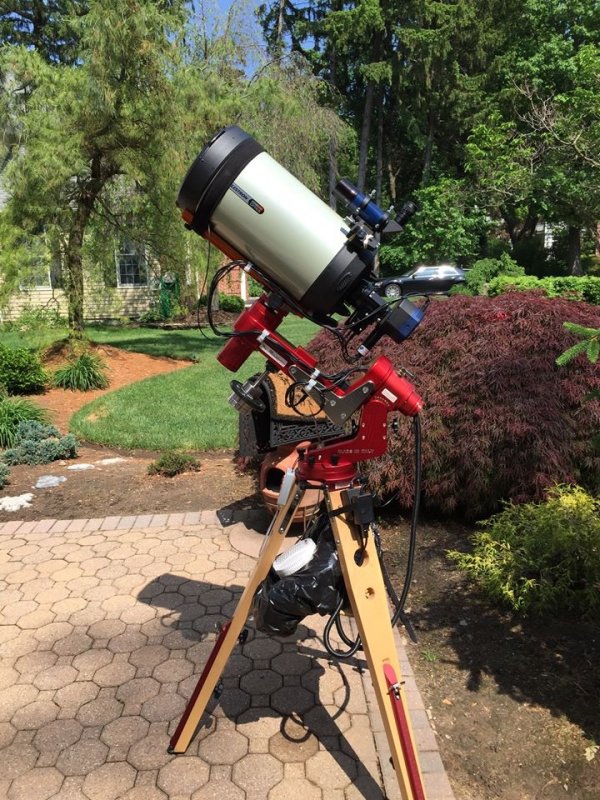 Edited by schmeah, 10 July 2015 - 11:15 AM.