Greetings everyone!
I hope that this is the proper place for this post. Please let me know if it is not, and I will work to remedy it.

For a few months, I've been working with my ASI174MM and various software platforms to attempt to use the camera for long exposure astrophotography, even though it was specifically designed for planetary work.

Long story short, I settled on a software program that I felt was capable of doing the things I needed it to do, but the camera was quite noisy when the shutter was left open. What doesn't help is the fact that in North Texas, the temperatures are still in the low 90's and upper 80s well after sundown. I decided that a cooled camera would be better - but I don't have the funding right now to allow such a large purchase. Instead, I'll have to make do with what I have.

I researched online, and found a thread on another forum (I will link to it in a comment if requested - and linking is permissible) which outlined how to use a peltier cooling device to cool ZWO cameras. The modifications looked simple enough so I spent a few days this past weekend buying the parts and building my own hacker-cooled camera.

I'm posting from my work computer and don't have all the photos, but as soon as I get home I will post more photos of the actual camera. What I do have is a photo that I created from taking dark frames with the ZWO ASI174MM camera. The right column of images are 180s sub exposures with 10s dwell between each image. The left column are also 180s with a 10s dwell - however the TEC was allowed to run for 5 minutes before that series was exposed, and continued running for the entire acquisition.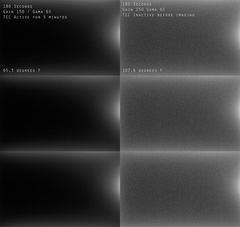 As you may be able to see from this - there was a substantial drop in sensor temperature, and a huge reduction in the thermal noise produced by the chip. Amp glow is still an issue - but I played around with the Gain settings and nearly eliminated it with a gain setting of 50 as opposed to setting of 150 from the tests.

Again, as soon as I can tonight, I'll upload more photos of my modifications from this weekend.