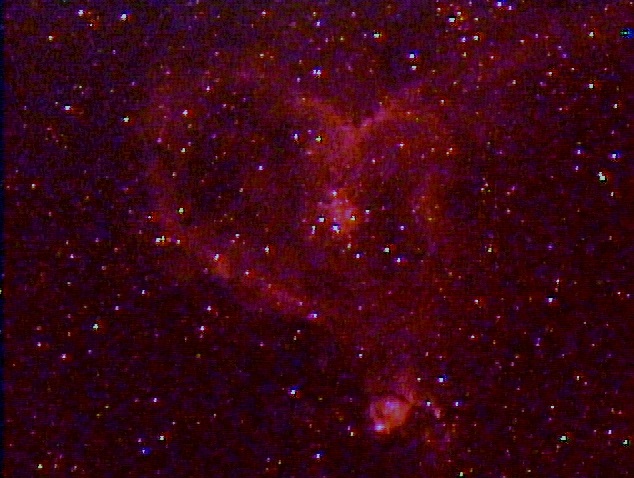 This is the first image that I have saved from my new APU-1 camera. All factory default settings, except for some trial and error to find the right integration (x1024) and gain (48). I use it to start this thread to to set a tone and to keep out mean spirits.
My camera saw its first light in two half-night sessions separated by a week and 3000 miles. During this September-December period I shuttle between work in Massachusetts and California and home in Seattle. I have a scope at work in Massachusetts that you can see here http://www.cloudynig...etup/?p=6241876. This is what I wanted to use to try out the camera. But it turned out that the old CG-5 mount, that I have not used for over a year was not tracking sufficiently well for the long focal length of the SCT. So the best I could do was to use a 85mm f2 camera lens that I had handy. The short focal length and resulting wide fields don't require good tracking.
I don't have experience with sophisticated analog video cameras that have many settings like the APU-1. My first camera was a Samsung SCB-2000 but I used it only with its factory defaults for all settings except integration times. I liked the Sammy but stopped using it entirely, when I got my Lodestar more than a year ago. The Lodestar is a totally different animal that is used in conjunction with a computer. I still wanted a "real" video camera to be used mostly on our camping trips where computers are banned (by my wife). After the Lodestar the Sammy was no longer up to my expectations.
In line with its designated future use, I also wanted to do the first light without computer or software use. My laptop still got involved but solely as a display device through a Honestech frame grabber. The APU-1 has a unique hand controller that allows to set most capture parameters. It has four dials and buttons to control image quality: Integration, Gain, Black point and Gamma. Other parameters can be set through an on-screen menu system. During the first light I used almost exclusively the hand controller. The only exception was setting white balance through the menu system.
You have seen the first image that I got through the 85mm f2 lens and a 7nm H-alpha filter with Integration=x1024 (17sec) and Gain=48 (75%). My observing perch is over a brightly illuminated area and under the Boston light dome. I always use strong NB or UHC filters. It was an unexpectedly pleasant surprise how easily the first decent image popped up. Nice for a first capture but too red for my taste. So I fiddled with gain, gamma, black point and white balance until I got an image with the dark background that I like. Here it is the Heart Nebula against a dark grey background.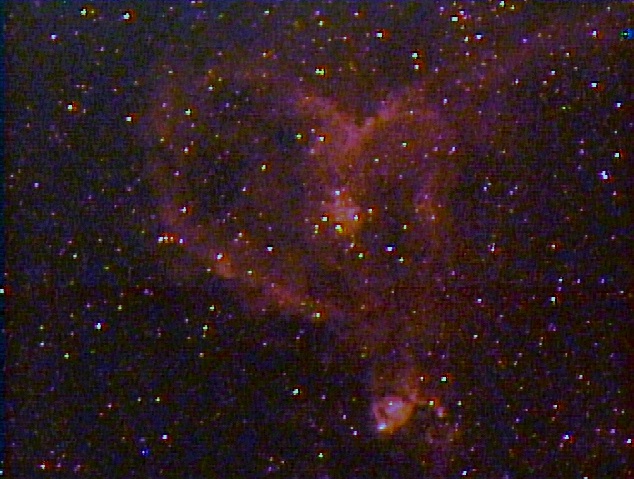 The next object was the North America Nebula with essentially the same settings.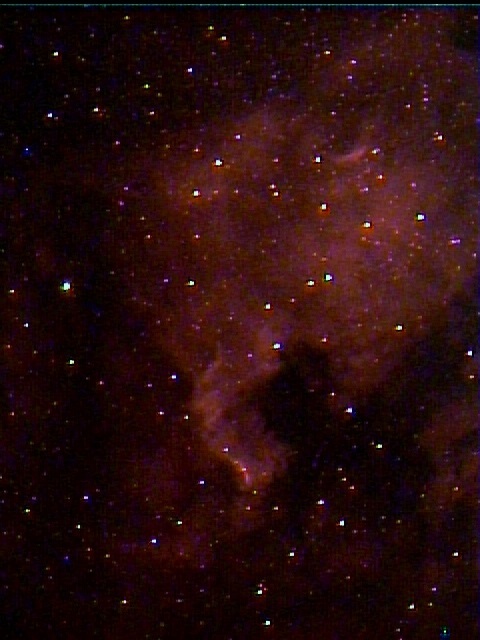 I saved dozens of images while experimenting with the many setting all unfamiliar to me. As this was a first light, I concentrated on the camera and the images and didn't write down all the exact settings that went with each capture. The integration times I quote are exact but when I say Gain=48, that may mean anything between 44 and 54.
With all the time lost due to the mount tracking problems and the myriads of settings combinations I tried with the unfamiliar camera it became late, when I got this far. (You can see the time stamps in the file names.) The cops came up twice to see what was going on on the fire escape of a building otherwise deserted for the long weekend. (They liked the Heart and the NorthAm and concluded that I was harmless.) It was time to call quits for the first half of the first light without the camera ever being attached to a real telescope. I will continue in a second post.
Please feel free to ask any questions relating to the operations of the camera or to my experience with it. I will answer them to the best of my abilities. I would also appreciate any comments and suggestions from those of you, who have more experience with these analog video cameras and all their settings.
Please respect the desire to limit this thread to the discussion of technical matters related to the working and the use of the APU-1. Posts and comments on the maker of the camera and its business are off topic on this thread.
Clear Skies!
--Dom
Edited by Dom543, 15 September 2015 - 01:26 AM.