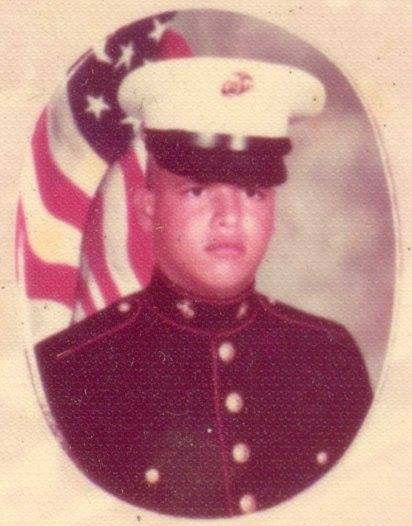 Build your own Bluetooth interface
Started by
FlyBD5
,
Dec 09 2015 03:58 PM
Posted 01 February 2016 - 12:28 AM
---
Posted 26 September 2017 - 04:59 AM
Hi all
I have made a BT adaptation for the SynScan HandControler of a SkyWatcher AZEQ5 mount. OK, I know it's not a Celestron mount, but the solution could be identical (or at least very similar).
I have used it with DSO Planner and later with SkySafari 5 Plus.
The difference is that for a Celestron mount, the Celestron communication protocol must be selected in the DSO Planner or SkySafari, instead I use the SkyWatcher protocol. Nothing fancy here to "hack".
First time I have used an external BT-RS232 dongle, which worked just fine, but I didn't liked the external unit plus additional power cord and so on.. too much hassle for me during the night. I wanted a more compact and easy to use solution.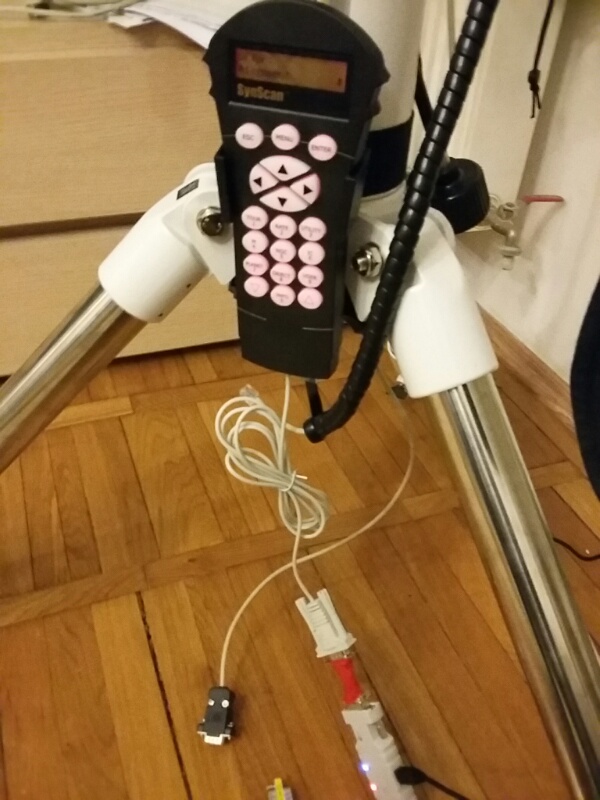 Therefore, I have used a HC-05 BT to RS232 module. This is fairly cheap on ebay or so (less than 10$ usually).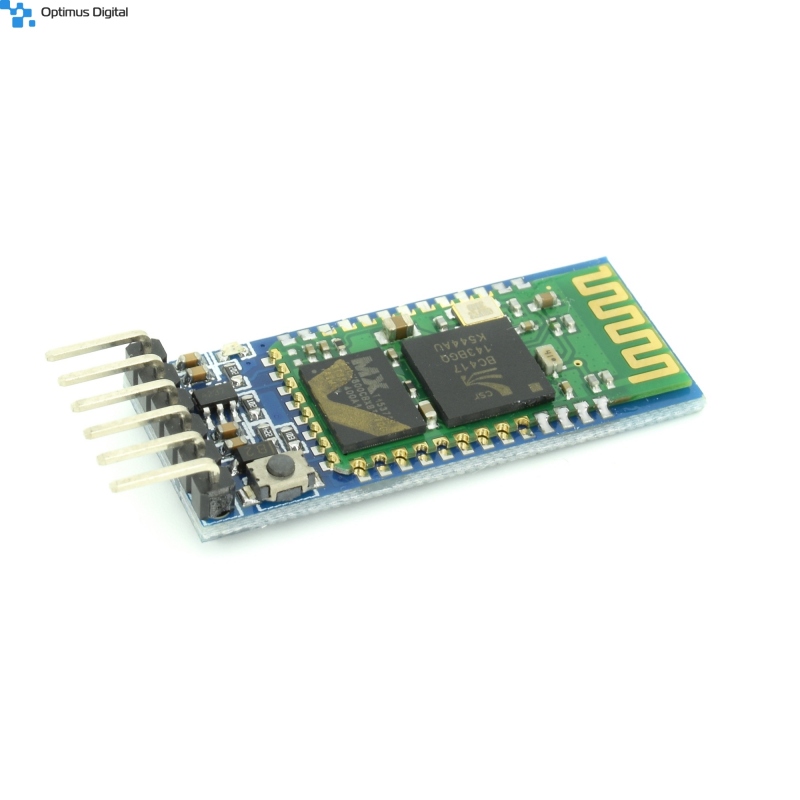 This is a slim component, is BTLE (Low Energy) compliant, so it could be fitted fairly easy inside the SynScan Hand Controler, and could use the power from inside the HC (no external power required).
Using a USB to UART cable I have programed the HC-05 board to work at 9600bps speed (as required by SynScan), also changed the name of the board (like "SynScan" or similar). The name will be useful later on to recognize in the phone/tablet the SynScan device, to pair it on BT.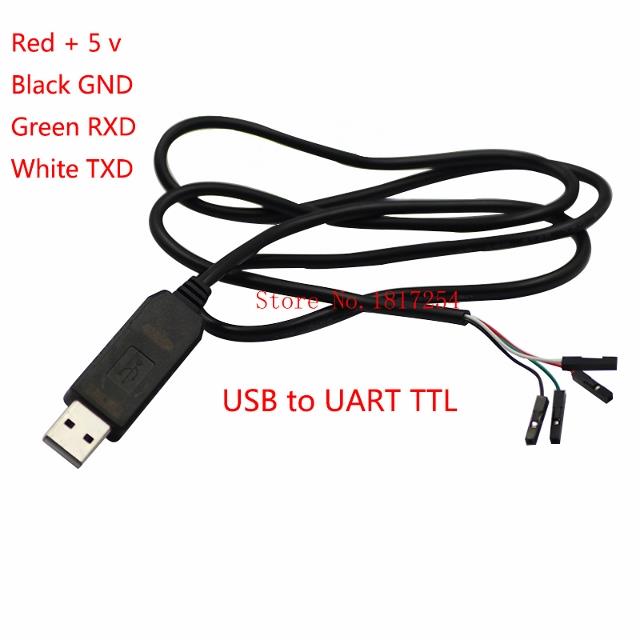 this is the USB to UART cable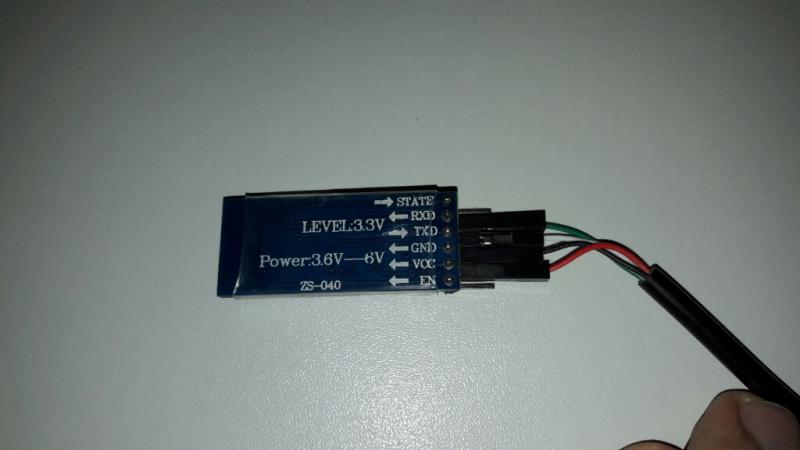 USB->UART cable connection to HC-05 board

AT commands which can be used to change settings (speed, name,...) of the HC-05 board.
The AT commands were send to the HC-05 board using a terminal application (HyperTerminal in Windows, Serial USB Terminal on Android,...)
Important note: BEFORE sending AT commands to HC-05, you must first start he module in AT mode. You can do this by keeping the Reset button (of the HC-05 module) pressed and then power it up, keep the Reset button pressed until the on board LED shows long blinking (~2s between blinks). if the LED is fast blinking then it means that the HC-05 is waiting for Bluetooth connections. When the LED is continuously lit it means that BT connection is established.
After the HC-05 board was programed, I opened the SynScan controler to see where I could place the additional modules.
Edited by l_stoian79, 26 September 2017 - 05:57 AM.
---
Posted 26 September 2017 - 05:29 AM
Next step was to add a Max 3232 module to the HC-05 board, so that I have RS232 to TTL communication fixed: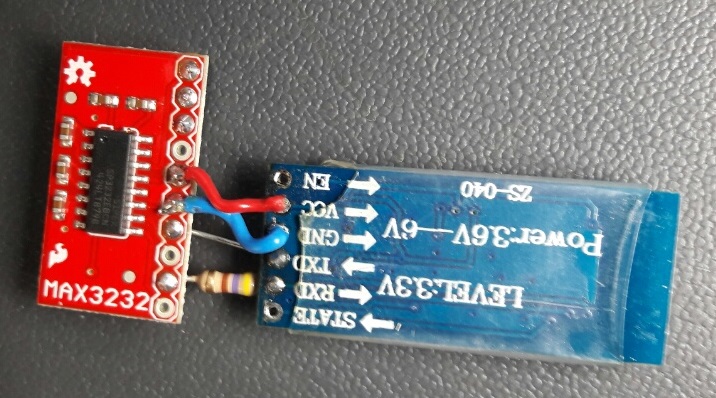 please note the 470ohm resistor added.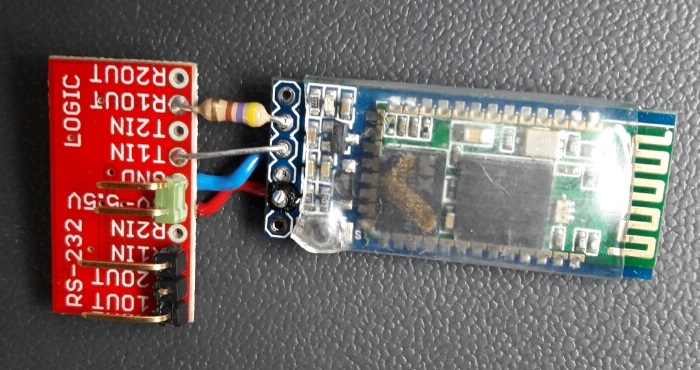 The MAX3232 module is roughly 5$
For these 2 boards I have found a suitable position in the SynScan box: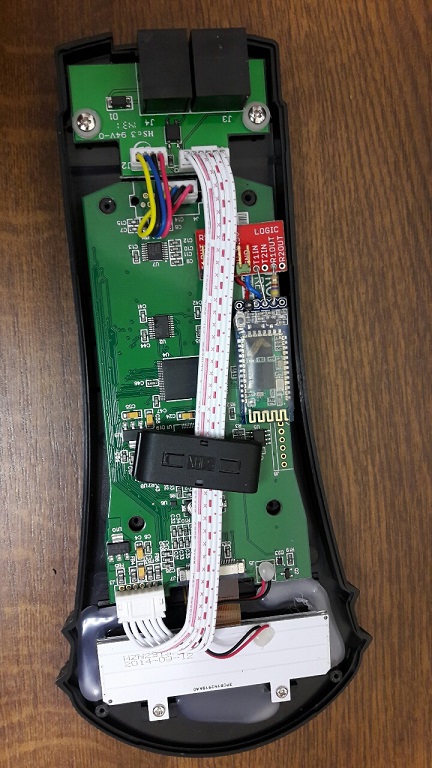 Edited by l_stoian79, 26 September 2017 - 06:02 AM.
---
Posted 26 September 2017 - 05:33 AM
The last step was to make the soldering to the SynScan board, and also to include a 5V regulator.
The SynScan supplies 12V, the HC-05 and MAX3232 required 5V.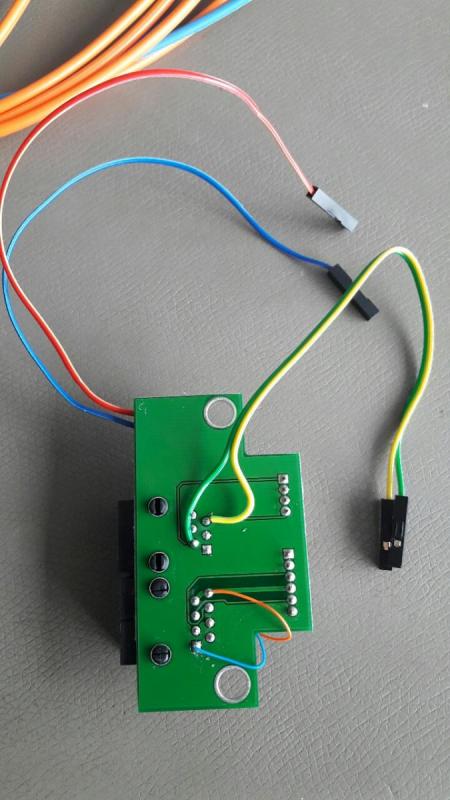 These are the 4 wires soldered to the small PCB in the SynScan. 2 wires are handling the RxTx communication, another 2 wires are GND and 12Vcc.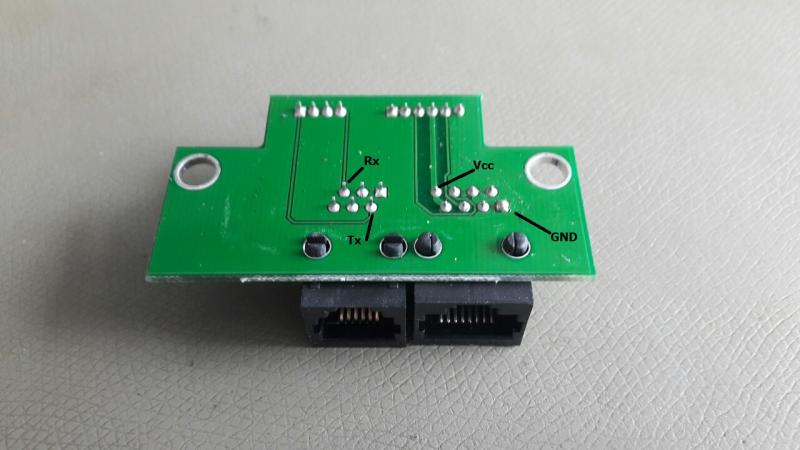 The pinning probably differe from hand controler to hand controler, depending on the RJ/USB/DB9 connector used. The schematic of the pinning is usually described in the User manual.
Edited by l_stoian79, 26 September 2017 - 05:58 AM.
---
Posted 26 September 2017 - 05:38 AM
Everything mounted inside: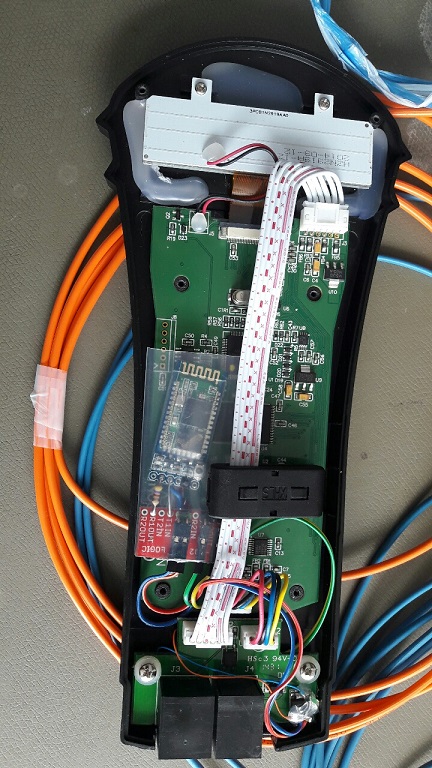 please note that:
- HC-05 and Max3232 modules are wrapped with an insulation.
- the GND and 12Vcc wires go through a generic 5V regulator (see the bottom right corner of the small PCB, where hot glue was dispensed).
This is the final connection schematic: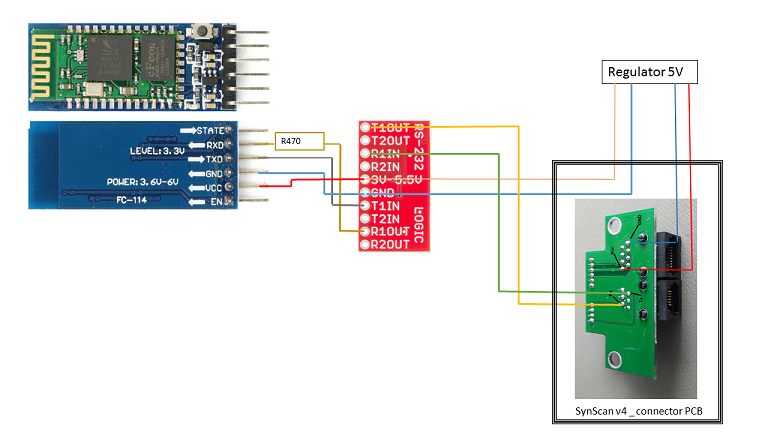 ---
Posted 26 September 2017 - 05:43 AM
This is quite an invasive method to add BT to your SynScan unit, so please make this change only after a strong documentation of your equipment , only on your responsibility. In my case it worked like shown above. I have made exactly the same change on a SkyWatcher EQ8 controler, also with SynScan v4 hand controler, and works perfect. I cannot guarantee for other kind of units.
I use the SynScan when I initialise the mount, setup location, time, and also setup GoTo. in the same time I pair the phone/tablet with the "SynScanBT" device which will be visible in the BT devices list (it requires the PIN code if not deactivated).
After that I start SkySafary, and use only SkySafary to move around the mount from that moment on. However, I can also use the SynScan in the same time if I want so. I use the SkySafari slew buttons (touch buttons on the screen) to perfectly center the objects and after the object is in the center of the eyepiece I press Align on SkySafari, after 3-4 routines like this, then the GoTo (from SkySafari) works bullseye.
I can keep the phone/tablet in my pocket and move around the mount, upt to 10-15meters away, without loosing connection to SynScan. There is no need for additional wires (from BT adapter to SynScan and external power source). If the phone is disconnected because of moving to far from SynScan, I can always reconnect, and SkySafari will know exactly what the scope is pointing to.
The same procedure as above is valid for Stelarium also to use a PC to control the mount via BT (you need a BT dongle in the PC).
Total cost of materials was less than 20$, but there was a little DIY work involved, and also an additional tool was needed (the USB->UART cable, another 4$ , used for changing settings in the HC-05 module).
Good luck !

PS: I have not made myself the soldering of the wires, a friend of mine did them :-) I have just programmed the HC-05 and "designed" how to connect all the parts.
Edited by l_stoian79, 26 September 2017 - 07:52 AM.
---
Posted 26 September 2017 - 10:29 AM
This is quite an invasive method to add BT to your SynScan unit, so please make this change only after a strong documentation of your equipment , only on your responsibility
A somewhat less invasive procedure is using the "Virtuoso" android app to emulate the hand controller. This way you just connect the bluetooth adapter to the mount and everything else is wireless (and avoid performing surgery to the hand controller)
That's what I do with the bluetooth adapter I built for my skywatcher virtuoso mount: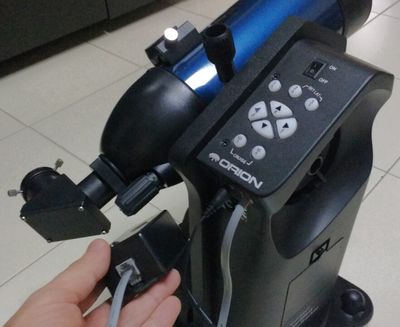 When I connect skysafari to it, it looks and barks like a Synscan.
My circuit also uses the 7805 for power from the mount, but I avoided the max3232 IC by using a simple voltage divider (resistors). It's simple but it works, it can be found here: https://github.com/v...atcher-bluetooh.
Edited by Adun, 26 September 2017 - 10:29 AM.
---
Posted 01 October 2017 - 01:46 AM
Hi again.
I've made last evening a short movie of the mount controlled by BT . Sorry for the wind noise and reflexions but i think you can understand what is there:
---
Posted 27 October 2018 - 12:28 PM
Hello!
I've tried to rebuild your Bluetooth solution. Since I had no 470ohm resistor I didn't add one. Sady my HC05 completely fails, its LED never lit up. And all involved chips heated up more than expected.
Might that be due to my omission? In my opinion it shouldn't be needed. But please correct me if I'm wrong and explain for the reason (of course the resistor will limit current, that's clear).
Regards, Michael
---
Posted 27 October 2018 - 01:57 PM
This is what I did. I bought the following items:
1) RS232 Bluetooth Serial Adapter Communication Master-Slave Module 5v mini usb module. $10
https://www.ebay.com...a6qjz:rk:1:pf:0
2) DB9 M/F Null Modem connector. $4
https://www.ebay.com...=item5b0dd23f47
3) I went to the local Walmart and they had a bin full of cell phone/USB portable batteries. I got one of these 6700mah ones in black for $5.It will run days without recharging.
https://www.walmart....-Teal/434947660
4) A USB2 to Canon camera style cable. You need this to power the blue tooth adapter. I already had one.
https://www.ebay.com...WPFvL:rk:8:pf:0
5) Ziploc plastic container. I swiped one from my wife's stash in the kitchem. It's a bigger case than it needs to be.
https://www.walmart....count/133064126
Put it together and it works. I has one quirk with SkySafari Pro 5 and 6 in that it does not want to initially connect. Here is the way around it:
Plug in to the USB battery.
Leave the RS232 cable unhooked and try to connect, it will fail.
Connect the RS232 cable to the hand controller and try and connect again and it connects every time.
Don't dilly dally too much or the BlueTooth module will power down if a connection is not made.
I did hook it up the my laptop and uses TTY terminal program to test it and verify the settings.
I have used it with both my Atlas EQ6 mounts and a friends Celestron CGEM-DX.
You charge the battery with a regular cell phone mini USB charger.
Edit: I did some research and testing. The problem with the timeout is if the USB portable charger/battery does not have enough load on it, it tuns off. Once it's connected it does draw enough power to stay on.
Edited by Pauls72, 27 October 2018 - 08:52 PM.
---
Posted 28 October 2018 - 01:24 AM
@Pauls72: Thanks for that hint. I didn't knew that such a module is available. On the other hand: It's quite attractive to enhance the handcontroller itself to avoid the extra box.
Regards, Michael
---
Posted 28 October 2018 - 08:29 AM
After some googleing now I've an answer on my question for the 470ohm resistor. It shall help in connecting the 3.3V logic from hc-05 module with the 5v TTL logic from MAX3232. I confused logic voltage with power supply voltage. You might find a good explanation here
https://electronics....-module-arduino
I'll give it a second try now with the 1k72k resistor netwrk.
Regards, Michael
---
Posted 02 November 2018 - 05:48 AM
It's me again. Finally I succeeded in adding an HC-05 Bluetooth module into my synscan handcontroller. For others trying the same I list here all my problems I encountered:
1. my first HC-05 module was defect, thus my advice: first test it by only appling 5V of power supply. Then the red LED on the module should blink, and you can pair with it from an Android device. To dig even deeper you can bridge RX and TX. Then you should be able to open a terminal programm to send text and receive it back (I did that from a Linux machine).
2. I did not know that MAX3232 had TTL logic at 5V, thus I omitted the 470ohm resistor. You must include it (alternatively divide the input voltage by two resistors 1k/2k.
3. My laptop has no native RS232 interface, thus I used a cheap USB converter. Sadly this was faulty, too. It worked only in one direction. On my desktop there is still a RS232 interface, but no bluetooth. Using a cheap bluetooth dongle works, but only if I used the special USB2 interface for mouse and keyboard. Finally I succeeded in sending data back and forth under linux running the program screen twice, once connected to /dev/ttyS0 and once to /dev/rfcomm0
4. finally Skysafari did not connect. To validate the communication I used the app bluetooth terminal (search HC-05 on playstore). Here I could send commands to my mount with success (one can download the protocol from skywatcher). To resolve the problem with Skysafari: within settings select bluetooth AND then select the bluetooth device.
Now it worked once, and I have to wait for clear skies ....
Regards, Michael
---
---