The Beehive Cluster has at least 9 galaxies in it (Ok, beyond it...) which can be spotted in large scopes!
Cosmic Challenge number 157 in Philip Harrington's book is to bag as many as you can with scopes of at least 14 inches. I tried for 5 and managed 3 of them last night with the 16 inch, in skies of around 5 NELM.
It was my toughest observation yet. The galaxies were all but invisible at 130X but popped in and out of view at 260X with the LP filter. Over time, the view became more 'stable' and I was able to sketch the position of these 3 with confidence.
NGC 2624: 14.6 magnitude
NGC 2625: 14.5 magnitude
NGC 2647 15.1 magnitude
These are the faintest DSOs I've ever spotted, and certainly I wouldn't have seen them without putting into place the observing skills I've picked up here on the forum over the last couple of months. The sky was very obviously light polluted and I've certainly had darker skies than this before, so there's much more to go back for on a better night.
The other two I tried for were NGC 2643 and CGCG 89-56, which are magnitude 15.6 and 15.2 respectively. I really worked at it, but there was not even a glimmer of either of these, so that nicely pins down my limiting observing magnitude for small objects like this at a little over 15 magnitude, even when conditions are less than perfect. Very encouraging!
The main sketch is a composite of around 6 overlapping FOVs at 130X, and the insets are sketches made at 260X. Some of the stars shown here were right on the edge of visibility too,only showing with effort and averted vision. North is down, and West to the left.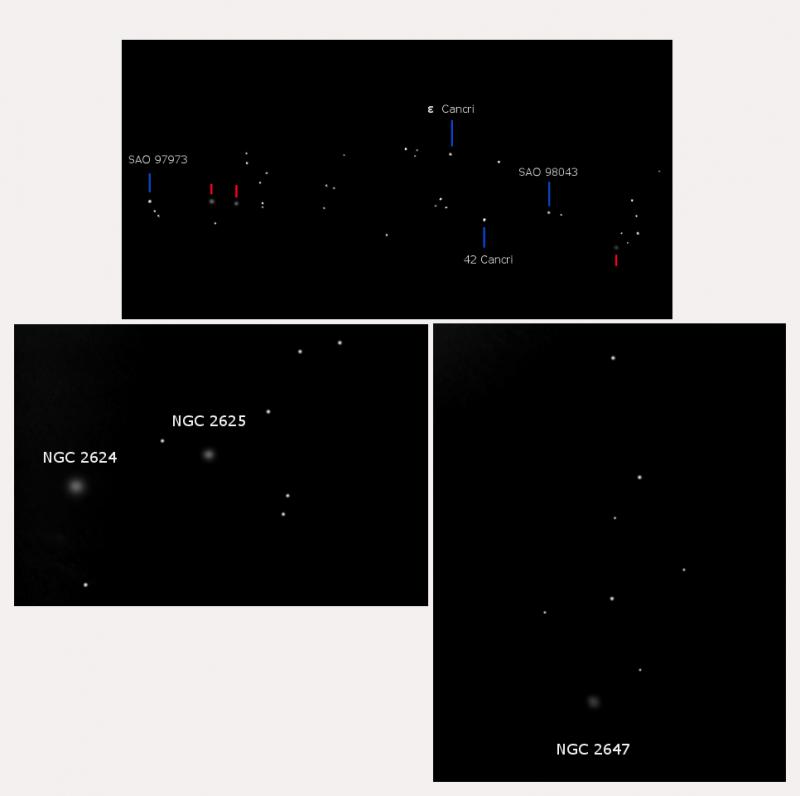 Edited by iainp, 18 December 2015 - 08:56 AM.