I'm currently on a tour to the Messier objects, using my classic 3" Vixen FL-80S refractor.
I have the scope on a Zeiss motorized EQ tripod (TM 2V), with a Zeiss Amici turret as backend.
My eyepieces are ATC K-40mm as finder, plus classic CZJ orthos 25/16/10mm as "zoom".
My finders are a 8x30 CZJ bino plus a red dot and a KK-8x50mm 7dg FOV piggy back.
I take notes and make sketches of the objects along the way.
Here's an excerpt from the latest entry in my log :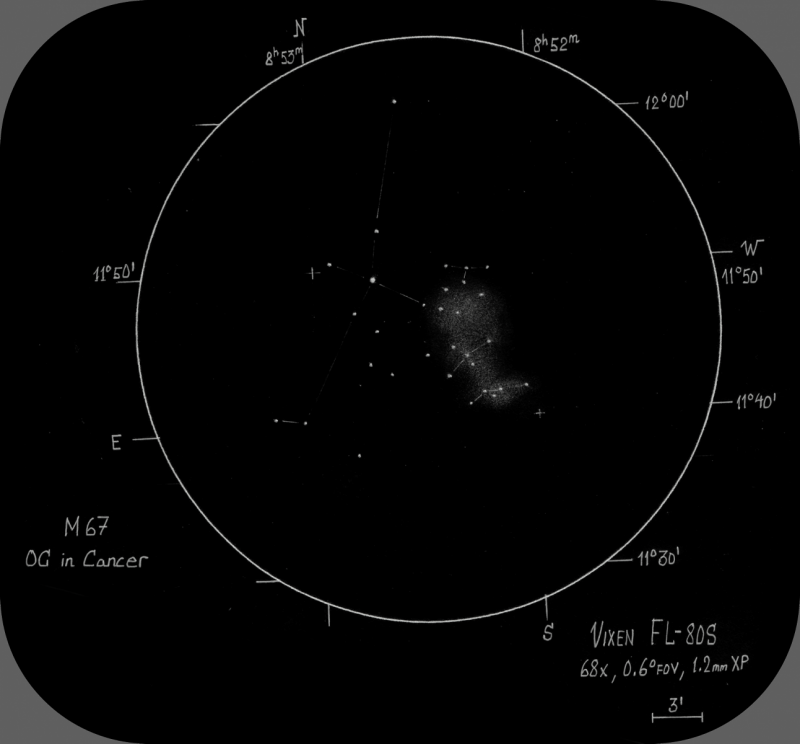 It's early morning (03:00 local), in the start of January; A 25dy (14%) waning moon is hanging low in Scorpio on the SE horizon, the wind has decreased in strength from yesterday, and the tempereture has settled around a relatively comfortable -2°C. The transparency and seeing are both around medium, and the sky brightness is Bortle 6 / orange, with a VLM ~ 5.0m (SQM 17.8). This is not a good DSO night, so I decide to focus on a Messier open cluster, preferably high up towards zenith.
I pick M67 in Cancer as my target for the evening. The star hop is easy: aiming my red dot at Acubans (Alfa CNC), and centering this star in the reticle of my 8x50, 7° FOV finder, I imediately see the cluster as a nebulous spot, approximately 1½° due W of Acubans. The cluster is nicely placed midway between two pairs of 5m/6m stars, and can also easily be seen as such in my 8x30 bino.
Switching to the view in my K-40mm finder eyepiece (27x @ 1.5° FOV), I can hold Acubans at the E edge and M67 at the W edge of the field; I center now on M67 and click up the magnification to the O-16mm eyepiece for 68x @ 36' FOV; This nicely frames the 25' wide cluster, with the bright 7.8m orange (class K) star to the E and a stellar clump around a small triangle of 10m stars to the W. Others have imagined the cluster as a King Cobra (with the triangle clump forming the head) – but in my 80mm refractor I rather see a Crawfish (Spiny Lobster) with the triangle as the bent abdomen, an oval to the NE forming the carpax, and the bright K-star centered on a spiny head, with two long antennae extending N and S respectively.
The many unresolved stars forming the compact nebulous crustecean body make this cluster interesting to explore visually, and the old age and diverse composition of the stellar population only increases the interest.
Link to -> full report <-
Allan
Edited by AllanDystrup, 09 January 2016 - 02:10 AM.