The Ram's Head

M35, Open Cluster (NGC 2168 + NGC 2158 / Cr 8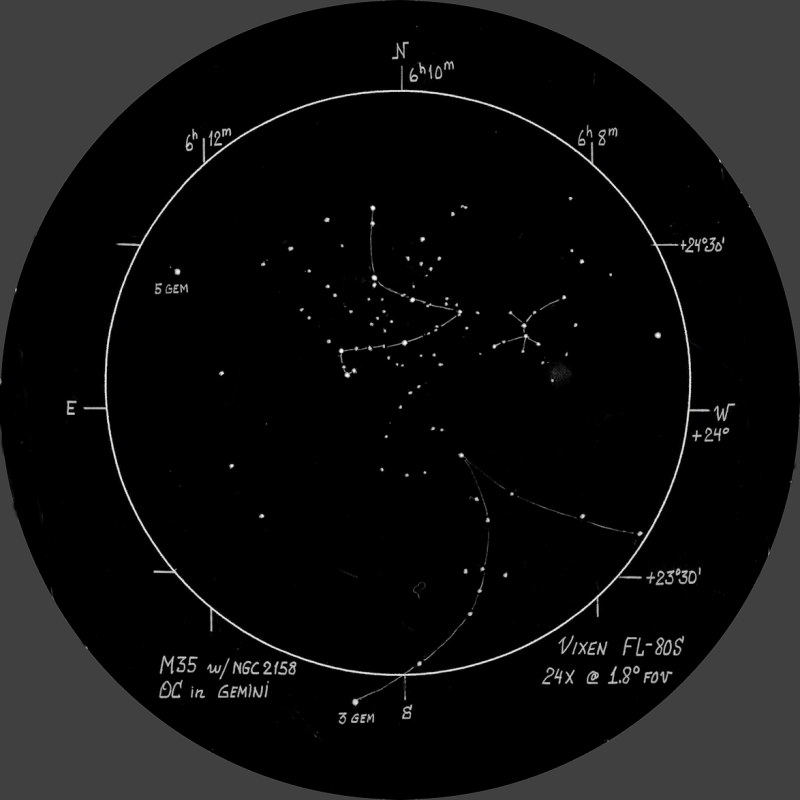 Obs-1: It's an early December morning 2015, half past 4 AM local time; A storm has swept away the clouds, and the sky is now clear, with steady seeing and good transparency from 15° altitude up to zenith. Already Orion is sinking towards the horizon in the SW, but Gemini is still high up, with M35 at a comfortable 35° altitude, right above Orion's raised club.

I aim my red dot at a point ~ 1½° above Castor's left foot, midway between Eta and 1 GEM. In my 6x30 finder's 6° FOV I see a wedge shaped alignment of stars, and looking in my finder EP (K-40mm, 24x @ 1.8° FOV) , I have M35 right in the center of the view, ½° up N from the apex of the wedge.
There's a myriad of stars filling a ½° area, with a dozen 8m -9m stars forming two bright chains in a roughly V-shaped pattern. It reminds me of a ram's head, emerging from a background of dozens of smaller (10m-13m stars), and this outline is further enhanced by a faint nebulosity caused by countless unresolved stars (>13m). M35 also contains a nice double star : OƩ-134 (Otto Struve) at the base of the "northern horn", with components of magnitude 7.3m (orange) and 9.1m (light purple), separated by 31" in PA 188°.
__________________________________________________________________________________
Obs-2: It's an early evening (19h PM local), in late february, 2016. The transparency is fine: NELM 5.3m, with the moon well below the E horizon, scheduled to rise around 22h. I decide to take another shot at NGC2158, which evaded me at the previous observation.
I get M35 at 24x/1.8° FOV in the center of my K-40mm finder eyepiece; I then offset the FOV slightly (ca ½°) towards the SW, and click up the magnification, switching between 68x/0.6° and 108x/0.5°. After prolonged observation with averted vision, i convince myself, that I do see a faint, fan shaped nebulosity at the exact right spot and NW orientation, that I would expect from maps and photos: NGC2158!
Given my observation conditions (bortle green), this distant, old OC is high on my difficulty scale, -- significantly more so than for instance M1, which I observed later this night, and that was obvious even in my finder @ 24x...
Full Obs.Report can be found : -> HERE <-
Allan