Clear skies tonight, and no Moon, so DSOs for Ol' BB. Got my favorite EQ g&g rig: AT102ED + Tak FC-50 + Mizar AR-1. As usual, I'll be looking, but I'll also be testing: Bought new accessories from our Sponsor and from Sheldon. The most interesting to me is a Bushnell 18mm Wide Field (68*) Kellner. Looks like someone adapted a large binocular eyepiece to black anodized 1.25" cap & barrel. But... it doesn't look like a "BB ATM Special" -- more professional & commercial-grade than that. I'm curious to see how it does against my spectros Big Kellners, which have true 100% edge-to-edge flat fields.
I'm really loving this combo: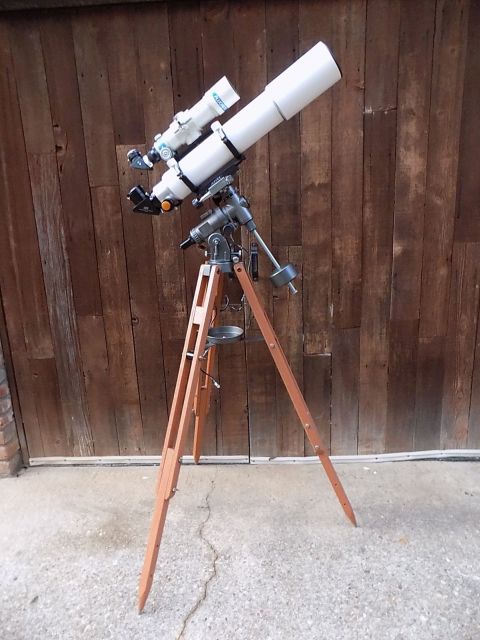 When I was a crazy teenager, I scavenged 2 similar bino eyepieces. They were too large for .965" barrels, so I adapted them to 1.25" ones, and used them with my 8" F4.5 Newt. Yeah... a marginal BB-made mirror + iffy quality old EPs with failing coatings... The views weren't high quality. I predict that this KE18 will do much better in both of my APOs. Almost forgot (yeah, Big Surprise!), I also tested a new AT 15MM 1.25" PARADIGM DUAL ED eyepiece. From AT's ad: "With a short focal length refractor it is a medium to low power eyepiece well suited to scanning the teeming star clouds of Sagittarius." I used it most in the Tak FC-50, and found that description accurate. Very nice eyepiece for the price.
BLUF: A late night, where I learned that while ED glass is good, Fluorite is far better. A portable rig with 2 quality refractors is a must for in-city backyard observers. AND, when I can see the Milky Way at The Swamp, it's gonna be a very good time!
Both refractors had 99% yada yada yada mirror diagonals all night -- 1.25" in the Tak, 2" in the AT102ED.
Venus: I set up behind the shed at sundown to both block the wind, and give me a clear view of Venus. Both fracs at 100x: Nagler 7 in the AT102, Radian 4 in the FC-50. No disk detail in either. Venus is a harsh brilliant white in the FC-50, a cooler white in the AT102. Zero (0) fringing in the FC-50. Slight blue rind in the AT102 -- especially if my eye strayed a fraction of a millimeter off axis...
Star Test: I turned to Capella, removed the diagonals, and tested both fracs. No obvious issues with either frac at 80x in the FC-50 (spectros PL5), and at 120x in the AT102 (UO HD OR6). Diagonals in with the same EPs, and similar results. It was at focus that I saw a difference. Here, I have to give a Shameless Plug for Our Sponsor: The AT 1.25" diagonal is a very good buy compared to other mirror diagonals. Capella's color at the EP matched what I saw eyeballs-only. It was slightly redder in the AT102 with the ES 2" unit. So, I paused, fitted the AT to it, and got a view that was closer to the FC-50. By that, I attribute some small % of the red to the Scope & the OR6.
Milky Way: After the testing, I looked up and saw a faint ragged cloud running from the NE to the SW. "Oh, great! Cirrus is sneaking in ahead of the wrap-around clouds!" I thought some other things, too -- but can't post them. Anywho, this cloud band wasn't moving at all, and I realized it was the Milky Way. For once, my neighbors were home, and didn't have their prison-grade security lights on, and that helped a lot. Behind the shed, I have a wide E-W belt of clear sky, but limited polar access. I immediately dropped both fracs down to ~ 25x, and moved the rig to the SE corner of the yard. That gave me clear skies from Perseus to Monoceros, and I could trace the MW easily. I started out with Sheldon's Wide Field 16mm Kellner in the FC-50, and a 2" GSO 26mm WF KE in the AT102. From the Unicorn, I moved slowly north. Using the FC-50 as a finder, it took me a minute or two to find M50, which is sparse in this scope -- the bright orange star, and the brightest blue-white members stood out though. Richer in the AT102 of course. Zig-zagged slowly, and the fields got richer. I had the eyepieces positioned so I could look quickly from one to the other without injuring my eye. It was in Gemini & the north portions of Orion that I got my mind blown -- dozens of stars in the FC-50, and maybe hundreds of stars in the AT102. That extra 50mm of aperture goes so much deeper, while both fracs present individual stars as micro-dots. M35 is pretty in the 50, and glorious in the 102. Interesting to me is swinging away from side-to-side, and seeing the Milky Way taper off. The boundaries seem small & thin, but we now know just how huge those spiral arms really are...
A GREAT Orion Nebula: I knew from the satellite that the southern ragged edge of the wrap-around clouds would eventually wreck the session, so waiting for Orion to hit the meridian was a nail-biter. I moved the rig to the NW corner for its southern exposure. While I waited, I turned to M79. It is a very unremarkable globular, but it was the first one I observed with my new Tasco 80mm F15 EQ in the winter of 1978. I centered on M42 as soon as it was past the huge pine tree half a block down the street. At 25x in both fracs, that region is eye-popping. In the perfect seeing, the Nebula reaches out across black space like it's trying to grab as many stars as it can. My "serious" observing was on the Trapezium first. The Tak showed 4 stars, with a clean black gap between A&B at just 25x with that WF KE16. The AT102 also showed the 4 straight-on, while F popped into view with averted vision. At 80x I got 4 pretty Airy Disks in the FC-50, and E&F with averted vision in the AT102. (In my APM152, all 6 stars would have been visible straight-on with this perfect seeing.) Upping the AT102 to 180x with the Radian 4 didn't add any more stars. But, I could trace so many thin black lanes -- a very sketch-worthy view. The Tak surprised me in that M43 was distinct from The Monster at 100x with the Radian 4. The relatively wide flat field of these TV eyepieces has made a believer out of me. (I'll still never pay for a brand new one, though.) Honestly, I enjoyed exploring M42 more with the Tak + Rad4 than at higher powers in the AT102. I couldn't see as much, but what I could see was sharply resolved, and the few red / orange field stars were so distinct.
Sure enough, while enjoying Orion, the wind picked up, & the air got damper. I shook both fists at The Gods, then moved back to Home Plate behind the shed, and literally watched Zeus turn his dimmer switch! Fainter stars went out, and the Milky Way dissolved. I managed to grab the Beehive -- filled the Tak's field, and extended beyond the 102's. Spent about a half-hour on doubles in Cancer to Hydra, then packed up. But after weeks of overcast, or cloud-dodging at best, the 4 Seasons summed it up: Oh! What a night! My only regret: I didn't take 10 minutes to set up the Meade 826 on the patio. That big Newt would've ripped the Milky Way apart -- in a good way.
Edited by Bomber Bob, 25 January 2020 - 01:00 PM.