Anyone that has never looked though a later, higher performance Gen 3 night vision device cannot really appreciate how sharp and clear of an image these devices can provide.
Their low light performance make them able to show just about any field anywhere in the sky appear filled with stars, but more interestinly is the fact that their near infra-red sensitivity allows them to see emission nebula that would be difficult to see for most observers any other way.
This post will focus not one the observing, but more on the modes of operation. I think it is important to do this because a lot of people think the tech is to expensive, but when you look at the different modes of operation, you start to realize that not only do you get new capabilities that you would never otherwise have had, you also get the ability to increase the performance of your existing equipment.
The base mode of operation for the PVS-7 is to use it at "Unity" (night vision term for 1x). The standard fast focusing objective is a very fast lens with about a 26mm focal length. Because the eyepeice is also about 26mm in focal lenght, the power is 1x. The apparent field of the eyepecie is 40 degrees, so this makes it easy to crunch the numbers to reveal that the true field is a pretty staggeringly big 40 degrees. In a community that buys ever smaller refractors for ever wider fields, this kind of device reins supreme for getting the biggest, widest, brightest field possible. Sweeping though the Milky Way at Unity, or observing Barnard's loop in its full glory, even from mag 5.5 skies (deep suburbs, so no two hour drive required for most observers) is something that has to be seen to be appreciated.
The advantage of not needing a mount or external power, and don't need cool down or dark adapted eyes to see staggeringly rich vistas is only icing on the cake.

Here is the PVS-7 configured for unity with a 6 x 30 finder shown for scale. PVS-7 is super light and very compact, being similar to a 7x x 42mm binocular in size and weight.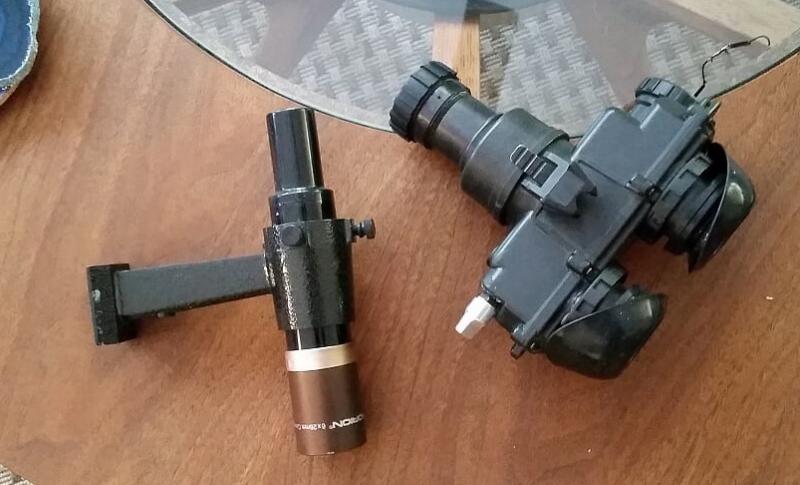 The next mode of operation is to use an inexpensive afocal clip on lens. This large bulb at the rear of the device is a snap on connector with splines that lets the lens slide over the PVS-7 lens and snap in place. The most common lens is the 3x lens. This does not seem much different in power to be worth it, but think of it this way.. When you are working with very small things, an 8mm to 24mm zoom offers a considerable range of magnification right? That range though is only a 3x range! When you are working with huge things, that same 3x range actually makes a considerable difference. Many small nebula are visible easily at 1x, but will resolve considerably better at 3x in exactly the same way that zooming in from 24mm to 8mm using a telescope will enhance the view of a globular cluster.
Here is the PVS-7 configured with a 3x afocal lens. The setup is so super-light weight and even viewing at zenith for long periods of time is quite practical, but putting on a headset and snapping the PVS-7 into its connector, and viewing while reclining in a lawn chair is a super comfortable way to scan the sky at zenith.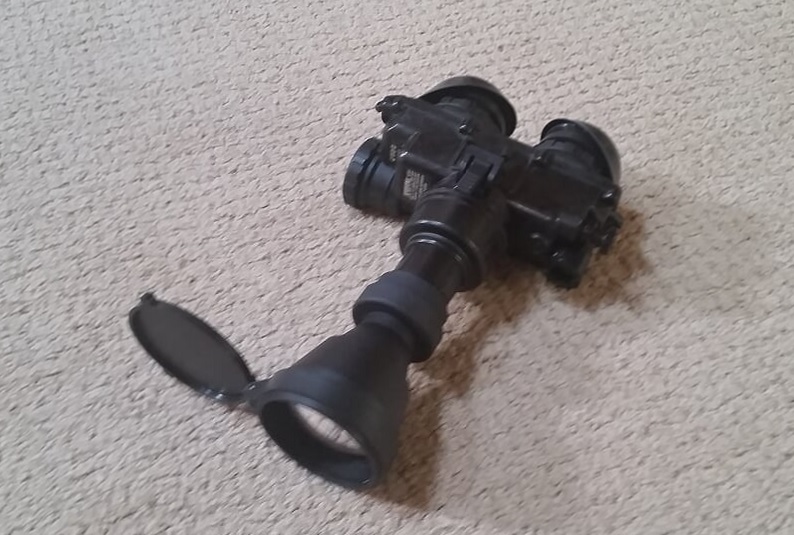 The next mode of operation is to replace the military objective assembly with a C mount adatper. C mount derives from the old 16mm movie camera format (Cinema, or Cine). The objective assemble of the PVS-7 simply unscrews, and this adatper takes its place. There is no lens in the C mount, but the beauty of the C mount is that it allows you to mount a wide variety of camera lenses. CCTV and Cine lenses simply screw right on, but the real beauty is that you can buy adapters for most common 35mm SLR camera formats. For example, if you have old Nikon lenses, a $25 adapter will let you turn them into astronomy lenses for your PVS-7. The cazy thing is that you can often find very good SLR camera lenses on Ebay for less than the price of a decent plossl!!! I paid $30 for shipping for the lens in the picture. It is a 200mm f/3.5 Vivitar lens, and with it, (and an H-a filter mounted between the lens and the PVS-7) I can see the Horse Head nebula from my light polluted front yard. A 200mm lens will give almost 5 degrees of true field but becuase the power is only a bit over 8x, hand holding is still possible as compared to a very large binocular which can be very expensive, probably has a smaller field, and will require a mount to hold.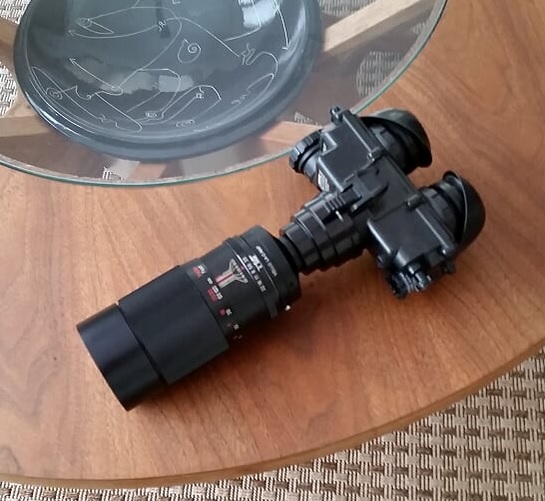 SLR Zoom lenses also work great and this allows you go either keep in cheap or if you want the best performance, use more expensive, faster zooms which will be heavier, but will show nebula brighter and with better detail. Here is a picture of a PVS-7 with multiple lenses and is included just to show how flexible this system can be. In the picture, you see a 35mm to 105mm f/2.8 zoom, an 80mm to 200mm f/2.8 zoom, an ENVIS lens (which is a C mount threaded lens very similar to the lens that comes on the PVS-7, but allows you go go back to 1x without having to re-install the standard lens) and on the right, you see the focus of the next mode of operation, which is a 1.25" nose-piece. You can also see a very small, inexpensive CCTV lens (about $25 on Ebay for a 25mm F/1.3 CCTV lens) making for a budget alternative to the ENVIS lens which is shown just in front of the C mount housing.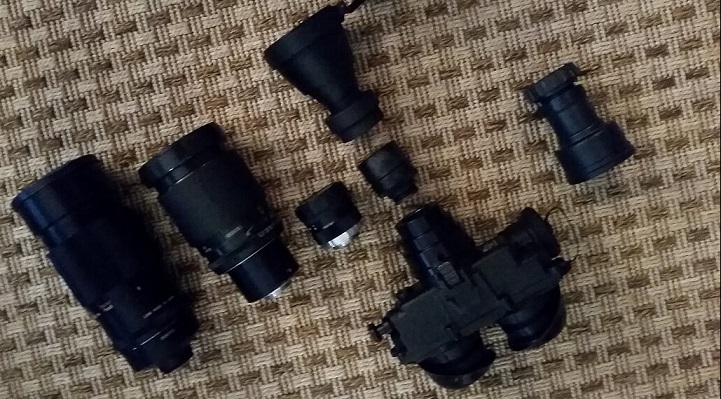 Let's go there now. The last mode of operation is to mount a 1.25" or 2" nose piece in the C mount opening. Unlike a regular binoviewer, the PVS-7 will reach focus in just about any telescope made. Is all you have to do is thread on the noze piece and slip it into the focuser. Also, unlike a traditional binoviewer, the light path is not dimmed by 50%. In fact, both eyes see the same bright signal.
Using a high performance PVS-7 can be like doubling the aperture of an existing scope, and even from light polluted skies, an H-a filter produces nebula views that would be difficult to get from the same scope even under all but the darkest skies you could get to. The first time I saw the Swan nebula in my 12" dob from my light polluted back yard (a target I had seen many times before) I was literally astonished but the detail present, but more than that, by the huge expanse of nebula around the swan that I had never been able to see before. My girlfriend, who had see the Orion Nebula many times before, pretty much gasped when I called her out to see it in the PVS-7. She said it was like looking though the Hubble telescope.
From my light polluted back yard with the PVS-7 in my 140mm Comet Catcher, I can see stars in M29 that I struggle to see in my 12" dob, and with it in my 12" dob, I see stars that I would have had to take my C14 to dark skies to be able to see. Even M22 at 19x in a 140mm Aperture will be so big and bold that it will surprise just about anyone.
Prices of used PVS-7s make them far more affordable than people think but most people will are not aware of the full flexibility of this kind of system and when you factor in the new regimes of ultra-wide field observing ( I call it "Big Field" observing) and the enhancement performance to existing scopes (thinking about buying a bigger telescope but worried about the weight or the transport effort?) the cost starts to make far more sense.
And then there is the absolute joy of being able to walk out of your front or back door at night, and without any setup, on a decently clear night from a light polluted sky, look up, and see the North American or California Nebula.
If you are unfamaliar with this technology, I would refer you to the Electronically Assisted Astronomy forum (just below refractors) for more details about the equipment and to hear very compelling accounts of people that have recently purchased gear and have turned it to the sky and shared their first light experiences.
I picked the PVS-7 for this because prices are falling, but there are monoculars and true binoculars as well. The PVS-7 is just out there in such huge numbers that it is the most affordable entry point.
Hope this thread is interesting to someone and if you have any questions, I would be happy to answer.
Edited by Eddgie, 23 February 2016 - 01:45 PM.