I recently started a thread on comparing the transmission spectra of various nebula filters, and I thought I would do the same for some planetary filters. Most of these were scanned by me personally on a Shimadzu UV-Vis spectrometer, except for the Baader Neodymium and TeleVue Bandmate Planetary, which were emailed to me by Don Pensack (thank you).
First up, I have a few of the more specialized planetary filters. They include the: Baader Neodymium, Orion Mars, TeleVue Bandmate Planetary, and a generic "Moon and SkyGlow" I picked up here on the forums.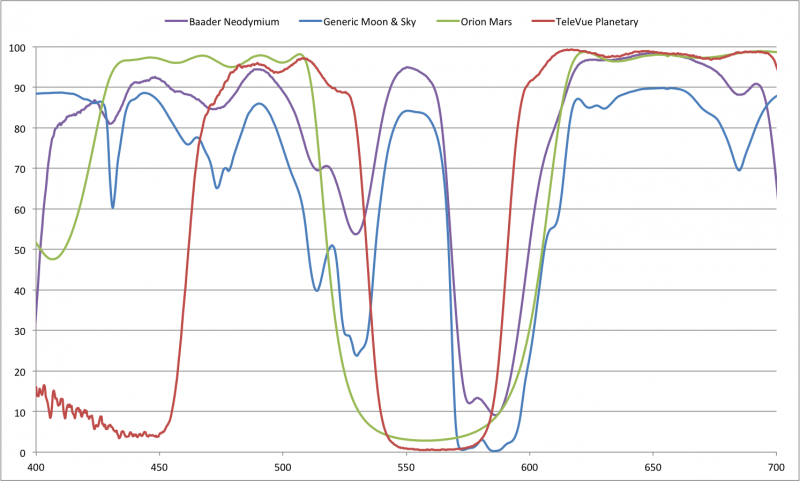 It was interesting to compare these filters. It seems that there are two "classes" of planetary filters. The first is a single notch design that cuts out the entire 530-600nm range, the Orion Mars and TeleVue Planetary fall into that class, and the second is a dual notch design that cuts out pretty much the same range but leaves the 540-570 yellow/orange wavelengths, which is where the Baader Neodymium and Generic Moon & SkyGlow fall into.
My biggest surprise was how similar the generic $15 Moon & SkyGlow is to the much more expensive Baader Neodymium. I've used this filters on Jupiter in the past and really liked it, so I was relieved to see it exhibit similar transmission to the Baader. It has no writing on the side, but it looks exactly like the Solomark Moon & Sky filters that are being sold on eBay.