I decided to try one of the Intel compute sticks, one thing holding me back on the older version was the single USB port, with the new version having 2 with one as a 3.0 I thought I'd give it a try.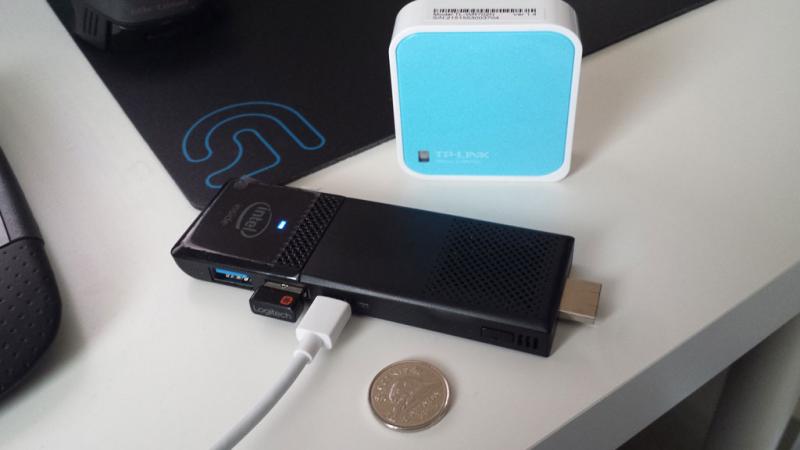 Size / Specs:

4.5" x .5" x .5"
Small is an understatement, so finding a place for this little unit should not be a problem.
Windows 10
atom-x5-z8300 processor up to 1.84ghz
32 GB flash storage
2 GB RAM
Wifi AC, Blue Tooth
2x USB (1x3.0 and 1x2.0)
HDMI connector
Micro SD Card reader
Power:
The supplied power supply outputs 5V / 3A. It is an AC adapter with various connectors, to a micro USB. I was able to just use my cell phone charging cable, and a cigarette->USB port adapter which was rated at 5V / 2.1A and plugged it into my main battery. It powered up fine. I've been running it exclusively for 2 days with the battery and no problems. After the first 6 hours I plugged my main battery to recharge and it did not even register as it needing a recharge.
In fact I was able to plug my 4 port USB hub - unpowered and it powered the guider/dslr/mount fine, all on an unpowered hub. Even with the polemaster running it worked on the unpowered hub.
I ran a series of dark tests capturing while PHD was running and no issues. I am not advocating an unpowered hub just so far I've been able to get away without one even with my laptop thus far.
It gets warm but never gets hotter or colder, really it stays steady. I may put it next to the usb-hub to keep it warm for any dew.
Windows 10:
Windows 10 performance seems very good, however there was a very large update that took very long. I found out that Microsoft recently bundled all their fixes into an enormous patch. This patch took at least 3 hours to complete. It looked as if it was re-installing windows at one point however fear not it will complete. Performance seemed better after that patch as well.
File space after all updates / disk clean up / installing all my astro apps: SGP / PHD2 / astrometry / pole master / ASCOM = 16.5GB.
SGP performance:
Platesolving took 9s to plate solve with the local astrometry ANSVR. I think that's reasonable. My laptop did it in 5.
When SGP Downloads from my DSLR there is a high cpu spike, it seems to be the 'dcraw' process, probably the large 24MB / pixels being converted from Nikon NEF to fits. It used to take about 6 seconds to download an image now it's taking around 12. This is the only 'slow' feeling i experienced using this compared to my laptop. That and opening NEF files into SGP. I'm not sure how this would be with a canon. I don't have a CCD but if it's going directly from FIT I would assume it's performance would not be affected at all.
Memory usage:
With everything running I still have 1GB free memory and it seems to manage it very well. I originally thought the 2GB limit was not enough but it's actually fine.
Internal Micro SD card:
I added a 64GB SD card that plugs right into the compute stick. This gave me some more room. Here I made a backup image of the current system and copied all the installation software.
One very important note here is you must enable 'write caching' on this SD card or it will be dreadfully slow. I thought SGP crashed but it took 60 seconds to save an image, I tracked it down to this. Luckily this is one click away to correct by going into the device manager on your drive and enable the write-caching feature.
This gives me enough room for a nights imaging for sure.
Remote access:
I was able to use tight vnc to remote access but without the dummy-hdmi adapter my polemaster screen was not visible.
To solve this you can either get a headless adapter, I'm not sure if teamviewer would fix this but it's worth a try if it's remote desktop is better.
I ended up installing the RDPwrap which gives the standard remote desktop functionality on windows home. If you are interested in this check out the tech section at bottom.
I am currently using my phone and laptop for remoting into the machine. The phone is great for just quick status updates as to what's happening, but I like the bigger screen on the laptop as it's more functional.
You can use microsoft's "on screen keyboard" for arrow keys which I found helpful for using the polemaster. (Just run "osk.exe" in windows and click the nav button)
Wifi:
Wifi performace is great, one thing I did add in the picture at the top is a 'micro router' for $15. I plan to use this at remote sites where I am not on my local network at home. This little box will give you your own private network to connect to your telescope and phone / laptop. It only needs a power port and does not need to be connected to the computer at all physically.
First Light: None yet, will update next time I can.
This was a fun ongoing project, so we'll see how it works out. Note there is a newer version of this stick coming out in the near future with newer m-core processors that should be even more powerful. I figured if this one didn't work out I can always use it on our TV to make it a computer TV. I actually used it that way when i first set it up we all enjoyed watching youtube on there and I had a remote keyboard/mouse which made it quite fun but that's aside from the astro-purpose

Random Technical Tips (You can skip this) ---------------------------------------------
File space:
File space when I started was 18.5 Free
File space when I ran disck cleanup and "powercfg -h off" (which turns off hibernation): 19.6gb
File space after the 'massive' windows updates 10.6GB !
File space after disk cleanup 17.6gb
Memory:
I did try to uninstall a few programs that will not be used. For example one was after the windows updated an intel keyboard/phone app was installed that was continually using 5% of the CPU, this can be uninstalled to save memory/cpu.
BIOS:
I upgraded to the latest bios/drivers on the intel website with no issues. I used the USB key to install the BIOS, not the windows executable.
How to Disable Windows defender: (At Your own risk)

Add these 2 keys to the registry:
HKEY_LOCAL_MACHINE\SOFTWARE\Policies\Microsoft\Windows Defender
DisableAntiSpyware 1 DWORD
DisableRoutinelyTakingAction 1 DWORD
RDPWrap ( gives remote desktop access)
Google around until you find "stascorp" github and after you install it run the 'update'