Attached is a first test image with the 16" Dobosn on a new EQ platform I'm modifying. Conditions weren't good (not so good seeing, but especially it was very windy and the telescope was moving around quite a bit because of this), but this does make for a decent test case for the platform. The platform is quite simple - I bought a basic platform for about 300 euro - but I'm currently in the process of modifying it (a better tracking motor, that I control from the computer too - I'm using a tiny Arduino driven stepper motor and a worm drive I put together) , declination control (currently manual, but I want to motorize this too - still need to come up with something good), and I made it a bit more stable with some aluminium rails... Anyway, this is all quite a lot of work, and I'm not quite good at it either, so it takes time and failed attempts. I'm learning quite a bit, but I do fully understand why some good EQ platforms are rather expensive.... It can be quite frustrating and takes a lot of hours if you pretty much have to start from scratch.

I'm still not sure if I will succeed in making a robust platform, but having a test like this is hopeful of course.
I didn't pay much attention to anything outside of the core of M64, and the stars are a bit wooly (and not extremely round), but for a big Dob on a simple EQ platform I'm quite pleased. I think most of the non-roundness of the stars comes from The short exposures help a lot of course to keep the stars small, both from seeing and wind smearing, but futher tests - under more favourable conditions - should give me a better indication of the cause. I'm actually also in the process of modifying the focuser position on the Dobsons, so there might be some colimation problems there too.
Imaged with the 16" Dobson using an ASI174MM in prime focus (2 meters) without any filters. In total I stacked about 2600 frames of 1 second exposure each. Stacking was done in sets of 400-800 frames in AS!2, and post-processing in Photoshop (paying most attention to the galaxy core).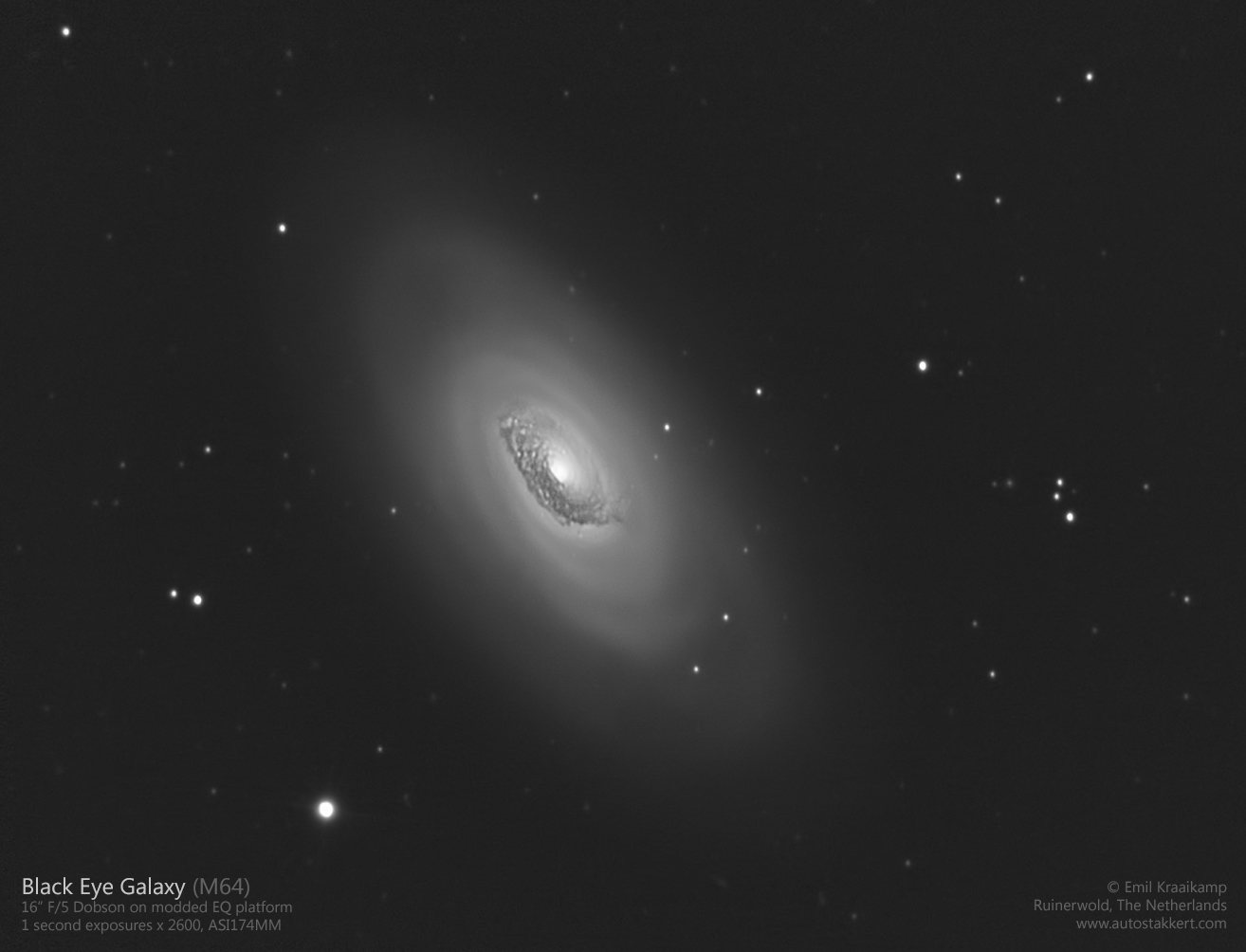 http://www.astrokraa...10-11_M64_k.jpg