Back in the mid-90's I was looking for a simple, novel way of driving a ball scope. The purpose was to eventually incorporate this drive to a 20 inch ball scope I had started making, which I would eventually finish, twenty years later. You can see construction details of the 20 inch on my website (see my signature) and in this CN thread.
I presented the first world prototype ever made of a ball scope driven by this novel roller drive, a 6 inch f/3.7 Newtonian, at the 1995 Stellafane convention. Not only could it track the stars, just like a Poncet platform, but it could also have the potential of doing astrophotography since it would also incorporate a dual axis. Unlike the Poncet and other tracking platforms, it is ajustable for any latitude from about 10 to 60 deg (northern or southern hemisphere), and it doesn't need to be reset every hour or so, like all those other platforms have to. In addition to introducing it at the 1995 Stellafane meeting, the 6 inch was also briefly described in a January 1996 issue of Sky and Telescope magazine article entitled "The ten top telescope ideas of the year".
Here is what the fibreglass ball mounted 6 inch telescope looks like: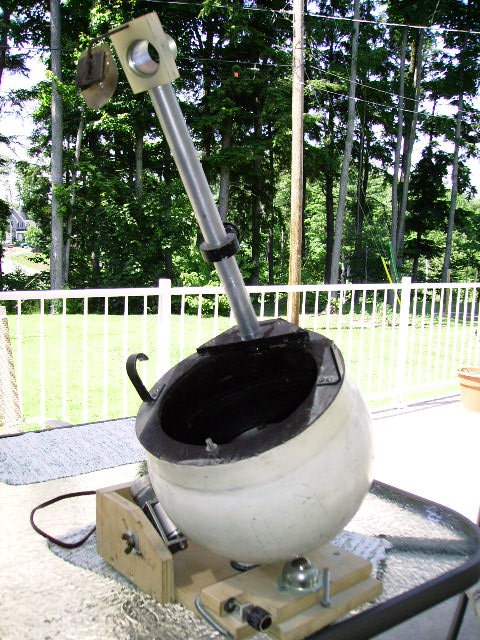 The ball scope tracking mount didn't catch on and, as far as I know, no other ATMs built one after I described it. About 10 years later it was "rediscovered" by, now, S&T Telescope Making Telescope Workshop editor Jerry Oltion who described his ball scopes in a few articles between 2005 and today.
Many comments I got after describing my 20 inch ball scope, including after publication of the article in this year's March issue of S&T, told me that this is a very nice concept but so complex to build, particularly the hemisphere, that it scared people away.
So, in the fall of last year I decided to pool all the knowledge I had acquired over the past two decades making tracking ball scopes and design an instrument that would be so simple to make, practically anyone could do it with very simple hand tools, in only one or two weekends and for a cost of about $300, excluding optics.
The resulting telescope is an 8 inch f/5 newtonian mounted in a 12 inch diameter aluminium hemisphere.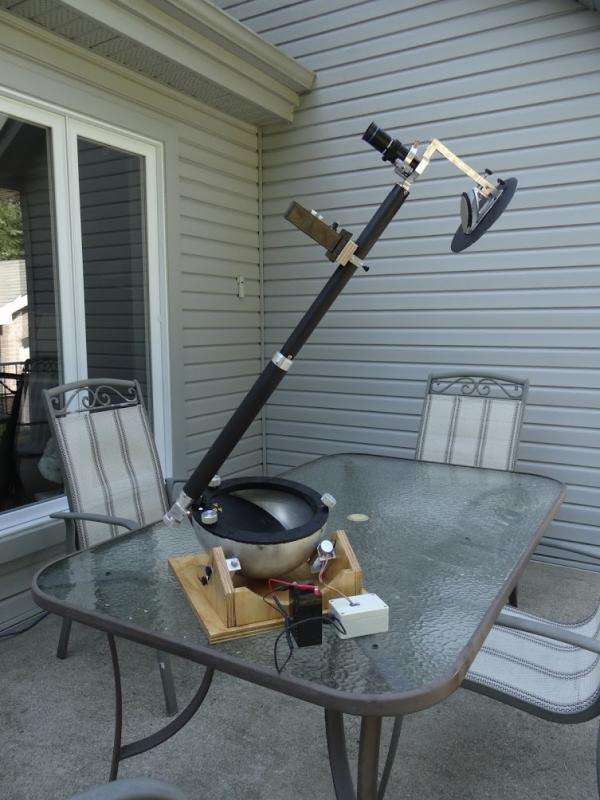 The telescope OTA weighs exactly 17 pounds (including eyepiece and finder). And, of course, being a ball scope, the OTA does not need anything else to operate. A shallow hole in the ground makes a great base! However, in my version, it rests upon a plywood base which holds the tracking platform, which weighs about 5 pounds. The OTA comes apart in less than a minute and will eventually store in a one cubic foot box that will cover the entire telescope for storage. The soon-to-be-built box will also double as an adjustable tripod base that levels the tracking platform and brings the eyepiece to a confortable height. More on this later as I finish making it.
The equatorial platform incorporates a single, 5v geared stepper motor which beautifully drives the scope in a very consistent way, half-stepping every 0.88 seconds (both the 6 and 20 inch use two synchronous motors). I have not included the dual axis function in this telescope because I doubt it would be used for astrophotography, but that feature can easily be added later if wanted.
In the coming weeks I will describe how you can make this telescope using commercial off-the-shelf (COTS) parts and where to get those parts. My version is entirely machined but all the machined parts can be made with alternate materials, including wood. The OTA can be made first and used on the ground, sitting the hemisphere on nothing more than a small plastic cover you can find in your kitchen shelves. However, I highly recommend you build the drive platform which can be made for about $30 and which will provide continuous tracking for your telescope, from almost anywhere you live or travel in the world.
And, of course, this being a ball scope, the eyepiece position is always in the most confortable position and, unlike a dobsonian, there is no gimble lock ("Dobson's hole") when observing near the zenith. I'm looking forward to sharing with you some of the new innovations I had to come up with to make this scope work, especially the very clever, and simple, primary mirror collimation system which is at the heart of the success of this project.
So please stay tuned as I write up the details and provide photos and sketches. As I did with the 20 inch, I will then incorporate the material I write here to my website so that it can easily be found at a later date, once this thread as migrated deep down in the archives of CN and becomes harder to locate.
Edited by Pierre Lemay, 08 August 2016 - 12:29 PM.