For the last few months I've been developing custom tracking software for use with my LX200 classic. Here's a picture of the rig: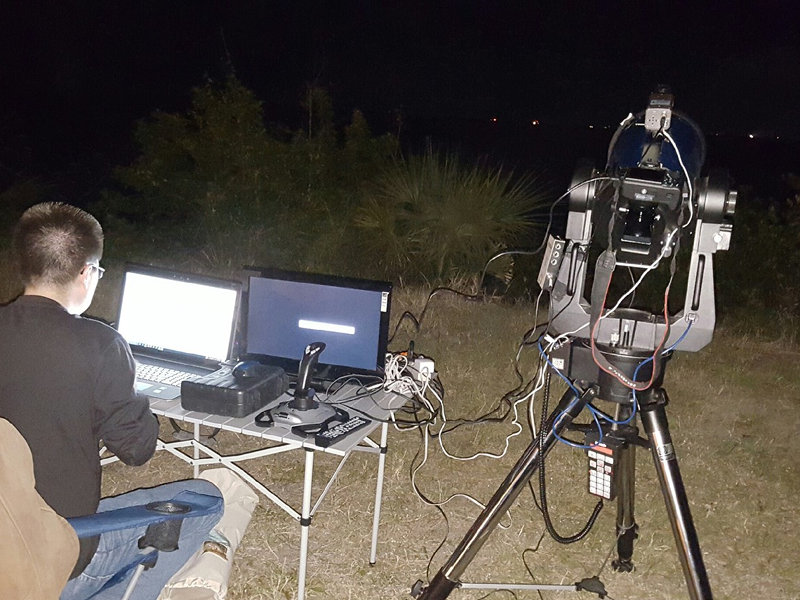 I use an 8" LX200 Classic with an IR-modded Samsung SDC-435 and standard c-mount lens (~50mm) piggybacking on an ADM rail to provide an electronic viewfinder for the tracking software. I originally wrote it primarily so that I could automatically track rocket launches from Cape Canaveral, using a joystick to initially acquire and designate the target. Joystick deflection and throttle adjustment both smoothly vary the speed (yes, even though the LX200 classic lacks direct drive rate control). The second monitor is hooked up to an unmodded Canon T5i which I use for live viewing the rocket up close through the scope. Together they provide some of the best views any lawn-chair observer of rocket launches can have. Here's an example video (completely raw, no editing other than annotations):
https://www.youtube....h?v=2nEeEjN7ABU
The program works by following the color/brightness of whatever is targeted. Obviously, the more contrast the better, but it works well for day as well as night launches. The major limitation I've found for day launches is difficulty with sun glare on the screen, and difficulty tracking past the first stage due to the limited focal length of the c-mount lens. In the future I may switch to an 80mm refractor to act as a high focal length viewfinder for daytime launches, we'll see how that goes.
Getting to the point, over the last couple months I've worked on expanding it to provide satellite tracking initially based on an object's orbit (open loop tracking), and then based on both the object's orbit plus video input from an electronic finder camera to automatically center the satellite in the main telescope view and keep in centered (closed loop tracking). The result is an automatic satellite tracking rig that can provide stable views of low earth orbit satellites for mid-to-high magnification viewing, either in a dual monitor EAA rig as seen above, or even just with a regular eyepiece if desired. This morning I did an initial test on a bit of space debris, an old Russian upper stage, and it worked perfectly (again, completely raw video here, recorded with the Canon T5i @ f/10):
https://www.youtube....h?v=_dfK2ZZouuA
The satellite is just a dot, but the telescope held it steady with the SDC-435 providing a very fast form of "autoguiding." The tracking is region-of-interest based, so a star has to pass pretty close to the satellite to confuse it, and it's easy to re-designate the satellite in that situation with a single mouse click on the video window. For the brightest satellites like ISS and Hubble this probably won't even be an issue at all due to the much greater brightness. I can't wait to capture some high magnitude footage of ISS, and I'll be doing so tonight if the weather allows (though I doubt it will; this is as sure to bring on the clouds as new glass).
Right now the software runs on satellite pass prediction files generated by Brent Boshart's old Satellite Tracker program, but ultimately I'll see if I can incorporate SGP4/SDP4 propagation within the program to generate the pass predictions automatically. I know there are other programs out there that do a similar thing (video based tracking and joystick control), but I don't know of any that will work with the classic LX200 or other scopes which lack direct drive rate control in their command sets. This program takes a different approach to the problem of rapid object tracking. I'm also looking at distributing it for free, but with a strong "use at your own risk" warning. I don't want anyone crying to me if they do something foolish with it during the day and steer through the sun.
Edited by ngchunter, 17 August 2016 - 04:09 PM.