I'm currently on a tour to the Messier objects with my vintage 80mm refractor, and I am closing in on completing the observations down to 0° DEC; The remaining M-objects from 0° to -15° should be reachable from my 56° N latitude in this upcoming season, while the ones from -15° down to -30° will pose a greater challenge (and the handful below -30° will require a journey down south).
Anyway, with UMa hiding behind the neighbour's trees to the N of my backyard, I'm at the moment out of convenient M-objects to catch, and so I have been looking towards the next step for my deep sky journey with the small 3" refractor. I have been studying the most often recommended lists of "Finest NGC Objects", such as the RASC (Royal Astro. Soc. Of Canada), the SAC (Saguaro Astro. Club of Phoenix), the CALDWELL (Patrick Moore) and the ACAC (Ancient City Astronomy Club: HERSCHEL-400). I've searched for a cross-reference for these lists, but found none. So I went ahead and compiled my own. There's understandably quite a bit of overlap between the lists, but I found the RASC list to be the best suited for my 56° N latitude, as well as the best founded and documented. So that will be my starting point for visiting the "Finest NGCs".
Here's the "best" Summer NGCs, sorted by RASC#, -- most of these objects are still well placed for observation at midnight from my latitude. I plan to aim for some of these, when the Messiers are hiding behind trees or the moon.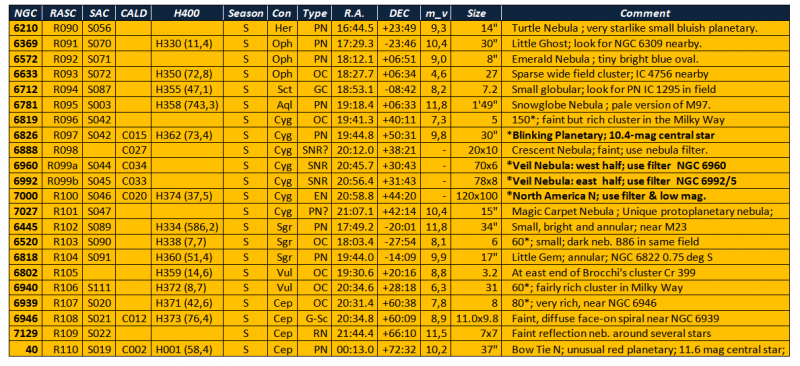 I will - as for the Messiers - be using my Vixen FL80S/640 refractor on Zeiss Ib EQ mount, with primarily orthoscopic glass eyepieces, and I will be using the classic technique of sketching my impressions of the objects. But, as O'Meara wrote in the introduction to his Herschel 400 Observation Guide :
"I used a 4-inch telescope to observe the Herschel objects, which is considered small by today's standards. Most observers will be using larger (much larger?) telescopes, that will show more detail. So a drawing of a 12th-magnitude galaxy as seen through a 4-inch (essentially a ghost mote of light) does little to help someone using , say, a decent 12-inch reflector under a dark sky... The photograph, on the other hand, demonstrates a more 'perfect' view; it shows the true glory of the object."
I will be using neither a 12" nor AP, but I will supplement my visual backends of the 3" refractor with a "spacewalk (EVA) eyepiece", ie: Enhanced Visual Astronomy using real time live video, using my small R2 ccd/lcd.
Because I'd like to also see the "true glory of the object".
Allan
And RASC summer NGC list, extended with summer objects from the other lists, sorted by constellation: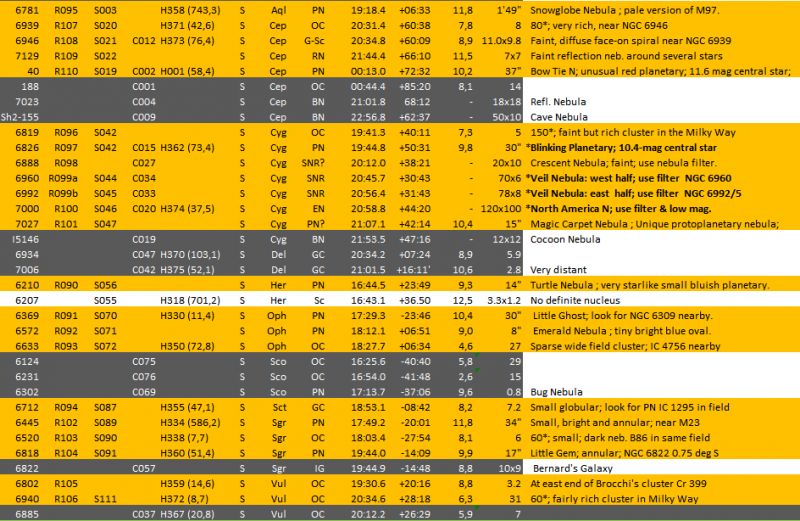 Edited by AllanDystrup, 22 August 2016 - 04:47 AM.