Hello everybody, it's my first time posting here, I've never wrote a review before, but I know that there are little (if not any) reviews of the Celestron Skymaster pro 15x70, other than a few on store websites.
I got my hands on one now and I'm gonna go ahead and post one. I'll try to keep everything simple and short, pardon my writing skills, they are not quite up to spec.
I'm actually not an astronomer or a birdwatcher, I just happened to like glassing (terrestrial observation). I actually have quite a few binoculars, but non at any higher than 10 power. I've knew of the release of the Skymaster pro's 15x70 for almost a year now on websites such as BH photo and Hi point scientific. What attracted me to these pair of binoculars was the advertised large Angle of view, (being 66 degrees) which is quite amazing for a 15 power optic. I was also attracted to Celestrons claims of a XLT fully multicoating, which they also use on their high end expensive Echelon binoculars. I've been saving up cash for almost a year to get these in my hands, and I just happened to finish that goal a month ago. I purchased these of BH Photo website on sale for $185.95.
Time for a test,
There is only one test I do to test the performance of my new binoculars.....
Hawk Hill Marin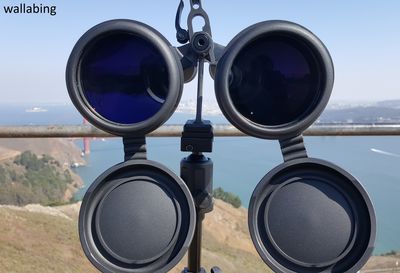 By the way, Here's what you get in the box
2x White Foam padding surrounding the binocular
1x Microfiber cleaning cloth
1x Nylon case + Manual
1x Nylon case strap
1x Binocular strap
1x Celestron Skymaster Pro 15x70
2x flip down Objective lens covers
1x Rainguard/eyeyepiece cover
1x 1/4 tripod adapter with clamp on dovetail for red dot sighters
2x Winged eyecups
2x Standard eyecups
The Nylon case and the strap is cheap. That is pretty much expected.
One thing that impressed me was the included 70mm flip down objective eyepiece covers, they are very well made, and generally stay secure without falling off the objectives.
On the flipside, the eyecups (both standard and winged) have a tendency to come loose if you so happen to bump hard against them. They are attached to the eyepiece simply by grabbing a little indent that runs the circumference of the eyepieces.This is especially noticeable in the winged eyecups because the sides of your face will eventually bump into them knocking them off, they also cannot be covered the the eyepiece cover, which is why I elected not to use them at all. I wished they were tighter fitting design.
I want to add that the construction of the eyepieces are very good aswell, they seem to made out of milled anodized aluminum with a red ring, adding a nice touch to the overall nice look of the binoculars. The eyepieces also have nice machined knurlings around the edges.
The 1/4 tripod adapter works well, it happens to made out of some cast metal alloy. The tripod adapter has a clamp on red dot sight mounting system on top of it. I didn't happen to use any so I cant speak for it.
The Good new:
Everyone knows of the collimation problems and QA with Celestron binoculars.I can say that my pair has arrived in my hands very well collominated. This is very good news. I can look through them for many minutes on end and get no eye strains or headaches in the process. Blinking my eyes back and forth 3 inches away from the eyepiece, I can see the images are perfectly aligned together.
This binocular is very sturdy and well built. The exterior polycarbonate shell construction is of very high quality, I am impressed. If it weren't for the silver rings that surround the necks of the barrels, these binoculars would be very "tactical sporty" in my opinion.
One you get to handle them, they feel rather medium weight, not as heavy as I would expected.
I can say that the image quality is tack sharp. This is the icing on the cake for me. Looking across the span of the Golden gate, I can easily make out the pedestrians jogging and bicycling over.
The 66 degrees angle of view/apparent field of view is awesome and very eye filling. The 3D effect is very good aswell. The 17mm of eye relief is comfortable, it spaces "just" right my eyes against the eyecups.
Furthermore the image is very bright, as would be expected for 70mm objectives and fully multicoatings, and to add to note, a 4.6mm exit pupil for 15x power. Safe to say the brightness of this binocular is immense in the daytime, and excellent in low light conditions.
The center focus wheel is stiff, but very smooth. Same goes for the dioptic adjustment on the right eyepiece. I suppose this is a good thing so they dont get turned out of focus too easily.
The interpupillary folding action is very smooth and stiff. (everything on this binocular is stiff) and accommodate my IP distance very well. The degrees of the IP distance is also marked on the keel aswell should you need to remember your setting.
I also need to add that you will need a very study heavy duty tripod to get this binocular rock solid and still to get the best image out of it, you could probally handhold it for a few minutes, but you're not gonna like it.
Optical impressions:
Center resolution- Very crisp and sharp image.
Edge to edge resolution - Image begins to fade when you get close to the edge of the image. You can see it well in my phone snapshots.
Chromatic aberrations- Unfortunately, this pair does have chromatic aberrations, although it is very subtle and not a deal breaker. There is purple fringing near the bottom, orange fringing near the top, and very slight purple , I could barely make out the chromatic aberrations through the center of the image, it was only then I saw a girl in a yellow bikini walking along glowing with a purple auru around her.
Distortions - There is some stretching near the edges. The image has a 3D effect to it.
Color - Colors look natural, a bias toward a slight cyan color when looking at white objects.
Contrast - I can say that the contract is leaning towards the lower side.
The view through these binoculasr are excellent, pure eye candy for me, if you dont mind the chromatic aberrations, which isn't bad at all for this price point to say. ($185.95)
If other Celestron Skymasters Pros are like this pair I received, then I can say that Celestron has hit a big home run them. $200-250 gets you an awesome large aperture binocular excellent for glassing or stargazing.
I'm not an astronomer, but I looked at the moon with this pair and I can easily see the craters. Stars in the endless black sky also looks small and sharp.
I highly recommend these binoculars, if it peaked your curiosity now, yes it is good, you should definitely go get these.
Edited by Wallabing, 11 September 2016 - 12:42 PM.