Finally got this little beast under some proper dark skies last week. This review is by no means an authoritative critique; rather a gentleman's observation of some very affordable and very nice glass.
First off here's the business end, followed by a home-built OTA cut down for binoviewers. Total weight fully loaded is 29lbs. The feathertouch focuser is a great counterweight to the large objective.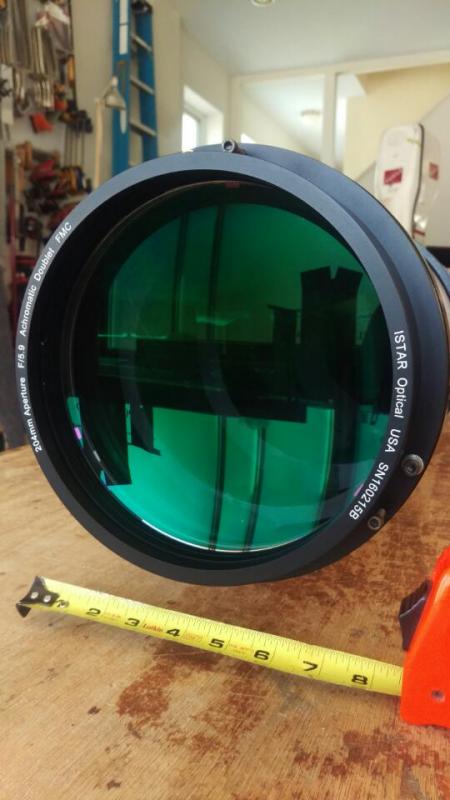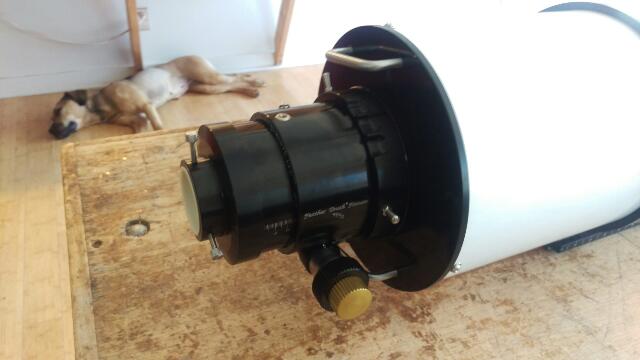 My interest in big refractors comes from owning and using all kinds of telescope designs. High contrast and pinpoint jewel-like stars always give me goosebumps. Some years ago I had a Meade 178mm refractor. Unfortunately the weight, size, and focuser left me less than satisfied. About 6 months ago I came across the istar company. A few emails to Ales, the owner, and I was on the wait list for a 204mm f5.9 objective.
My astronomy buddy Jeff Blazey offered to see this project to it's completion and I am very thankful for his help!
Down to the main question: false color? Fully opened at 8" there is some color on the brightest objects, but not near as much as a Synta achromat. Stopped down with a 6" aperture mask and the color quickly faded away. Saturn sits against a hard black background, definitely reminding me of the better "ED" refractors from William Optics.
But planetary observing isn't the main reason I bought a 8" objective. Star fields and low power DSO are my main targets. I set my alarm for 3am, mounted the scope on a surveyor's tripod with Giro IIDX alt/az mount, and started out with a 40mm Pentax.
The Pleiades with nebulosity (no filter), thick roping edges and a lace-like curtain of M42, smaller bursting star clusters inside the Double Cluster, and then finally the Andromeda Galaxy at the zenith, now 4am.
Here's where words stop and pure emotion kicks in. I've never seen the Andromeda field with such contrast, definition, and glimmering beauty. The dust lanes were very obvious, with both m32 and m110 showing their own structure. Overall I was covered in goosebumps and shaking my head.
"This isn't a poster, or an image."
I am glad I took a chance with istar and waited for delivery. Refractor objectives of this quality don't come along that often, and the price range puts it in pocketbook of many amateur astronomers.
Edited by 39.1N84.5W, 14 September 2016 - 09:01 PM.