There have been a number of recent posts on stacking focal reducers to create a compound reducer with more reduction than a single reducer. For example, using a 1.25inch or 2inch 0.5x reducer with either a Meade or Celestron f/6.3 reducer. In addition, Jim Thompson has produced a number of reports where he has tested a variety of combinations of reducers. After reading Jim's reports, I decided to experiment to see if using a compound reducer would allow me to get more aggressive focal reduction (than a single reducer) without introducing too much aberration towards the edge of the field. I'll try to summarize my results below - apologies for the length of the post.
For these tests I used a C8 and Lodestar X2 mono which has a 8mm diagonal sensor. As the Lodestar is only a 1/2 sensor, my results in terms of aberrations at the edge of the field may not be valid for cameras with larger sensors. I used several combinations of 3 reducers:
A 1.25inch Antares 0.5x reducer (focal length 95mm)
Two Meade (Japan) f/6.3 reducer/flatteners (focal length 240mm)
(If you are wondering why I own two identical Meade f/6.3 reducers (I call them the 'twins'), bear with me for a moment, and I will explain.)
To keep this post from getting too long, I will show the results from just 3 set-ups that illustrate what can be done. In each case, I used NGC6946, the Fireworks Galaxy, as my target as the field has lots of background stars, so it easy to see aberrations in the corner of the field (plus I like the Fireworks Galaxy

).
SET-UP I - 0.5x reducer and one Meade f/6.3 reducer - f/3.6 overall
(Sensor to 0.5x distance approx 42mm; reducer separation 30mm in spacers + SCT/T-Thread adapter)
In Set-Up 1, both the vignetting and aberrations in the corners of the field are obvious. In order to mitigate the vignetting, the separation of the reducers should be increased, since vignetting may have resulted when the light cone from the f/6.3 reducer meets the much smaller aperture of the 1.25inch reducer. Set-Up 2 has an increased focal reducer separation:
SET-UP 2 - 0.5x reducer and one Meade f/6.3 reducer - f/4.3 overall
(Sensor to 0.5x distance approx 25mm; reducer separation 102mm in spacers + SCT/T-Thread adapter)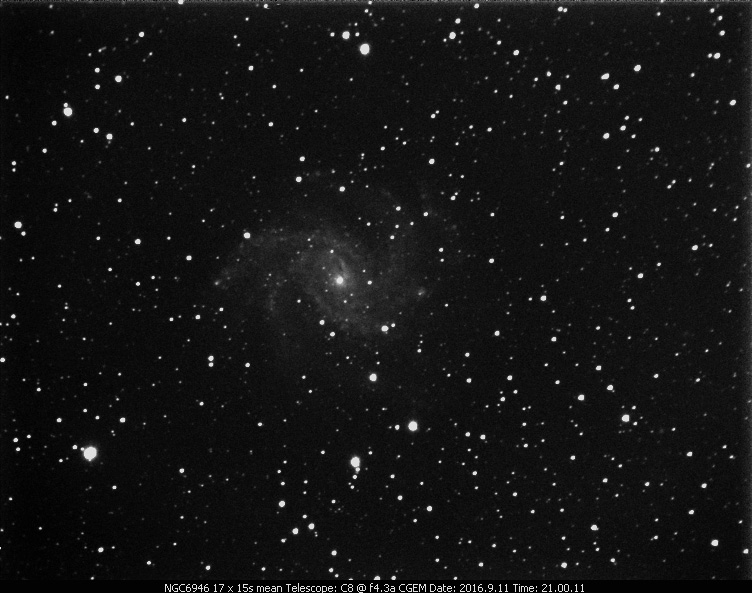 In Set-Up 2, the overall focal reduction is less aggressive and both vignetting and aberrations are reduced, although I still see some aberrations in the upper right corner of the field.
As a final example, I used the twin Meade (Japan) reducers, as I suspected that the Antares reducer might have been responsible for the aberrations in both Set-ups 1 and 2. I used almost zero separation between the Meade reducers - screwing one into the other:
SET-UP 3 - Meade f/6.3 reducer + Meade f/6.3 reducer - f/3.3 overall
(Sensor to 1st f/6.3 reducer distance approx 73mm; reducer separation 0mm in spacers)
Interestingly, although the twin Meade reducer combo gives the most aggressive focal reduction - effectively f/3.3 - this combination yields the least noticeable aberrations in the corners of the field. There is, however, a little uneven field illumination which may be from reflections between the almost in contact reducers, and some minor vignetting noticeable in the right corners.
I think that using the twin f/6.3 Meades is a potentially viable alternative to using the old Meade f/3.3 reducer. It is possible to get slightly more reduction out of the twin Meades than I have shown, but I ran out of focus on the C8 approaching f/3.0 with this combination. So no hyperstar competition here.
I'm not sure if the current Chinese made f/6.3 reducers are as aberration free as these older Japanese reducers, but perhaps someone will try them in combo.
Edited by alphatripleplus, 24 July 2017 - 09:01 PM.