Many of us who are looking to take advantage of shorter sub exposures for resolution and detail with the ASI1600 cameras have also been trying to dither every N subs, rather than every single sub. Thankfully, this is now possible with SGP, and if you were using FireCapture or SharpCap before, it was possible with them as well since dithering was manual anyway. I've had some semi-crappy nights recently that allowed me to get some decent subs, but which mostly just turned into nights of fiddling and testing due to thin clouds. On one of the objects I imaged, Ghost of Cass, I decided to see how far I could push the "N subs" aspect, and how small I could make my dithers. I dithered every 15-20 subs (I got lazier as the night went on, and ended up dithering every 20 subs

), and eventually reduced my dithering from aggressive (5) with scale of 3 in PHD3 to moderately aggressive (4) with scale of 2.
Well, when you stack around 100-150 subs, dithering moderately aggressively every 15-20 seems to be insufficient. I've explored the available rejection options in PI, without much change in the final results. And the results have shown some small amounts of correlated noise as well as some "pitting" (black or very low signal pixels) which is probably due to too many dead pixels stacking in the same place: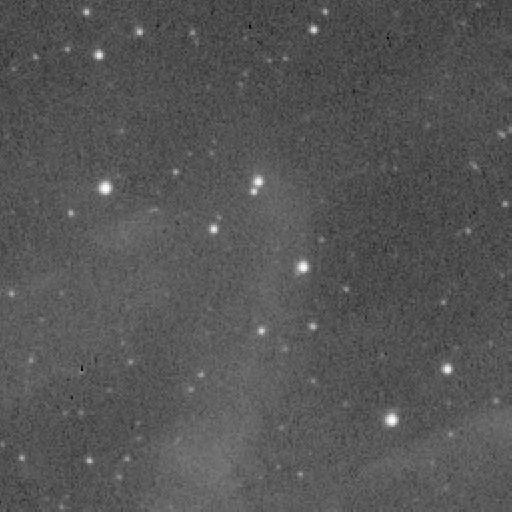 You can see the pitting pretty easily. You should also be able to see a bit of repeated medium-frequency pattern, and a very light bit of banding through the middle. The correlated noise is more apparent at native pixel size:
So, if you are only stacking a couple hundred subs or less, it's probably best to dither more frequently than 15 frames. It is also probably wise to dither more aggressively...or at least make sure your dither scale setting is sufficient. I moved back to dithering aggressively (5) with a scale of 3 in PHD2 which seems to be better...however I am beginning to wonder if even more aggressive dithering would be best.