Overcast again today all day !

I'll just go ahead and post the indoor pictures . IF ... the sunlight ever shines through the clouds again here , I'll get outdoor pictures .

The missing counterweight , was corrected with a piece of 1" round stock , end drilled and tapped for a 1/2'' 13NC stud . That then screwed into the end of the Dec. shaft . I don't know if this is correct as per OEM . Not ever seeing another Waring mount to compare too ,but it works with a 5 lb. weight , for the time being , or till I see an example of the original counterweight arrangement .
I has that exact mount for many years, purchased and used right here in the Cleveland area back in the day. I think my dec shaft was shorter if I recall correctly.
I used it with an 8inch Newtonian I assembled for planetary work.
When Scott Horstman from Backyard Observatories build my ROR observatory I gave that mount to him. He may therefore know it's current wherebouts
Oddly enough, I recently landed up with another piece of Cleveland telescope making history.
Last summer at a local estate sale I nabbed a Unitron 153 GEM that was atop a badly beat-up (but substantial) tripod. It turns out it was made at Waring Cleveland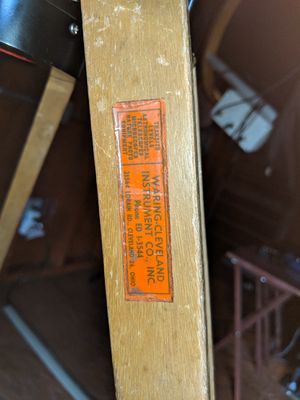 &nbsp