Do you remember when your first "project" scope arrived? That heady mix of anticipation and trepidation... The thrill of discovery as you carefully unpacked it, not knowing exactly what you'd find? The musty smell of old cardboard, the dinge of accumulated dust, rust and grime...
Well, that was my night last night. My Monolux No. 4366 arrived via FedEx out of Albany, NY yesterday, and after I got home from church I waited 'til the kids were in bed to pour myself a finger of bourbon and gleefully unwrap my present...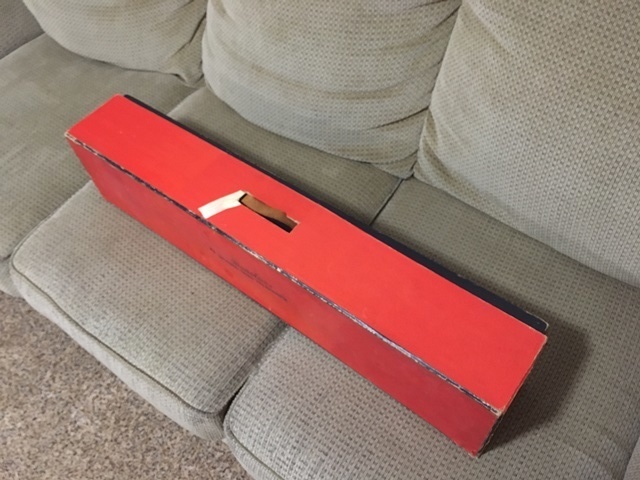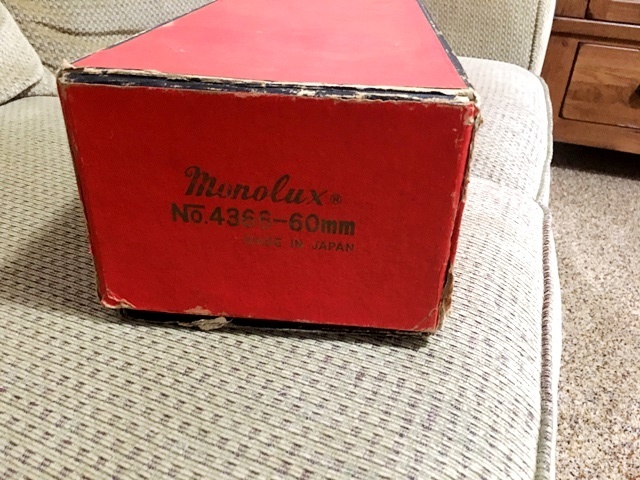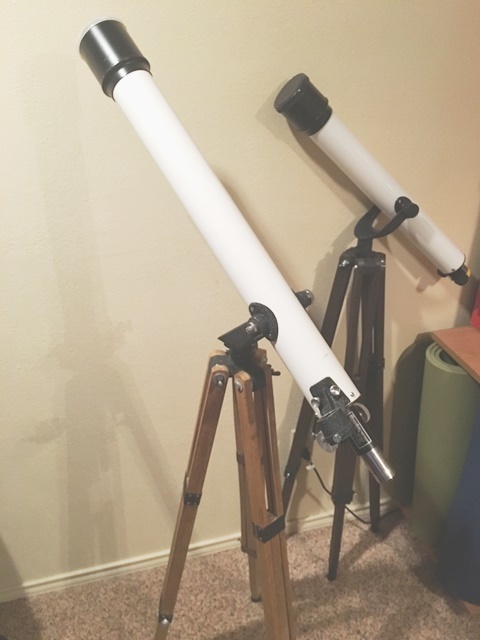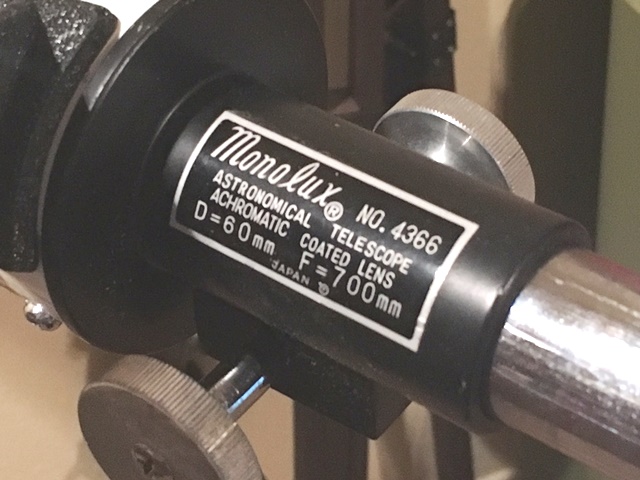 First impression: This thing's gonna take some work. Unlike my time-capsule Milben, this scope's got some miles on it.
As far as I can tell, I've got a complete kit.

The seller (or their source) basically shipped me a Big Bag o' PartsTM -- the assorted lenses, tubes, collars, etc. that apparently comprise the finder and accessories. "Some assembly required, batteries not included!"

It seems I've the makings of an oddly constructed singlet-objective 5x24 finder, a 2x Barlow, an image-erecting tube, a prism diagonal, two Huygens EPs (a 12.5mm and a 6mm), a sun filter, and one or two extension tubes (?). Oh -- and a small ~1/4" metal rod with strange bullet-shaped concavities at each end that does Jove-knows-what.

Anyhow, the various assorted lenses appear to have survived the trip

, but are liberally smeared with grime and dust. The objective looks a little milky, but is otherwise clear and undamaged. (I tried to remove the shade and cell with my bare hands to get a closer look, but neither would budge. I didn't want to force it. All in due time, I s'pose.)
I'm guessing that the 4366 was sort of a budget model; instead of a wooden crate it has a nice, sturdy cardboard box with a leather carry strap. Also, there there's no tray holding the tripod legs together -- in fact, in the illustration of the assembled scope that's included on the one-sheet instruction manual the tripod tray has been scribbled out -- I'm guessing this was done at the factory. There are some other odd details for me to unravel,too -- like the two (not three) finder scope adjust screws. And the way the scope mounts in the saddle -- instead of knurled knobs on each side, there's a fixed bullet-nosed bolt on one side that mates into the left side of the OTA, and and a knob on the right side to cinch it down. At first blush the whole thing looks make-shift, but on closer inspection that parts all look factory made-for-purpose.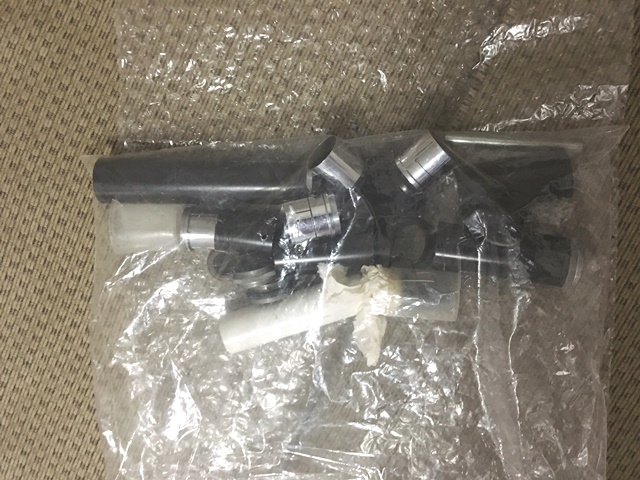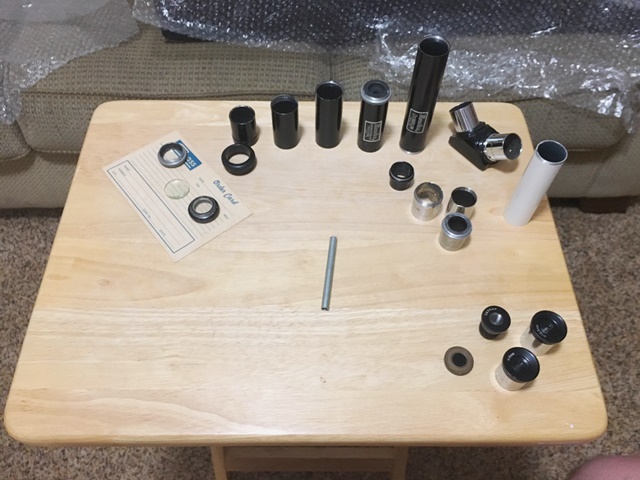 Guys, I'm gonna have soooOOOOoooo many questions...
Just for starters: Can anyone help me date this scope?
My gut is telling me mid-late 60's, but there's no JTII sticker, nor any of those little round JTII tags in the box, so it's just a hunch, I guess. All metal construction, plus the apparent age of the box coupled with the font/logo styles, etc. Not a hint of styrofoam in the box, either, but that may have been discarded previously, as the entire kit was wrapped in bubble-wrap inside the box and the tripod came pre-assembled. I do have one other potential clue: A blank order card from one Compass Instrument & Optical Co., Inc. of 104 East 25th Street in New York. (No zip code - maybe that's also a clue?)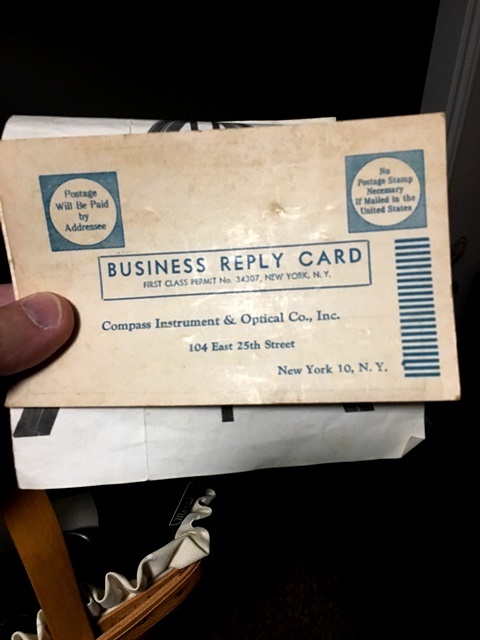 NOTE: According to justia.com, Compass Instrument & Optical Co. owned the Monolux, Cadillac (binos), Monoscope, Compass and Panther brands. FWIW, it looks like they're still around, now known as Compass Industries. They sell knives, compasses, binoculars, magnifiers, stopwatches, pedometers, etc.