Thank you to everybody that contributed to the original thread, most especially to Davesterx and Gatesjunior that provided invaluable previously unpublished information. It has been a quest to pull this together (#41 posts in original thread!), but I think I can now post a definitive article regarding how to use Celestron Firmware Manager (CFM) to update the firmware for;
i) NexStar + hand controllers via Windows 10.
ii) StarSense Camera with StarSense HC via Windows 10.
iii) Motors for a few modern Mounts via Windows 10.
Please note that CFM won't update motors on older mounts such as the CG-5 and CGEM. In fact, you can't use their older MCUpdate software with the StarSense HC. You have to use the NexStar or NexStar + HC. But on some of the newer mounts where the motors can be updated via CFM (e.g. like the Evolution or AVX mount); that also requires use of the NexStar+ HC. So you might need to update via those mounts twice using BOTH NexStar + and StarSense HC's for a complete solution (n.b. the repeat is required to update the StarSense HC). However, whilst CFM won't update (say) a CPC or NexStar SE motor; it will update their NexStar + HC's and/or their StarSense (if applicable). Yep folks, it is all a tad confusing! This explanation will hopefully cut through much of the mystery…….
Celestron publish this diagram which shows the StarSense Camera separately connected to the laptop computer by a mini USB to USB cable. If you don't have StarSense, obviously ignore that cable.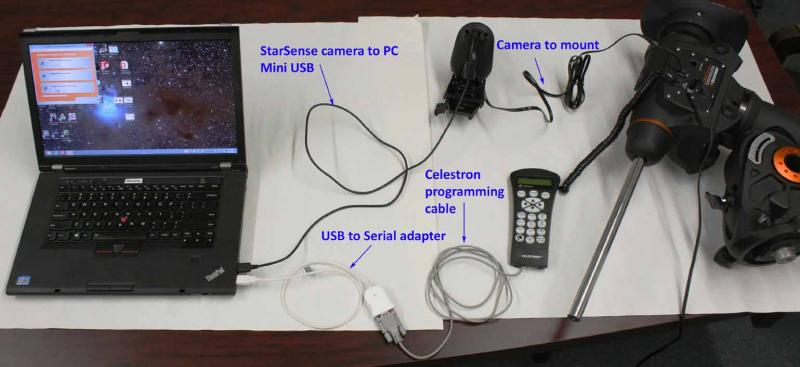 If you don't connect this camera cable, my experience (e.g. with an Evolution; CPC and NexStar SE4) is that CFM will still find the StarSense Camera via merely the HC to laptop cable(s) and later report that "All devices were updated". This is probably FALSE and wider user evidence suggests that BOTH cables are required to update the StarSense Camera.
Note that for the very latest NexStar + HC you will replace the 'USB to Serial Adapter/Celestron Programming Cable' with a 'mini USB to USB cable'. Note too that it is best to first update using the NexStar + HC; then repeat the process for the StarSense HC and Camera (where applicable). That should ensure that both of your HC's; and your camera and your motor are updated (n.b. the latter is only possible where CFM updates for motors do apply; e.g. only later mounts - see above).

1. First step, before connecting ANYTHING; I installed the driver for my Trendnet TU-S9 'Serial to USB adapter' into my Windows 10 laptop from the Trendnet supplied CD-ROM.

If using a later NexStar + HC with mini USB (output) to USB cable then a different cable driver might be required - see post #11 for more information.
My Windows 10 then insisted on doing a 'Windows Automatic Update'. This might be just coincidence, but it may have been required to update the Trendnet 'Serial to USB adapter' driver to Windows 10. You must install Windows 10 drivers for your specific cable if Serial output (or find a Windows 7 laptop etc.).

2. You then need to install the latest Java into your Windows 10 Laptop. Again, do this before connecting anything. In my instance, Windows 10 then decided it wanted to do yet another automatic Windows 10 update!
3. I then downloaded Celestron Firmware Manager to my Laptop from the Celestron Site. Unzip it and run the executable jar file. Note that this won't run without step (2). You might also find it a bit fussy and may need to use <'open with'….Java.>. But this too can be stubborn. If you can't get it to work, try this;
a) Right click on your desktop. Select <new>; <shortcut>.
b) Browse and find the path to the relevant folder.
It will be something like <thisPc>; <documents>; <cfm_2.1.6050>; <cfm>.
c) This creates a shortcut on your desktop. Name that CFM
d) Click on that shortcut and CFM will open.
If that doesn't work; try this (it's the same procedure, but if your PC has dropped the folder elsewhere this more detailed route will help you find it);
a) Right click on your desktop and choose create new shortcut and then click the Browse button.
b) Browse to the C:\Program Files\Java\VERSION\bin\java.exe (When browsing your folders, VERSION is dependent on the version you have installed. This is 64 bit Java, if you don't have 64 bit, just replace "C:\Program Files" with "C:\Program Files (x86)" you will know, because the Java folder will not be just in C:\Program Files, but you will see it under C:\Program Files (x86) folder when you browse.
c) Call the shortcut CFM
d) Right click on the new shortcut on your desktop and go to properties
e) Modify the top Target line and add this to the end of it with the following, just make sure you put a space after the existing last " in that line:
-jar C:\CFM_2.1.6050\CFM.jar
(This is the folder you put the CFM Program in, so modify it accordingly)

f) Modify the Start In: line in the shortcut to your folder where you have the CFM installed.
example: C:\CFM_2.1.6050

Now it will launch just by you double clicking it.
4. Connect the items as per the photograph (ignore camera if you don't have StarSense).
Follow the process below first using NexStar + HC. Then repeat for your StarSense HC.

5. Switch on telescope (don't press anything on HC). Here, it should now enter Bootloader Mode rather than requesting an Align.

I believe that if you switch on before connecting the cables (etc.); CFM may prompt you to reboot holding certain HC keys to get into Bootloader Mode. But 5 should work automatically in a 'plug & play' type manner if you switch on after all cable connections are made.

6. Click on '<Seek Devices> in the now open CFM.
I believe that in some earlier versions of CFM you also had to PRIOR select Telescope, but not on the latest version of CFM.

7. For my Evolution CFM found HC; StarSense Camera and Motor (hence; 3 devices). When I later repeated this for the CPC and NexStar 4 it found only StarSense HC and StarSense Camera (2 devices); hence not their motor (you need MCUpdate for those).

8. Follow further instructions on screen; click on <update> in CFM. This downloads all available firmware updates for the identified devices. In my instance, CFM applied six firmware patches to my Evolution Motor + StarSense HC + StarSense Camera. It installed fewer for CPC and NexStar SE4 (as it didn't update their motors).

Phew,…..good luck! It worked for me.
Edited by Brian Risley, 09 December 2016 - 08:55 PM.