So there has been a little talk here lately on numerically rating different sizes of binoculars for astronomical usage. As noted by others here, I find the Adler Index ( Magnification x SQRT(Aperture) ) to be useful for mathematically comparing different sizes of binoculars.
There is one thing that I think is missing in the Adler index and that is the size of the field of view. Since, at least for me, a wider field of view at a specific magnification does increases my enjoyment factor I thought adding in the FOV to the calculation my be beneficial:
Magnification x SQRT(Aperture*FoV) [FoV expressed in degrees]
Fo the sake of comparison, I would like to call this the Adler Field Index... Not sure if "Mad Matt Enjoyment Factor" would be generally accepted

This is how the Adler Index and Adler Field Index compare with several generic examples and my collection: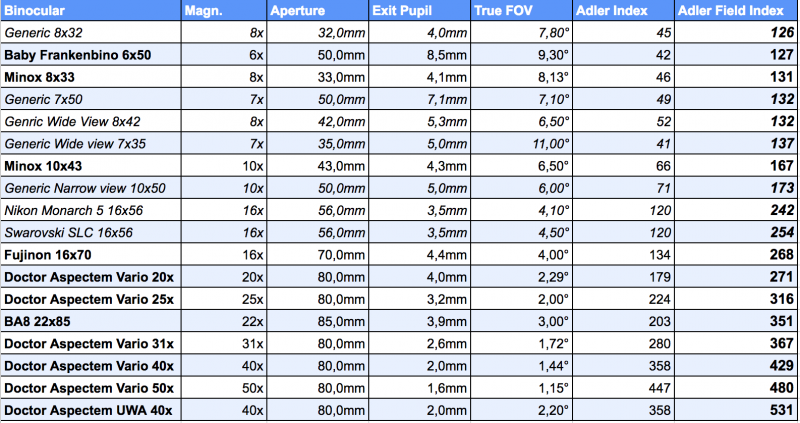 As you can see this gives more weight to wide angle designs and makes them more comparable. As you can see my 6x50 Frankenbino and 8x32 have very close Adler Field Index values. This is actually what I am seeing in the field. Also the difference between the Aspectem Vario at 40x and the UWA's is what I "feel" behind the eyepiece.
Any ideas, thoughts or reservations. If this has already been thought up and discussed then please post a link. I would like to see any conclusions made in previous discussions.
Edited by Mad Matt, 28 November 2016 - 12:31 PM.