Ladies and gentlemen, I'm proud to introduce... my new "COROnada"!

This is my recently completed conversion of the Milben (Towa) 60mm terrestrial click-zoomer time capsule I acquired a few months ago into an RFT format. My plan is to use it primarily as a grab-and-go white light solar 'scope, hence the color scheme and goofy name. This scope will travel with me and my family for the 2017 eclipse.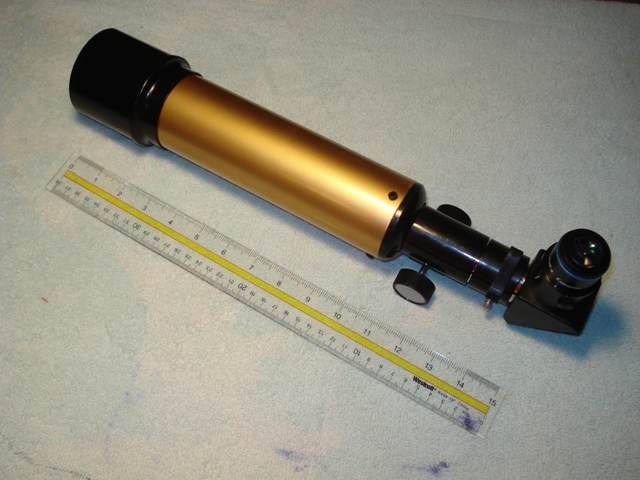 The primary is a 60mm x 400mm f/6.67. I purchased the (sadly, all-plastic) 1.25" focuser from Telescope Warehouse; I think the same unit is available from a number of outlets.
In addition to chopping the tube, I added a number of enhancements: blackened lens edges, fully flocked tube and shade, and flat black-painted objective retainer. I'm hoping to get as much contrast out of this thing as I can.
Now I just need to fabricate a nice solar filter cell and a set of rings. I plan to make the filter cell so that it slides snugly inside of the shade, both for aesthetic purposes and to protect the Baader film. The rings I'll make out of plywood, with a Vixen-style dovetail base in case I ever get a new mount for it. (For now it will mount on a camera tripod.)
Below I'll post more pictures of the step-by-step, in case someone else out there wants to do a similar conversion...
Edited by ftwskies, 03 December 2016 - 09:14 PM.