This report details my visual and photographic observations of some sub-arcsecond double stars that have been the subject of a few CN threads the past few months. This document is necessarily heavy on technical details to support those who may wish to independently evaluate the results.
Visual observations were made with a 15-inch f/4.5 Dobsonian reflector setting atop an equatorial platform. All observations were made between September 26th and October 26th of this year with a Paracorr Type I lens (setting no. 1) in the optical train. In all cases, Pentax lenses were used to achieve the following magnifications: 'low' (5XW; 398x), 'moderate' (3.5XW; 569x), and 'high' (2.5XO; 798x).
Imaging was accomplished using an ASI 178MC cooled camera [AVI files; mono mode] in an optical train consisting of a Paracorr Type I lens (setting no. 5) and a 5x Powermate. The plate scale for imaging was previously determined to be 0.0553 +/- 0.001 "/pixel using calibration stars (n = 10) and 0.0553 +/- 0.002 "/pixel using a diffraction grating with monochromatic red light (n = 8). Sharpcap 2.8 was used as the image capture software. Fine focus was achieved using a Bhatinov mask [All-Pro, Spike-a brand] modified to fit over the Obsession UTA. Separation values were determined using REDUC. Images were stacked and processed using Registax with final presentation formatting in Gimp.
Bu 720, 72 Pegasi
magnitudes: 5.7, 6.1
position angle: 105 degrees
separation: 0.575" (orbital elements estimate); 0.505" (last precise measure; 2015)
The separation data are not in good agreement for this object. This is, therefore, a good candidate for quantitative scrutiny.
Visual
At 398x the object vacillated on the border between elongated and just resolved to two golden-orange disks of similar magnitude in the correct position angle; 569x proved sufficient to show the stars as different magnitude and clearly resolved (but not yet split); a final increase in magnitude to 798x showed the pair as split, again with a golden-orange color and a small difference in magnitude. The ease of resolution at modest magnification led me to think the larger separation value [0.575"] was more accurate for Bu 720.
Photographic
Bu 720 was easily imaged using an exposure of 10 ms [gain = 320]. Four movies were made and separation was measured by three methods using REDUC: cross correlation of the top 5% of frames using S4 filter; simple measure of a Registax composite; and simple measure of a composite generated in REDUC. There was good agreement across these methods, giving a measured separation of 0.61".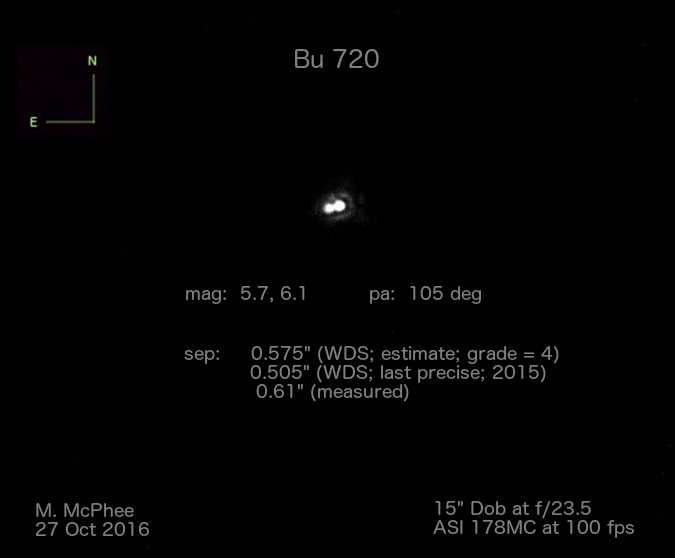 Edited by Nucleophile, 24 December 2016 - 01:32 AM.