There has been a lot of discussion about periodic error (PE) and periodic error correction (PEC) recently on a few threads, and after weight capacity, it is often the first spec we look at. Unfortunately, I think many users treat PE as if that were the only tracking error in a mount, and once corrected, the mount will essentially track perfectly. The reality is that PE is only about half of the error in tracking, with the rest of the error being random and uncorrectable, except through guiding or through the use of high resolution encoders. To drive this home better, I used PemPro to measure and correct the PE on my CGE Pro mount. First, I want to show what people often publish and many users see, just the clean PE before and after correction, and then the raw data that shows what is actually going on.
A couple points about measuring PE. You want as perfect a polar alignment as possible. PemPro will correct for drift but because of the other errors present in tracking, it is very hard to get what the true tracking of the mount was, after PemPro corrects for drift. In all of these examples I have the drift correction turned off so that we can see exactly what the mount is doing, and I have a very good (< 1 arc min) polar alignment. I find that I get better measurements with longer focal lengths. In these examples I am using an 11" EdgeHD at f/10 (FL = 2800 mm). Also, I like to use my CMOS camera instead of my CCD in order to get faster data points. I am using an ASI178 here and the pixel scale is a ridiculous 0.18 arc sec. You certainly don't need to perform PE measurements at such a high resolution, but this is the equipment I have.
The following graphs are what people generally publish and talk about. First, is a measurement of the PE of my mount using PemPro with no PEC correction. This is called the "native PE"...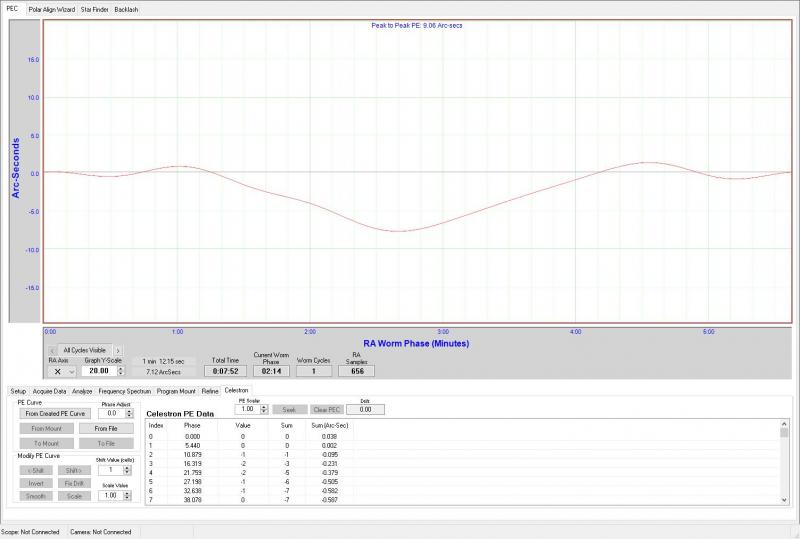 About 9 arc sec peak-to-peak, which is under the 10 arc sec that Celestron claims. So far so good.
And this next graph is the PE after applying that curve to the PEC feature built into the mount. This is called the "corrected PE"...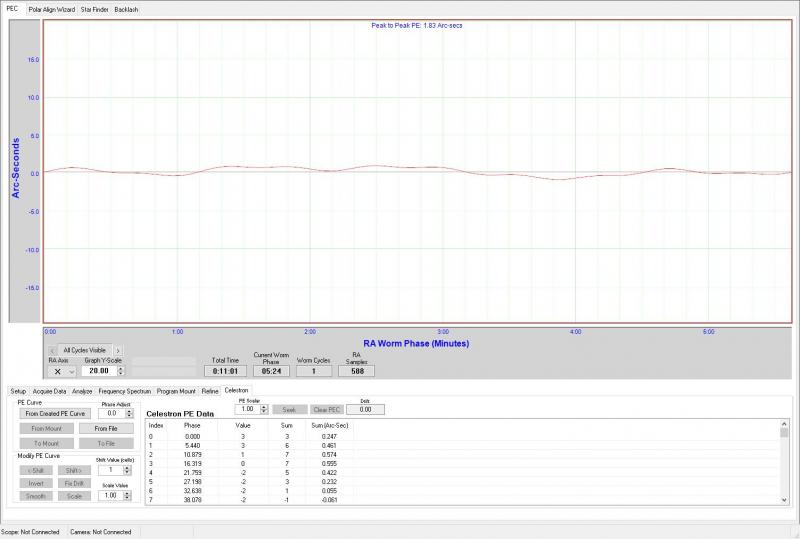 Now the PE has been reduced to just under 2 arc sec, which is pretty good, fantastic even.
Both of these curves look very smooth because they are "best fit" to raw data, but in the next post I am going to show what the raw data actually looks like.
Edited by syscore, 26 December 2016 - 02:21 PM.