Hi everyone. Hope the holidays are treating everyone well.
I have been pining for a good sized refractor for some time. My first scope was the Celestron 102 F/10 Omni. After that I quickly went bigger with the Evo9.25. I loved and still love that Evo, however the mount made it tough to do even the most basic imaging and I wanted to at least have the option of putting the wife's DSRL on there and getting something. Enter the CGEM mount, which would replace the Evo mount. As for the scope? I knew I wanted a bigger APO. I had used only achros prior to picking up the ED80. In a nutshell what I learned from the 80ED was the APO corrected optics were worth paying for… up to a price.
Best advice I have ever read regarding astronomy? The best scope you own is the one you use the most. I wanted a good sized APO, but something easy enough to limit grab and go. All my searches kept pointing to the Skywatcher 120ED. Here were the deciding factors:
Aperture: 120mm is a really nice spot. I have noticed a considerable jump in what you can see between 100mm vs. 120mm and having a good number of hours with 80mm, 100mm and 120mm refractors I really wanted the extra lightgrab
Price: I did not have a budget. My first choice was an NP-101. However the $1550 price tag for the SW was simply too enticing to pass up
Size: The SW is a doublet making it much lighter than 120mm triplets. In my research we are talking 11lbs vs. 20(ish) for 120mm triplets. That was a big factor. Also the 900mm focal length was still short enough to do some wide viewing (2.7degree true field with my 31mmT5)
Reviews: Many satisfied users and while some had complaints the consistent theme was incredible optics for that price level.
Trigger pulled.
I have and still use a Twilight I mount for my smaller scopes and simply love it. Hoping for a similar experience I picked up the beefier Twilight II. Total disaster, it's going back and on the way is a Stellarvue M002CS. Not to worry. I picked up a longer dovetail so I would have some flexibility mounting this scope. Not to mention the big weight disparity between EPs etc.. On the CGEM the Skywatcher goes and here we go.
*** a note on the type of observing I do:
I am a nature lover first, scientist second. I love scanning the skies for stuff, and enjoying the pretty views along the way. Living in a light polluted area I love the open clusters and planets the best, but when at dark sites those still tend to be my favorite targets. I do most of my observing at the lowest magnifications the scope allows. My 24mm Pan is the work horse EP in my rotation. I will have hour long sessions and that EP doesn't leave the scope. Next would be the 31mm Nagler. The big fella gets tons of love, but does push the optics of the ST120 and 9.25inch Evo OTA so the immersive feel is nice but it's a bit soft around the edges. This EP does plays wonderfully with the ED80. A dark site joy. After those EPs the others are when I want more detail and I feel like studying. My patio (aka observing site) has tons of obstruction, so I observe first with what sky is available, and focus on targets after.
First light:
How often in life are things great right away? No adjustments, no telling yourself you will learn to love this or work around that… bam, just awesomeness right out of the gate? Rare in life but the Skywatcher did it. My first "peek" was at the moon for about 10 minutes and it wasn't this night. It was while I was building the mount and it was pretty cloudy, but I caught some light through the clouds and wow. So I will include that in the list…
Moon – Well, the APO is supposed to be a clear, clean and crisp and the SW did not disappoint. No CA at all and razor tight outlines on craters and edges. My first thought was wow, my 2nd thought was at some point I should get a bino-viewer. I am really looking forward to more time on Luna
M36 (Pinwheel), M38(Starfish) and M37 – My eastern sky points to NYC and light pollution. My western sky is over rural NJ so it's much darker. Starting there and scanning Auriga I found the brightest 3 open clusters easily. M37 is like someone dumped a chest of tiny sparking jewels into the sky. In the 2350mm Evolution these targets fill the EP. In the SW they are obviously not nearly as bright, but lovely to view. The surrounding sky also frames them. "Cluster" is the perfect name.
Rosette Nebula – Whiff on nebulosity. *Maybe* I caught a little but I would not swear on it. However the handful of NGC open clusters were great to pick out so this was still a rewarding view.
M45 Pleiades – Stunning. The view in the 31mm was perfect to show the brightest stars, the whole cluster and enough of the surrounding space to frame it. If you didn't know there was nebula you might have thought there was some haze around the brightest stars… I didn't get any contrast but the nebulosity added to this lovely site. The overall contrast was stunning. The brighter stars were crisp, but easily seen were also the fainter stars, and while I don't think they are any carbon stars there are a couple with a nice deep orange in the 5-6 mag range that showed nicely. This is what I mean by "nature lover." Like looking out at the Grand Canyon… this is simply a lovely view with great optics.
Double Cluster, Owl Cluster, Caroline's Rose, M52 – Poking around Cassiopeia is another great area to simply get lost and find stuff. The Double Cluster is a great test for optics and EPs. These clusters have tons of stars with contrasting colors and luminosity. The SW and Nagler did not disappoint. The scope really shows off great contrast. Caroline's Rose was perfect. Its large and lacks the bright stars like the Owl Cluster, but it was lovely none the less. Pinpoint delicate stars everywhere. Really rewarding views.
M31 (Andromeda) – One of the best views I have had of this from my patio. It was cold and crisp which really helps with the light pollution and it showed this night. The core was an alien and exotic glow with the extended dust lanes showing plenty of luminosity as well. The pair of dwarf galaxies were easy finds and served to add contrast to our closest neighboring galaxy.
Orion (the whole thing) – Like most I love this constellation. Everything about it. I love the bright stars. Betelgeuse is one of my favorite stars to look at. It just so bright and pretty and I love the color. Alnitak's companions were easy to pick out and there was plenty of nebulosity in that area with some good contrast. M42, the great Nebula (see pic) was amazing. The milky bright layers of the nebula showed lovely contrast, and the stars in the trapezium were pristine pinpricks working hard to light the whole thing up.
Sirius- Finally the dog.. I tried to split it and see if I could make out the little pup. The 7mm Delite showed the best contrast, but I didn't get separation. It looked like a blazing star with a little pimple popping out, so it was there, but not what double star fanatics (Im not one) would call a clean split.
Finally when I had my fill I popped off the diag and put on the wife's DSLR. I am not an AP guy, but I do like to get some basic photos of bright things. Getting the data is fun, but I have no stomach for the post processing or setting up auto guiding. At least not yet anyway.
In any case thanks for reading. I really look forward to many years under the sky with this scope. I was shooting for a nice mix of portability, aperture and great optics and I feel like I really made a great choice. Optically this scope far exceeds anything else I have. This is everything I could have expected. Great APO optics. Pin point stars across the entire FOV. Even the 31mmT5 showed perfect stars in 95% of the view… only at the very edges was there any softening and nothing distracting. With the rings, dovetail and diag its about 15lbs.
M42 Orion Nebula, 30 seconds, Nikon DF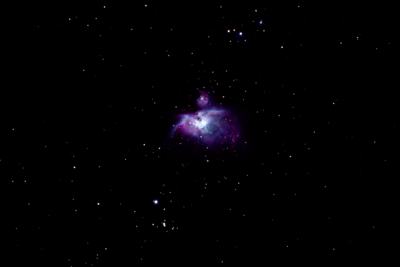 Crappy pic of SW120ED on CGEM next to the ST120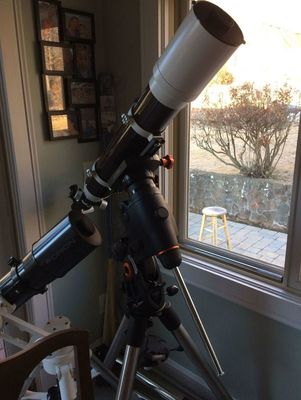 I will post a bit more my next time out or if I get any more photos with it, but this could not have been a more rewarding first run. All in all I was observing for about 2-3 hours.
When researching the scope I found reviews and feedback from folks on this site invaluable. Hopefully this helps someone in the future. My experience was fantastic.
Cheers,
Mike
Edited by fishmike, 30 December 2016 - 01:45 PM.