It has been raining here for weeks now and we have had maybe 2 clear nights in the past month. Given all that extra time I decided to take the plunge and work on a fully wireless Intel Compute Stick + Evolution 8 setup.
A brief break in the clouds tonight allowed for a first light. Happy to report it worked like a charm. To put it simply... it is the most portable, powerful, easy to use and elegant (completely wire free) EAA setup yet for my needs. It really does not get easier than this.
The setup for the evening was Evolution 8", StarSense and ASI290 Mono. The mount and the camera were both connected to the compute stick using a USB 2.0 hub (not powered). The compute stick was powered by a 5V/2A outlet on my Lithium Ion battery pack which was also powering the dew heater. I also plan to test out my Lodestar X2 with a filter wheel next.
I used Microsoft Remote Desktop for the Mac and iPad to remotely control the compute stick (screen shots attached). Which means (1) No wires - not even a single cable coming off the mount (see image). Zero risk of wire tangles (2) All I need is a tablet now for EAA even when stacking. I can sit on the couch or sit in the yard without having to lug a computer around. Or I can just sit in my study and use a my Mac to remotely control and stack.
Microsoft has released official Remote Desktop Apps for both Mac and iPad which offer a very seamless experience when using Remote Desktop to log on to a Windows PC. The compute stick required some minor software tweaks but after that worked like a charm. See below.
Compute Stick Setup:
The compute stick was the basic model which retails for $150 - Quad core Atom with 2GB memory and 32GB flash drive. I added a 64GB MicroSD card. Based on my experience this spec is more than sufficient for EAA as well as Imaging. Even while view finding and stacking with ASI290 Mono, SharpCap and with Stellarium running in the background CPU utilization averaged ~50% and memory usage was about 1.3GB/2GB.
The Intel compute stick runs Windows 10 Home edition. I had no problems setting up all the Astro software and cameras. Encountered no compatibility issues with either ZWO or SX camera drivers or SharpCap/SLL. Also installed ASCOM platform and ASCOM drivers for the Evo mount. Worked seamlessly with Stellarium and StellariumScope.
The Intel Compute Stick did require some tweaking out of the box. First I let Windows update run and update the OS. It did a whole new installation of Win 10. I then had to delete the old OS folder which was taking up ~7GB. Once the update was complete I had to disable the Windows Update Service manually as there is no way to stop updates in Windows 10. This is very important as Windows 10 applies updates with complete disregard to time or workload. Given the resource constrained environment of the compute stick this could spell disaster for an evening's viewing should the update decide to start at an inopportune time.
Second I had to install RDPWrap (free open source SW) as Windows 10 Home does not include the Remote Desktop Server. Only Professional editions do. I did try other remote viewers like TeamViewer and various VNC apps but RDP proved to be the most resource efficient and reliable SW.
I also had to remove and/or disable a few other services/SW that come installed. A notable one is Intel Remote Keyboard which is a real resource hog.
After these optimizations the compute stick proved to be incredibly resource efficient and capable. It is amazing that I am able to run a full Windows 10 PC in just 10 watts of power.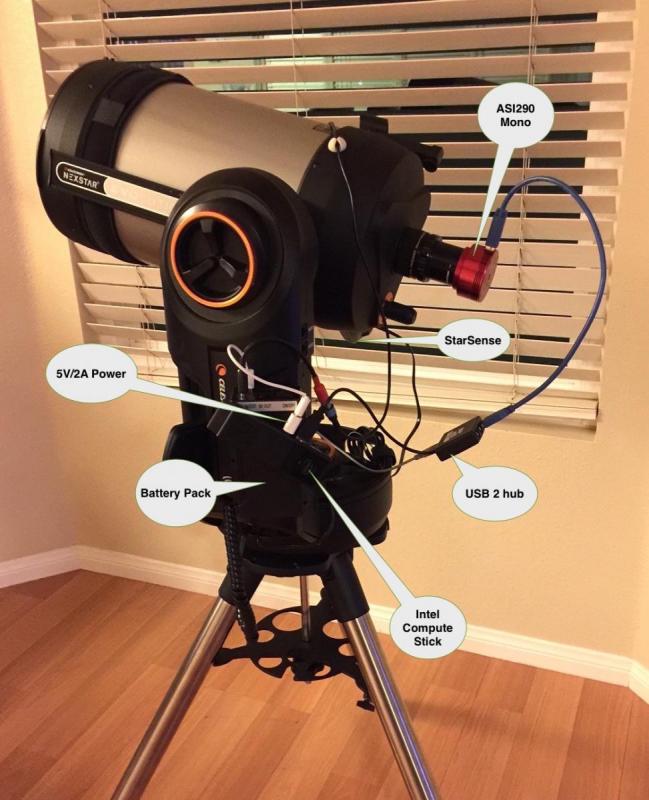 Edited by Astrojedi, 22 January 2017 - 01:59 AM.