Classic Rich Field
I have, alas, been stalled many a night these past winter months in my DSO projects for visiting the Messier and Best NGC objects with my Vixen FL-80S/640mm refractor; The reason has been primarily high atmospheric humidity accompanied by reduced transparency due to haze and fog (further enhancing my suburban light pollution), and this condition is not going to change in the forseable future (*).
I have therefore decided to set out on another astronomical endeavor, which should be feasible also on the many partly cloudy and/or moderately hazy winter nights, where DSOs, or even the fainter OCs, are out of reach. This project will focus on large objects, including stellar associations and molecular clouds, using my small, classic Vixen FL-55S/440mm refractor in "Rich Field" mode with my Masuyama 2" 32mm 85° AFOV eyepiece. I plan on using this setup in both traditional Japanese "straight through" mode for 14x @ 5½° TFOV (XP~4mm), and in the more comfortable western mode using my Zeiss eyepiece turret with 1.5xGPC for 20x @ 4° TFOV (XP~3mm).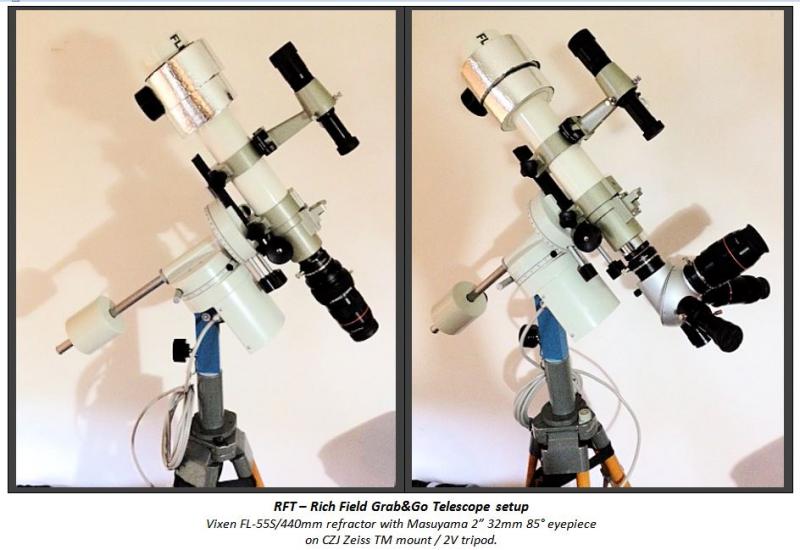 *click*
Allan
____________________
(*) On January 25. 2017 the EAA ( European Environmental Agency) of the European Union published their latest report on climate change, stating that European Atlantic/Continental border regions such as Denmark must prepare for warmer winters with heavy precipitation and storms (including coastal flooding events) and more dry summers with draughts and forest fires.

Quote chairman of the EAA: "Climate change will continue for many decades to come. The scale of future climate change and its impacts will depend on the effectiveness of implementing our global agreements to cut greenhouse gas emissions, but also ensuring that we have the right adaptation strategies and policies in place to reduce the risks from current and projected climate extremes.
Edited by AllanDystrup, 02 February 2017 - 08:57 AM.