Thanks a lot, Matt, for drawing my attention to the Vela area in the early evening sky. This has prompted me to research a little further south in the SCo-CMa blue stream and in the Vela stream. Here's what I've prepared for the Osaka trip: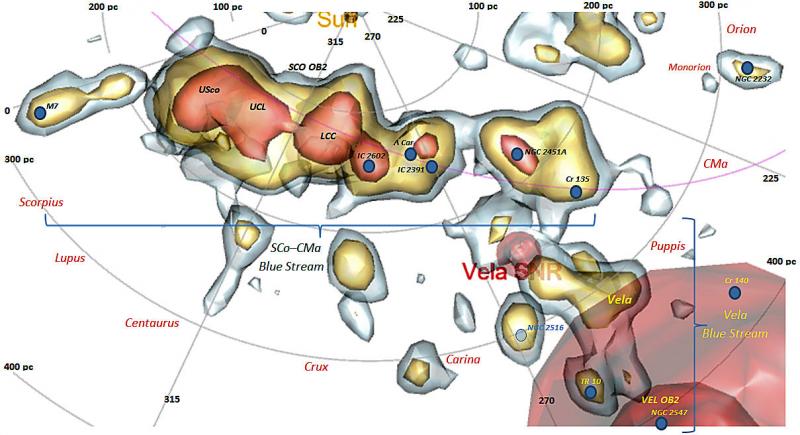 http://sci.esa.int/h...rs-interactive/
*click*
The Sco-CMa Blue Stream
The OB associations and clusters inside this stream are spatially coherent and continous over ~350 pc,and they display an age and distance gradient, that clearly indicates a common origin,
starting from the old open clusters in puppis (65 Myr NGC 2451A OC and 40 Myr Cr 135, at 400-350 pc),
then down south through the 50-30 Myr OCs in Vela-Carina (IC 2391, IC 2602 and A-Car OCs, around 200 pc),
then sequentially passing up through the large 15–20 Myr LCC and UCL associations (100-50 pc),
to finally reaching the young and close (4 ∼ 11 Myr) USco.
The Vela Blue Stream.
The OB associations and clusters in the Vela stream are a ~150 pc long and young (< 35 Myr) seperate "clump" at the old end of the Sco-CMa stream; The Vela stream is at 300-400 pc distance,
centered on Vela OB2 with the the 5-10 Myr young open cluster Gamma Velorum;
It also includes the somewhat older (~30 Myr) OCs : Tr 10 and NGC 2547.
The Omega Cen GC and the Centaurus-A galaxy will be low on the S horizon, and I won't expect any detail in my 10x56 bino, -- but it would certainly be nice just to have a glimpse of these magnificent southern objects!!

Allan
Edited by AllanDystrup, 06 March 2017 - 08:37 AM.