Hi All,
Intro (apologies for the quality of images, I had nice clean images but have had to resize them all to pass the strict upload limits so they look a lot less impressive)
I thought it'd be helpful to post up a review of my new Avalon Linear as I know a number of folks have been looking at this mount recently and I had to rely on google translate and the smattering of very positive reviews out there to help guide my choice. Firstly, a couple of caveats. I intend for this review to grow as my usage grows so I will hopefully keep coming back to this thread and add as I learn more about the mount. Secondly, I'll do my best to answer any queries or questions but in the context that I am no expert, just an amateur astronomer and astrophotographer who is improving all the time but I also still have much to learn...in short, I'm no Jon Rista! Finally, this will be an honest review - I'll likely eulogise about the things that excite me and I'll also report on things I find could be better. I'm of the opinion that most mounts are really great and am not interested in mount bashing. My last mount was a Celestron AVX so there will naturally be some comparisons which whilst may seem unfair, is a reference point for me (and perhaps others).
Other mounts I considered
To start with, why did I buy an Avalon Linear? I wanted a premium mount which could be my work horse for many years to come. I wanted something with more precision than an AVX, more payload capacity for future upgrades and something that would work reliably each time and every time. Other mounts I considered were the TTS 160 Panther, an iOptron cem 60 (non ec), an Avalon m-uno and a paramount myt. All would've been good choices which I'm sure I would've been pleased with but here is why I discounted them. The TTS is a fabulous mount and I got very close to pulling the trigger on this mount as the set up times, quality and alt az imaging are quite attractive. See here for details https://trackthestars.com I am grateful to Chris Howey for sharing his experiences and he has made some stunning images using the panther (see here http://www.alphaquadrantobservatory.smugmug.com) but at the end of the day, I wanted to see more images from different users to feel confident and I couldn't find them so I reluctantly discounted the mount. The cem 60 was attractive price wise and has some rather nice features such as a heated handset and an interesting polar alignment routine. I discounted this mount as I felt that there was a risk in terms of quality control and it didn't quite have the precision I was looking for. I am also not mechanically minded and didn't want to be in a situation where I had to open up and change parts, regrease gears, etc. The Avalon Uno is essentially the same mount as the linear but with the advantage of avoiding meridian flips. I discounted based on the cost - it's almost £1000 more in the U.K. and it also has limitations regarding the size of the scope you can use. I really liked the Myt but removed this from my list because the sky x felt like a big learning curve for me and I didn't want to plough energies into this when I've got more to learn on Pixinsight and mono imaging. I also felt this mount to be less portable which was high on my tick list.
Receiving the Avalon
I ordered the mount from Ian King imaging. The mount took around 3 weeks to deliver and was really well packaged. I also ordered an extra 3kg counter weight, some losmandy plates for my scopes and a t110 tripod.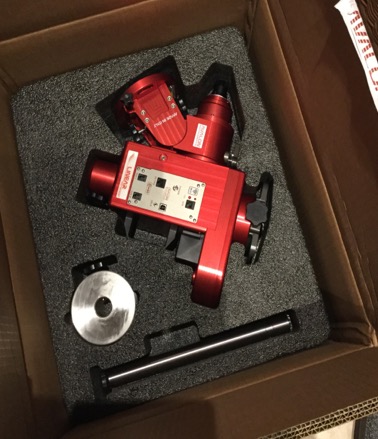 (
The first thing I was struck by was the quality of the fit and finish. It really does stand out pictures don't really do it justice. It's not a hugely important issue for me but it is a beautiful looking mount..,the Marilyn Monroe of mounts (I'd prefer Audrey Hepburn but the alliteration won't work - you get the idea!)
First setup
The mount is really quick to setup. The t-pod is rock solid and the legs can be quickly adjusted using the two adjustment knobs on each leg. I was initially confused about how to mount the plate to the tripod and in this respect, it would've been helpful to have a quick help sheet to clarify. There are 3 mounting screws for the t110 but the mount comes supplied with other bolts for EQ 6 mounts and I initially thought I'd been given the wrong kit until I'd spoken with Luciano (the manufacturer of the mount who is extremely approachable and has answered many of my questions within 24 hrs of firing off an email). You can probably see the issue from this photo (apologies for the quality)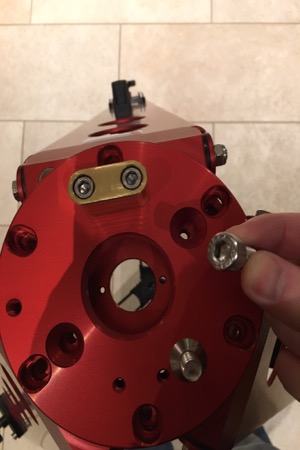 Gone are the days of twisting in the counter weight shaft...now it's a quick twist of the locking nut and the shaft is securely in place. Previous reviews of this mount mention elasticitity given that this mount is purely driven by belts. However, I found no elasticity at all having really tugged at the RA and Luciano has confirmed that there has been tweaks to the mount to resolve this issue which hasn't been an issue on imaging for other users anyway but good to know that the mount continues to be improved.
The saddle plate is really high quality and matches the build of the rest of the mount. It had a spring loaded mechanism which is controlled by a single knob and moves smoothly, making a secure connection to a losmandy clamp.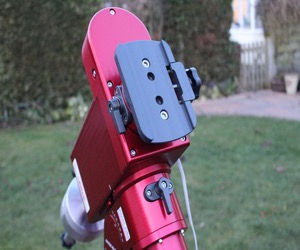 i fired up my laptop and installed the drivers from the supplied USB pen. This is a really classy touch as the pen comes in a sewn leather pouch and includes drivers, the star go software, instruction pdfs and videos. Connecting to the mount is as simple as attaching the USB cable and opening star go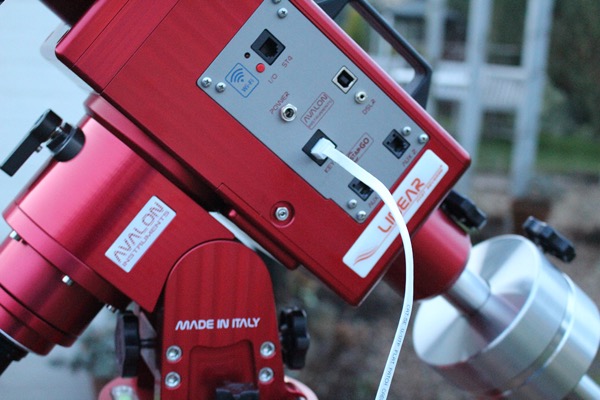 I was instantly impressed by the star go software. It is extremely intuitive and easy to use from the get go. The first thing you need to do is set the mount home position. From this point, it's a matter of adding a location ala nexstar handset. Helpfully, you can set and save multiple locations which is handy if you image in several locations. I had a brief look at the x solver software which has a 24 point modelling system, plate solving and polar alignment routines but I may cover this at a later date. I am over the moon with how easy it was to connect the mount to Sky Safari. Connect to the mount wifi, choose the lx200 protocol and you're good to go. This will be really handy for visual sessions and is a much better way to control the mount than the supplied handset which is lacking in features and feels a bit like a fisher price toy.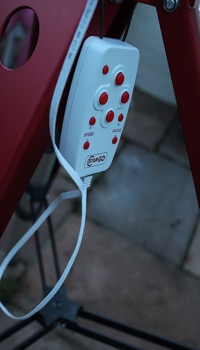 At this point, I sat back admiring the simplicity and quality of the mount knowing I've made a good decision!
First Light
Spotting a clear night this evening, I set up only for clouds to roll rapidly across the sky. However, it cleared enough for me to roughly situate the mount north and spot Polaris in the illuminated polar scope. This wasn't an accurate polar alignment as I plan to use my Polemaster on most occasions but will likely use the provided polar scope for visual occasions. Putting a Baader 36mm eyepiece in the diagonal of my 8inch edge, I used the stargo software to slew to stars for alignment purposes. My first chosen star (Betelgeuse) appeared just outside of the eyepiece. However, it was easily located using the fisher price handset and I was struck by how smooth the mount burst into action with a lovely, controlled slew. Impressively, the second star for alignment appeared towards the centre of the eyepiece and it was plain sailing from this point onwards. A slight issue is that the power cable is short and has to be balanced on the spreader part of the tripod as if put on the ground, you end up with the power brick dangling. This became a bit more of an issue when I used sky safari to redo the alignments which were easy to do much like the pc method but was spoilt halfway through when the mount lost power. It might be good for me to cable manage the power pack to one of the tripod legs to avoid this happening again. It would also be improved by having a threaded connector to the mount like the AVX and in his sense, the AVX scores its first point against the Linear. However, this is an minor issue and I called it a night feeling really pleased with the quality, precision and accuracy of the mount and marvelling at the fact i no longer have to worry about backlash - this mount had none, zero, zip.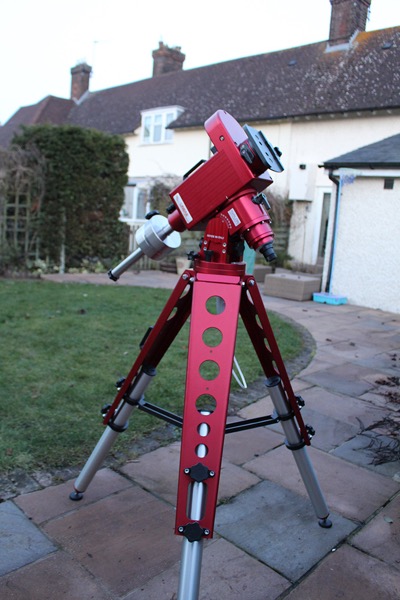 Edited by Becomart, 13 February 2017 - 06:06 PM.