Hey everyone,
I Tested my Samyang 135mm last week, over all I am impressed with the lens and the stars are great shooting wide open. I have been using my Nikon for about two years and fairly familiar with it but using this lens definitely showed some strange calibration issues while shooting at 200 ISO. I was able to resolve it by using higher ISO flats with bias to calibrate. By using the standard calibrations, there were very large rings appearing in the calibrated files.
I suppose next time I would want to shoot at 400 ISO at least but at f/2 and without a light pollution filter it is going to be very short subs. That or I can stop the lens down further but that would introduce diffraction rings.
I took apart my current setup to hack together a solution to mount the lens and my guider with the existing brackets and adapters I had, luckily I was able to make it work. I was able to fit the lens within two ADM rings so I could rotate the camera. There is just enough room to clamp it down. I used some painters tape around the lens to give some more texture for ring screws to grip.
The lens held its focus very well. You have to back off from the hard stop infinity just a bit as expected. It's very smooth and won't move by itself.
I was at a semi dark site but Orion is not very high now and without the LP filter it seemed to be picking up huge amounts of light pollution. It was only after using the background extraction was I able to get the data out of the image, which was unusual for me as I was so used to my other setups performance / results.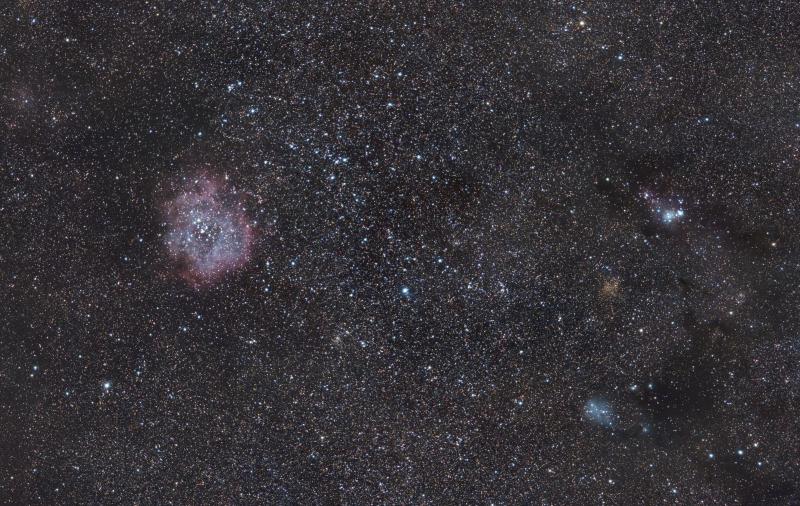 http://www.astrobin.com/full/284605/0/
If you pixel peep the full version, I was fairly impressed with the resolution of the Rosette and other areas.
I'm still trying to get my head around how this F2 lens is suppose to work and calibrate with it's strong vignette at F2 as this is totally different than my f/6 480mm scope setup. I don't think I want to invest in a clip in filter right now for this lens. I will have to try some more tests at different ISO and stopped down to see how it performs.
Thanks for viewing! Comments appreciated.