One of the first things I stumbled across when I got into amateur astronomy was Jay Reynolds Freeman's site. His essay, "Messier surveys" (here) has been an inspiration that I've returned to many times. I know that I've seen all of the Messiers with my XT10, most of them with my old XT6 and 15x70 bins, and many of them with other instruments, including a 70mm refractor and 9x50 finder. My marathon record is 108, with the XT10. But despite my fondness for the idea, I've never deliberately completed a Messier survey with a single instrument.
But I have at least started one now. I recently picked up a 4" f/4.5 achro for rich field observing and after a few nights out with it I realized that it would probably make a fantastic Messier chaser. So last Friday night I started a Messier survey with it. I was out from 10 PM to 3 AM but I wasn't pushing very hard - I spent a lot of time hunting non-Messier NGCs, I deliberately put off the spring galaxy fields, and I just plain forgot to observe M1 before it set. I got 22 Messiers that night. I used this form to log my observations - since I've been through all of the Messiers before with larger instruments, I wasn't focusing on drawing out new details, but I did want to write at least a brief impression for future reference and comparison. I picked up M29, M39, and M56 on dawn patrol a couple of weeks ago, so my Messier tally for this scope stands at 25.
I was also using 7x50 bins and every Messier object I attempted Friday night was visible, although I forgot to look for M79 and M57. So 20 Messiers so far for those bins, although they were almost all easy ones in or near the winter Milky Way.
Visual record-keeping is very motivating for me, so I'm highlighting objects in green as I go: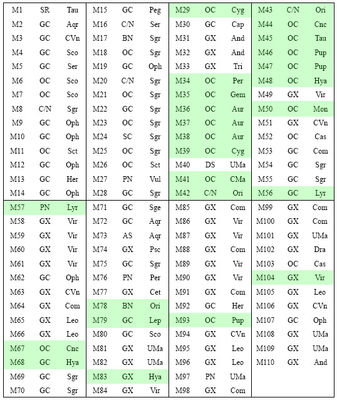 Here's a blank one if you'd like to do the same: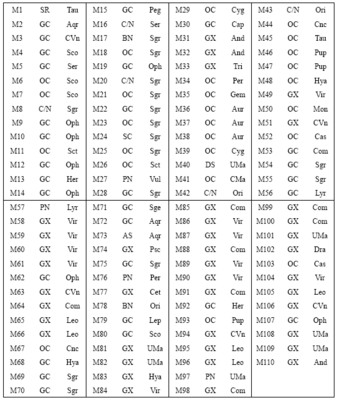 I'm posting about this for two reasons: first, in the hope that publicly committing to this project will help motivate me to complete it, and second, because I'd love to hear from other folks who have observed all the Messier objects with small instruments. I know they should all be cake with a 4" scope. I'm thinking about attempting another survey with a 60mm scope when I'm done with this one. How low did you go?