I thought some of you might be interested in how I removed some dents from a couple of tubes and dew shields.
I also thought this could be a place where others could offer their own experiences and tips.
On that note, Here's a link to some dent removal ideas posted by others last June:
https://www.cloudyni...al-suggestions/
And here's a somewhat relevant link to a post I made in What did you do to your scope/mount today? on fixing a dew shield that got me motivated to work on some tubes:
https://www.cloudyni...40#entry7675573
First up, how I removed five small dents from my Mayflower 806 cutdown.
It was actually the second tube I worked on, but since it's damage is more like what most of you would encounter, I thought it best to start with it.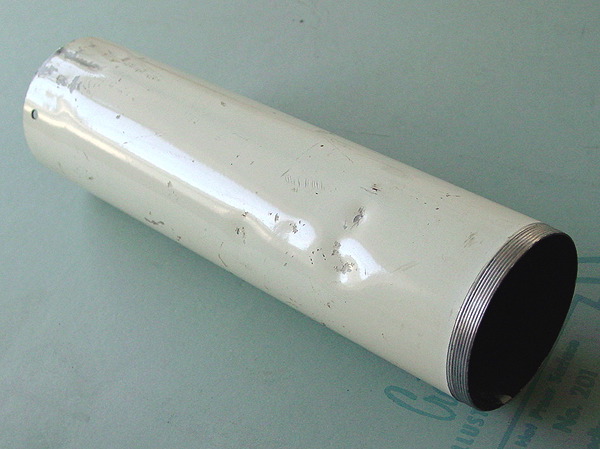 Here's the tube before work. It looked like it was beat with a rock with just about every large chip being the center of a dent.
Most of the work was done with nothing more than a piece of pipe held in a vise.
In my case an old Harley fork tube with a O.D. of 1 9/16".
I also experimented using a plug that I could lightly tap on as a hammer form, but mostly not.
I'll show the plug/hammer form in my next post.
All I did was apply pressure from above with both hands. One held in front and the other behind each dent.
Depending on the size of the ding/dent, sometimes I'd work from the edges of the dent to it's center.
Sometimes the pressure was applied as a jolt of force and or with a combination rocking swiveling motion
of the tube from side to side at each pivot point/dent.
I could be mistaken, but that combo motion seemed to help work out each dent.
It was done a little at a time taking the tube off the pipe and constantly checking my progress.
BTW, If you go a bit too far, you can tap it down while having a plug inside for form.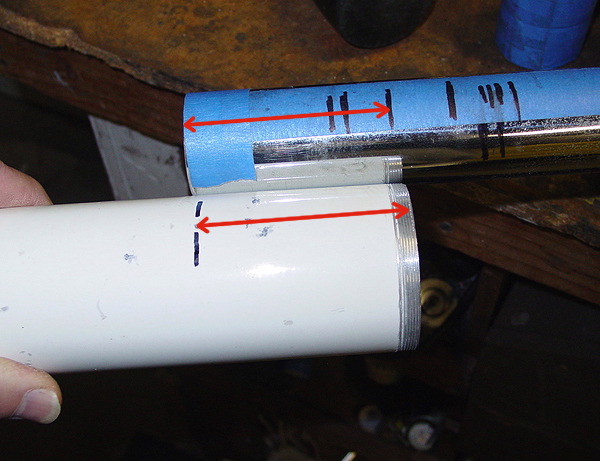 Each dent was marked and a corresponding mark was made on the pipe to gauge it's distance.
After that, I'd just slip the tube to the mark on the pipe (or about where I wanted to start it), angle it a bit, and apply pressure.
This photo was taken a day or two afterwards. I worked on two tubes and may have sometimes had a thin piece of cardboard or more
tape wrapped around the pipe's end to slightly buffer the pressure point.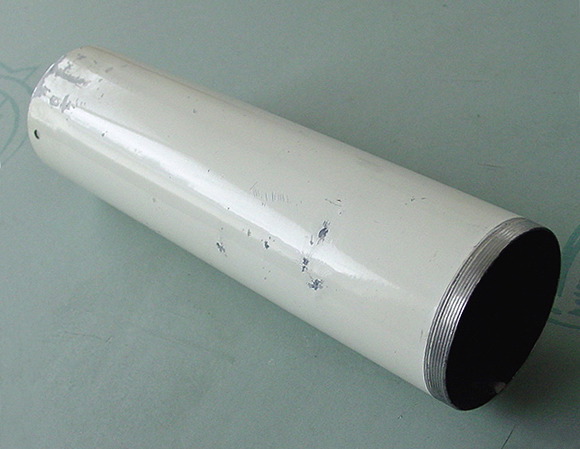 Compare with the top photo. The tube now feels smooth and round to the touch and at most needs a few tiny spots of filler.
I had no idea this technique would work, but it really ended up exceeding my expectations.
I've done similar work on car and motorcycle parts and find that you have to (use The Force), sort of feel the metal as you go.
Trust the feel of your fingers as much as your eyes. They can feel things you can't see.
Edited by Kasmos, 15 March 2017 - 03:17 AM.