I wanted to share these pics of my Goto Kogaku Mod 203. Many of you have no doubt seen the great Youtube video that Dave Trott did on this model. If not, see
https://www.youtube....h?v=uoQs326-h00
Dave currently has 77 videos on his Youtube website covering most every telescope you may have had or wanted when you were growing up. You could get a degree in classic telescopes by taking his online 'course'.
So here is the Model 203, 80mm - 1200mm, f/15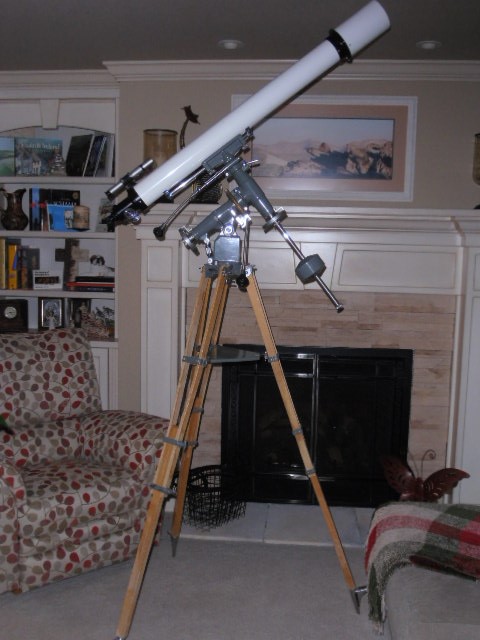 While not as impressive as the Mod 204 4", there are some VERY interesting aspects about this mount that should seem familiar. Here is a picture of the 203 mount and beneath a picture of the 204 mount (and I should say the mounts that came with the 203 OTA and the 204 OTA).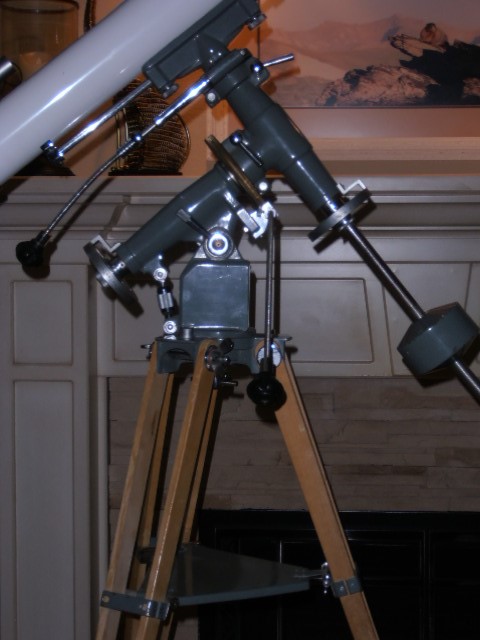 The mounts are the same, with the exception of the sliding saddle OTA mount on the 203 and the rings and plate on the 204 mount, the field tripod on the 203 mount versus the fixed leg tripod on the 204 mount, the yoke/head assy that is a boxy thing on the 203 and an I-beam thing on the 204. Finally the counterweight is smaller on the 203. Everything else is the same. Interestingly the brochures we've seen from the 50's show the 204 with the boxy type mount base and the 203 with the I-beam type mount base. The option to switch the mount base type with either scope, along with tripod type lends a lot of support to the idea that there was some type of drive mechanism that went into that box and that you wanted it with the scope or the option to add it. If anyone has any literature related to that drive compared to the AC drive on the spreader of the 4" I would love to know about it.
Also the yoke part is much lighter build when coupled with the field tripod compared to the fixed leg yoke. Same hardware for both leg attachments (note the same bubble level on the leg arm of the yoke). Here's the field tripod yoke
Edited by Stew44, 28 April 2017 - 09:46 AM.