I have run across quite a bit of discussion about central obstruction and spider vane thickness, yet I never see actual data provided. Apologies in advance if this is well-known and I simply missed it.
In terms of optics, the effect of central obstruction and spider vane thickness is a relatively straightforward thing to quantify. A good example is an old paper by Everhart and Kantorski:
Everhart, E. and Kantorski, J. (1959) "Diffraction patterns produced by obstructions in reflecting telescopes of modest size." The Astronomical Journal, pp. 455-462.
(http://adsabs.harvar...AJ.....64..455E)
See the graph shown below. The horizontal axis is the ratio of the diameter of the secondary obstruction to the diameter of the primary. The vertical axis shows the Contrast Factor, a measure of the ratio of energy inside and outside the central disk. Each curve W represents a four-vane spider with the given ratio of thickness to primary mirror diameter.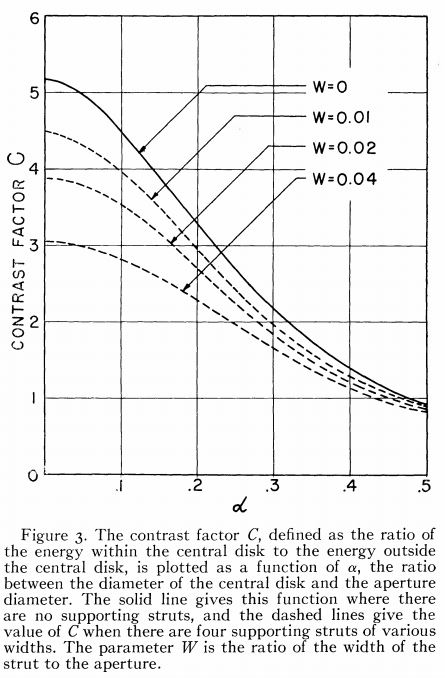 For example, a 200mm newt with a central obstruction of 20% and a vane thickness of 1mm will have a Contrast Factor of approximately 3.2. Increase the central obstruction to 25%, and the contrast factor drops to roughly 2.6.
A couple observations from these data:
1) Most reasonable vane thicknesses I have seen for tensioned four-vane designs will be less than W=0.01, sometimes even approaching negligible thickness. Therefore the focus from a design standpoint should be on stiffness and collimation stability.
2) The often-recommend central obstruction of 20% or less is arbitrary. As we can see from the graph, the slope between 15% and 25% is relatively linear. There is nothing special about 20% in particular.
The paper is an interesting read even one does not have a math background. Hopefully some fellow astronomers find this useful.