Thought I would post the sketch from this post-midnight view of a striking carbon star. I feel that my doubly afflicted sky (Moon & northern twilight) which takes on a deep indigo when it is haze-free tends to set off carbons' tints quite nicely – so its good to get a little something positive at this time of natural light pollution and DSO withdrawal.........
There is a degree of admission/self-chastisement with this........I pride myself on finding objects pretty quickly, all other things equal; but a few nights back was an abject failure to locate it.
Looking for carbon stars on Sky Map Pro 12 I had mentally booked this for a looksee, so on May 26/27 the debacle commenced and a soon light sky had me giving up.
Out observing I'm in the zone: laid back, self-assured and pretty much unflappable unless something like those guys 'lamping' hares with high-powered torches in the adjacent field turn up. Out of sight of me at the scope but the inside of the back of the observatory gets to look as though there is a lightning storm going on – when I feel like shouting "No hares in here........**!!**!!"..... but best not to antagonize with an exposed scope.............! No hare-hunters of late but that's the measure of how rattled I was with the AX Cygni failure.
Last night/morn found it in minutes..........

.........and quite a gem. I had not caught, in SM Pro, what is apparently another fainter Carbon star – fainter than AX but nicely contrasting with a blue star (these at field-top). My initial intrigue was the blue coarse triple (STT 391) which I had anticipated to give a contrast with AX but alas rather too far apart – maybe better for those equipped with a 12"-18" at <100x to get the effect. I can get 110x with a 60m Kellner; so just maybe when darker skies return. But ironically the fainter two at field-top were more effective...........
The wide double near the left field-edge is STT 393; and there is also a strongly orange star: the uppermost of the two above-left of AX. Maybe two and a 'half' carbon stars in one field......

Looking at AAVSO AX Cyg is shown on a fade to below 8.0 but looked nearer to 7.5 to me – I know I am red-sensitive........but that much........

Dave.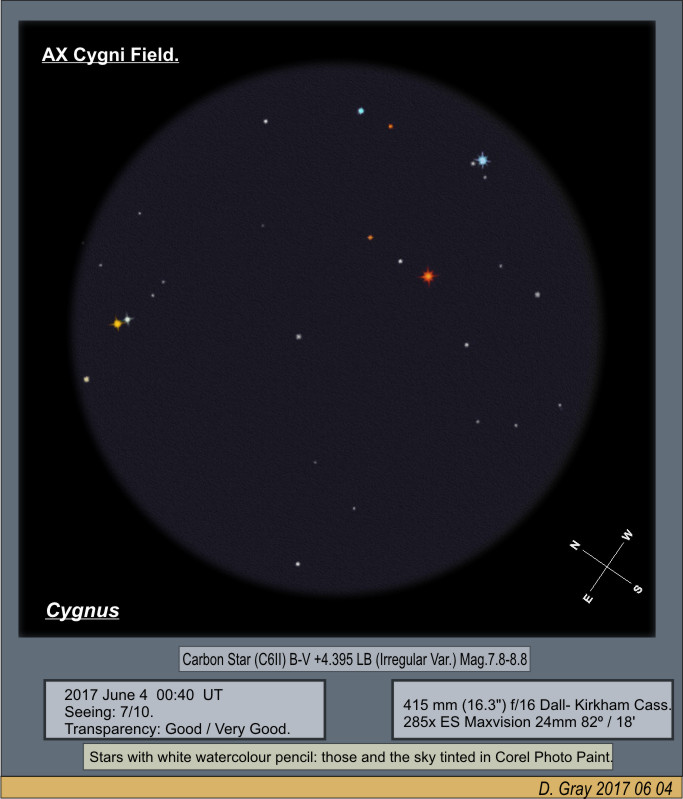 Edited by David Gray, 04 June 2017 - 03:36 PM.