Between graduation parties, moving daughter to new apt and crappy weather I have no new data to play with. Been reading about drizzle so figured id give it a go with my M51 data which is pretty good. First pass was with my Lum data 250 frames worth. Since I have calibrated and weighted lights, the next step(after freeing up HD space I crashed Star Alignment)is to do a Star Alignment(Register) my 250 frames of Lum with the "Generate Drizzle data" checked. This outputs the .drz files in the same folder as the alighned subs. Once that's done, you integrate your lights, and add the .drz files to the integration. What this does, is it writes information to the .drz files, to be used in the next step. I actually crashed PI I ran out of memory at this step! (I did have a lot of work stuff open as well) so ran again took a really long time maybe 45 minutes to generate the integration image and update the .drz files. The final step is to actually close the integration image(its not used) and use the drizzle integration process and choose the .drz files that were updated. I noticed that these files started out as 12kb and are now various sizes from 4-7MB in size so quite a bit of information is written. Don't know enough abut process to speculate what's done. Curious if PI uses just the .drz files or if the drizzle integration uses the drizzle information as well as the frame(I do see references to the image in the .drz file) So I ran the Drizzle integration process with new files and that literally took over a hour to get through 250 subs.
The results speak for themselves, I will show the differences as I progress through the rest of the stack but I was quite impressed with the difference! I suspect deconvolution will look really good! image on left is my LUM stack doing drizzle on right is my original stack with no drizzle you can really see the pixelization in the right image.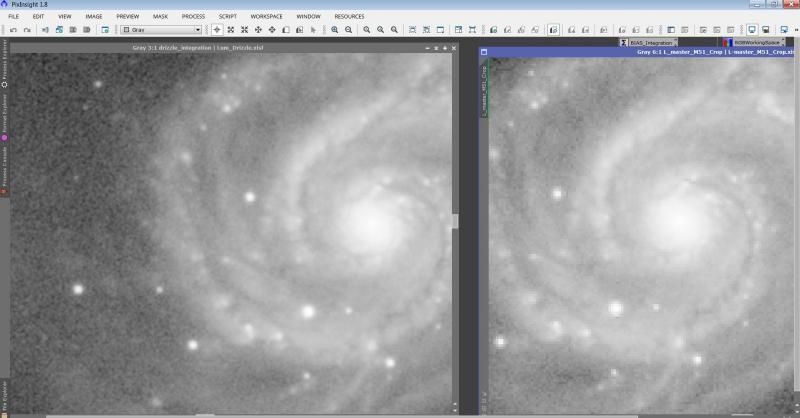 Also the noise looks significantly different so I wonder how the whole processing steps will look?