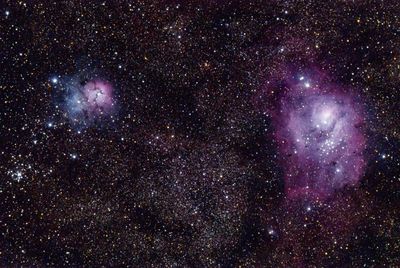 Taken yesterday from Lake Henshaw, with decent guiding... Oh did I mention the haze from all the fires around us? Well, most of it stayed around the horizon, so I had good seeing around the latitude where M8 + M20 was.
SkyWatcher Equinox 80, Advanced VX, Nikon D5000
QHY 5L-II-M, Orion 50mm Guidescope
Captured with DigiCamControl, stacked in DSS, processed in StarTools
In processing, I really don't like the Lagoon and the background to be a bit bland and red, so I brought out some blue in it, and put a bit of contrast in the background.
The Equinox is performing really well, especially as its a doublet.
Edited by overnight, 17 July 2017 - 02:14 PM.