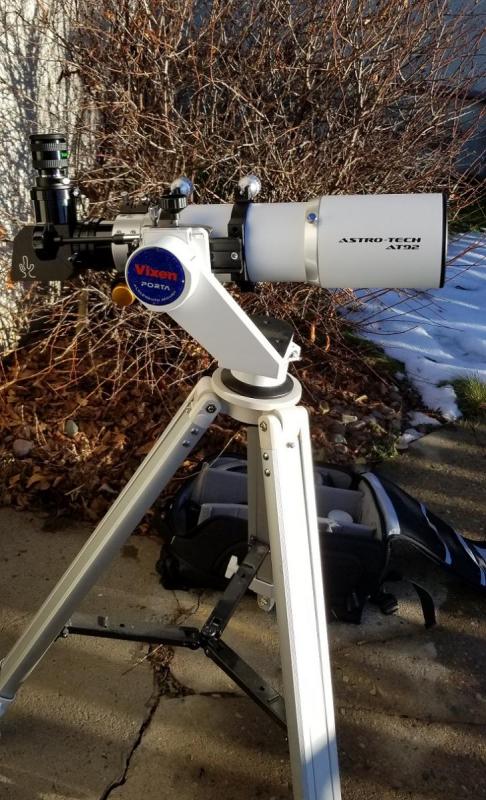 Nov 23, 2019 Solar report
I somehow had good seeing 4/5 and relatively clear skies today, so I decided to have a quick solar session.
Equipment used: AT92, Lunt Herschel Wedge with 2" Baader Solar Continuum filter
Just for kkicks, I tried out the 31 nagler and 17 ES. The latter of which wasnt bad actually. Contrast was apparent including granulation and a wide fov.
I swapped it out and put in my hi hat adapter and tele vue 15mm and 11mm delites. These are my go-to solar eyepieces.
The 15 delite is a very good eyepiece. I thought I would swap this out for the 18.2mm, but I find the focal length to be quite useful in my average to poor seeing conditions. Virtually every outing I use it, and it performs well for the conditions. I cannot say the same about the 11mm, as with lunar and solar viewing can be a bit too much mag for the conditions with small refractors.
Both eyepieces today performed well, only slight moments the 11mm was a tad blurry. Towards the end of my session it was super clear and steady.
I could notice solar granulation cells even with the 11mm, which is quite spectacular. As per Sky and Telescope, the cells themselves are bright plasma bubbling up to the surface, and the dark outlines are the areas where cooler gas is falling back down to the surface. I could see granulation pretty much to the edge of the disk, which is rare with limb darkening but can be observed with careful scrutiny.
It was only a short 30 min session as the sun was at a mere 13 deg above the horizon and slowly arching its way behind a distant neighbors tree.
Regardless, it was nice to get outside for a quick session.