After owning a Celestron C5 750mm for over 20 years, I suddenly found myself living somewhere with a sky worth shooting. The cantilevered foot for a camera tripod that came on the spotter always had in too much vibration on my EQ-2 mount, resulting in barbell stars when shooting deep sky objects. With a little searching, I found a set of 5.5" rings (ostensibly made for a Newtonian) with a Vixen base on eBay. I happened to get an Orion SkyView Pro tripod to carry my new SkyWatcher 180 (with a Vixen base)—overkill for the weight of the newly-ringed C5, but stable as a rock!
With this setup, I finally had a good enough platform to shoot some deep sky objects. The Lagoon Nebula happened to be in an ideal viewing position, so I shot it. The result was fairly impressive: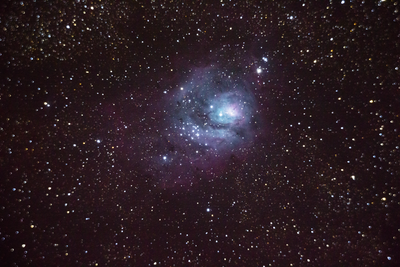 The edge coma is fairly obvious, which surprises me given that the scope was sold as a telephoto for a 35mm camera (the APS-C crops off an edge that would be more severe). Is there a field flattener that would work on the C5?
BQ