I've never been fully satisfied with the optical performance of my TS 80mm f/6 apo.
I'm using the recommended FR/FF for APS-C sized sensors (TSred279).
These aberrations bother me:
- The stars in the blue channel are always bloated compared to red and green, it looks like chromatic aberration.
- I've set the FR/FF backfocus very precisely to the recommended distance, but the field is still curved.
- The image plane seems to be tilted diagonally from top left to bottom right.
The chromatic aberration is clearly visible in this image of M27:
What can I do to improve these?
- Are my optics not collimated correctly?
- The field curvature can probably be fixed with trial-and error adjustment of the distance
- I haven't tried to image stars without the reducer.
Are there any other tests I can do to check the performance of the optics?
Honestly, I expected much more from a triplet apo, especially after using an Orion ST-80 achromat for a whole year.
Here's some more example data from a recent test on the globular cluster M71:
RGB 30 x 30" per filter (gain 74) -15C.
Guided with an average error of ~1" RMS.
Link to the full-size image:
https://astrovirusbl...-full-frame.jpg
Processing: LinearFit -> ChannelCombination -> ABE -> HT -> Saturation boost with Curves
FWHMEccentricity script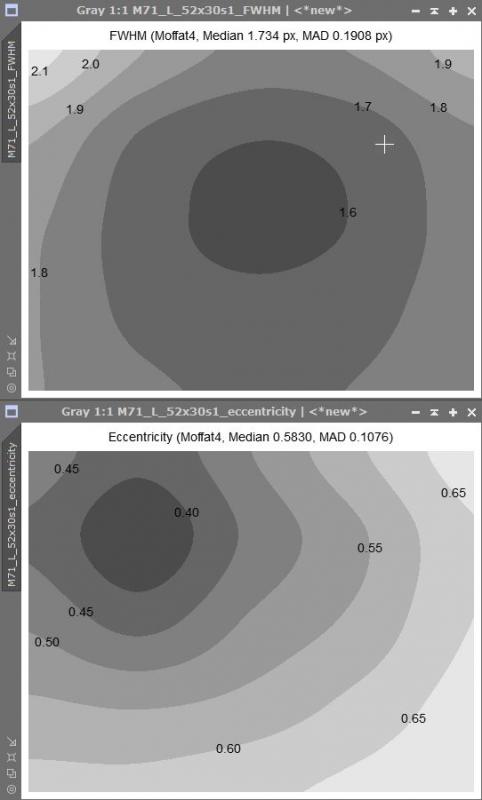 AberrationInspector script
I focused each channel separately, using the FWHM tool in sharp cap.
This clearly shows the star bloating in the blue channel.
The luminance channel suffers from the same problem.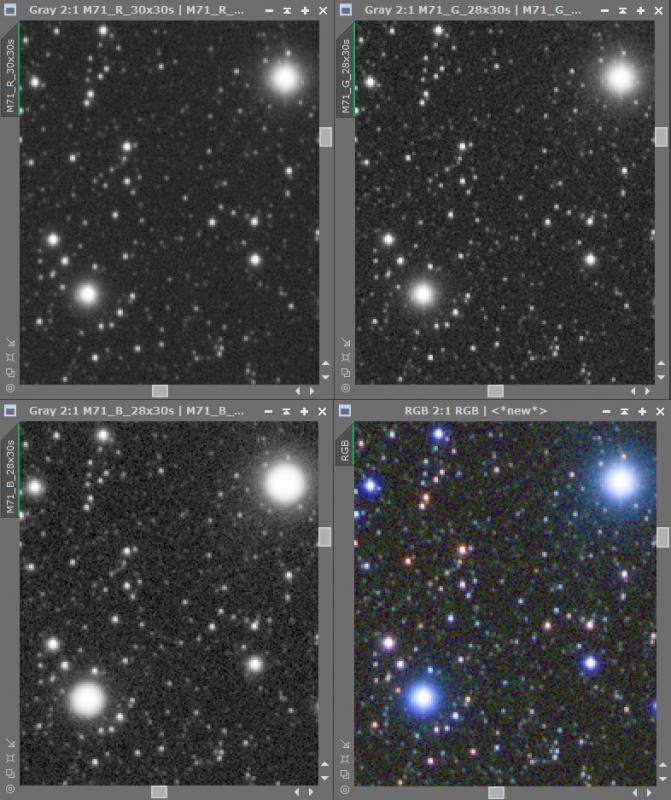 Am I expecting too much?
Okay, the 0.79X reducer could be too fast for these optics, and a regular flattener such as the TSFlat2 will probably improve the performance.
But I really like the f/4.8 speed of the system for imaging DSOs, that's why I bought the system in the first place. My clear sky time is extremely limited.
This reminds me of Firemandan's topic:
https://www.cloudyni...reducer-issues/
Except he does not experience as much chromatic aberration with his system.