Post a photo of your binocular setup!
Started by
jay.i
,
Sep 09 2017 10:21 PM
binoculars
equipment
251 replies to this topic
Posted 11 November 2018 - 07:45 AM
paulsky, starmason, Pinac and 2 others like this
---
Posted 12 November 2018 - 08:42 PM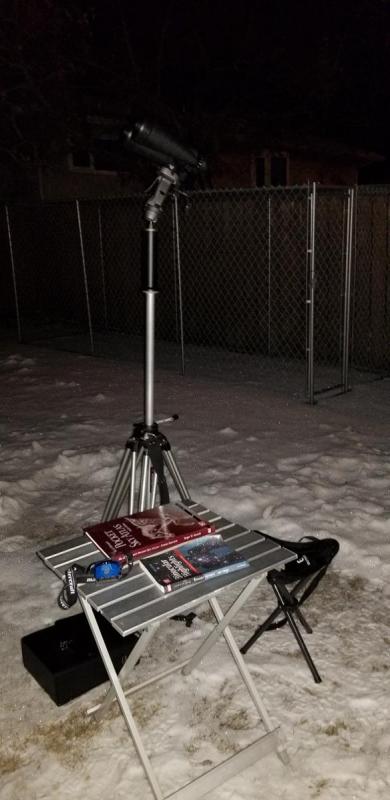 I tried this little experiment last observing session with the binoculars. It didnt work too well for astronomy, and the angle of elevation doesnt change.
I need a better mounting solution for my 10x70 Fuji's, likely an Orion Monster Parallelogram some day.
For now, I will continue to use my monopod with the same ball head, but just adjust the angle by angling the monopod more with respects to the ground to observe higher in the sky then pictured.
---
---
Also tagged with one or more of these keywords: binoculars, equipment
Equipment Discussions

→

Cats & Casses

→


Started by Escape Pod ,

Yesterday, 04:42 PM

Maksutov

,

equipment

Astrophotography and Sketching

→

DSLR & Digital Camera Astro Imaging & Processing

→


Started by math268 ,

Yesterday, 03:29 PM

astrophotography

,

beginner

,

CMOS

and 2 more...

Equipment Discussions

→

Mounts

→


Started by dansawyer ,

Yesterday, 12:44 PM

equipment

,

Meade

,

mount

Equipment Discussions

→

Equipment

→


Started by Sarkikos ,

Yesterday, 12:08 PM

accessories

,

equipment

Equipment Discussions

→

Equipment

→


Started by jtf_ie ,

Yesterday, 11:26 AM

accessories

,

beginner

,

equipment