Folks
I would like to share details of my 16" f/4 Tenesegrity telescope which I built slowly over the last 4 years and debuted at Oregon Star Party this year. It was also featured in Mel Bartels' Telescope Walkabout..
Specifications:
16" f/4 Quartz mirror, 1" thick / 15 lb - by Mark Cowan
3.5" 1/20th wave Antares Secondary
Wire spider
Tensegrity String Telescope design based on Don Peckham's design and Dan Gray's original string scope design
Strings are 10 loops each of UltraCam bowstring material and covered with Slink-drifter tubes
Dan Gray's Sidereal Tech Drive System with clutches to manually move scope
Optical tube assembly weight - 49.8 lbs (includes paracorr II, 20mm100 ES eyepiece, Stellarvue 50mm finder)
Rocker box + ground board + motor drive mechanics - 23.5 lb
Lots of people helped with ideas and inspiration that I would like to acknowledge - David Nemo with his 20" string scope, Chuck Dethloff from whom i borrowed a lot of the drive system ideas, Don Peckham, John Delacey and many others at the Rose City Astronomers Telescope workshop for ideas and help with tools, Dan Gray for help with the drive system and Reiner Vogel's excellent telescope making website with lots of ideas and inspiration. Also Albert Highe's books on telescopes and string telescopes are a great resource.
In general I am very happy with how it turned out and how rigid the assembly is.. Vibration damping is excellent - something I was worried about. I am posting several pictures below !
I do need to work on the clutches - the telescope doesn't move as well by hand..
Thanks
Sameer
Assembled Scope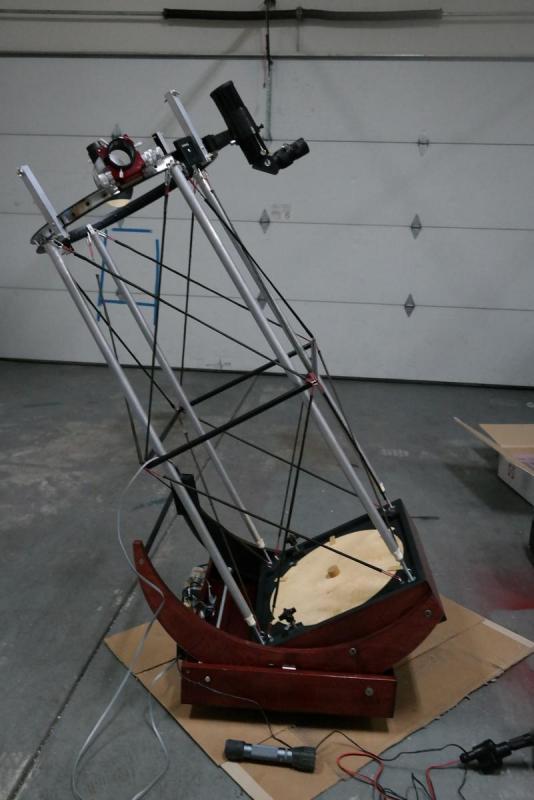 Edited by mrcotton73, 12 September 2017 - 12:34 AM.