I have been trying to post in CCD imaging forum but there is not much in terms of feedback there. So back to the tried and trusted place for feedback.
This year I have been working on bright targets at longer focal length to keep acquisition easier and it is very enjoyable

.The camera is ASI1600MM-Cool @unity gain and the scope is Edge11 at native focal length of 2800mm. my setup is waay oversampled at 0.28 arcsec/pix. Yes, I do read about optimal sampling and seeing .. but it is what I have and it seems to be working quite well. The seeing has been very good lately with almost no wind here in austin and the mount is having a pretty good time tracking typically under 0.4 arcsecs. I do see some elongation in RA when seeing is bad, but it is still manageable.
This is a SHO mapping of M1 . This target has pretty good signal in all three channels resulting in psychedelic colors after the mix. I also have two other mixes that are more sedate but I still prefer this. This is a bright target and is quite forgiving with shot subs (5min subs for all three channels).
I threw about 2 nights worth of subs and kept only the sharpest ones. Even minor deconvolution gives it a over sharpened look. I will also post the other two mixes I have with sedate colors.
C&c welcome as always
Compressed CN version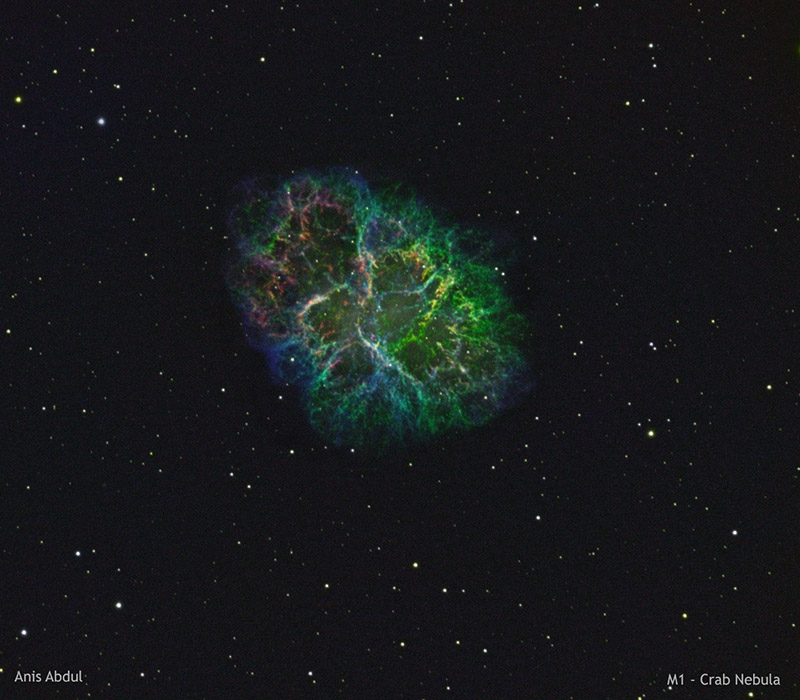 AB Version