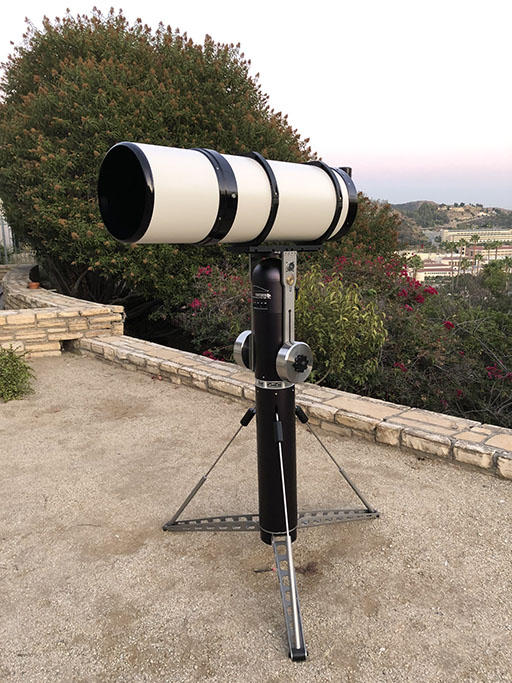 I finally got decent seeing without clouds. Here is the AP Mak on the Panther TTS 160. The photo angle is unusual, and then I realized that I had to reverse the scope on the mount.
There were some vibrations, acceptable to me and my friends but some would not be as happy. I think this scope is at the upper limit of this mount's capacity. I am going to try to get a smaller and shorter dovetail which should help things. Loading and unloading the scope horizontally is a joy. The mount works beautifully with its step and slew functions.
The seeing varied between 3/5 and moments of 4/5, and the temperature dropped 10 degrees in 2 hours. Initially, I had the back on the scope but after a while I exposed the mirror to the night air. The scope followed temperature changes fairly well, much better than a big 8-9" refractor but not as well as a 4-5" refractor..The night was not good enough at mid to lower altitudes to allow high enough powers to really test the scope, but Jupiter and Saturn had moments of great clarity at 167x. I did an abbreviated star test at 295x near the zenith and saw similar patterns to the Maksutov images in the second edition of Suiter. The Maks have some high order balanced spherical aberration that detracts little from the Strehl but causes asymmetry in the test, and that mixed with less than perfect seeing and some thermals made it more difficult to interpret. In the first version of the Mak, Roland spent a long time aspherizing some of the surfaces because he was afraid of what the star testers would say, but it made no difference at the interferometer. Here is an ancient post and thread that discussed these things (unmoderated discussions have huge flame wars but are interesting at times). Note that this was before the second edition of Suiter came out, and I am sure the chapter in the second edition was in part inspired by this discussion. I am mainly posting this so people who see an asymmetric star test don't freak out.
https://groups.googl...04/cDZl3wbrjb8J
In any case, I'm going to concentrate on in focus images with this scope but I will need to wait for next year spring for good planet seeing.
Derek
PS The mechanics of this scope are amazing, as they should be!
Edited by Derek Wong, 01 September 2019 - 11:26 AM.