I recently started a thread on the SSO Forum where is shown the first view on this attached here.
https://www.cloudyni.../#entry8117915 
Extract "... picking Mercury up in the 16.3" much of the aperture was destined to be masked by the fence so rather than endure a slowly increasing irregular 'triangular' aperture I applied the 6" off-axis mask.
Still much atmospheric dispersion at that time but as usual this was nicely countered by the orange #22 filter (a #21 is almost as effective).
Went to full aperture as it cleared the fence: just at the point when the rising sun seems to whip up some turbulence. BUT...time and again I have found that there is often a marked settling a little while after sunrise; then after some 20-30 minutes a more serious breakdown – often sudden...
As mentioned there the initial view was with the 6" Off-Axis mask on the D-K + #22 filter: and yesterday morning another, and better, view with that setup.
Alas this time thick fog came up as the sun climbed – so no full-aperture view. But that first view of yesterday is shown here below the full aperture one from Sept 19; and it was at that point that the seeing was near perfect....

This had been a night of improving definition with marvelous views of all sorts in Orion after a rendering of the Lynx Intergalactic Wanderer globular – to follow here.
Dave.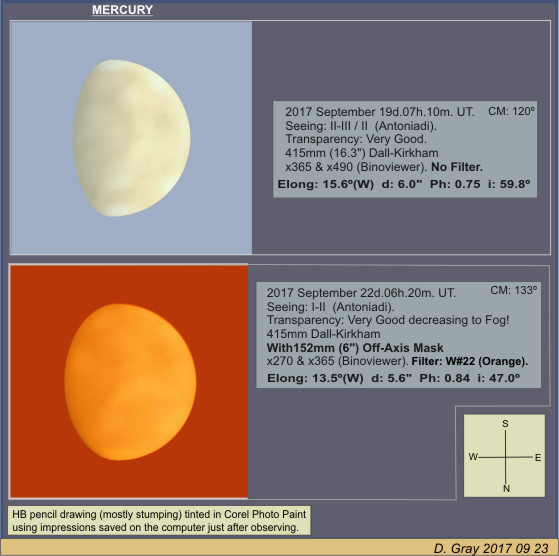 Edited by David Gray, 23 September 2017 - 02:25 PM.