I've been fooling around with arcsinh tool in PI for a couple of months now. It's superior to maskedstretch in every way doing a better job of retaining star color and size while not resulting in a very flat image. Another benefit of arcsinh is that unlike HT, arcsinh does a remarkable job at retaining color saturation during the stretch. It's so good at retaining color saturation that sometimes there is too much color to effectively process the stretched image!
While HT has a tough time contolling stars and retaining color saturation, one thing it does a great job at is producing a nice contrasty image. Nebula detail is easily drawn out of the ether, but at the detriment of color and star size.
Tonight, I decided to try a combination of the two to see what would happen. With only one attempt at the following method I was really pleasantly surprised with the result! With some effort optimizing the settings of each method before combination I think even superior results can be achieved. You can have your cake and eat it too.
I'm posting about this in hopes it helps as a starting point for others who struggle with finding a balance between star size, image contrast and color saturation when stretching. With some fiddling, you might find this useful.
Here is what I did:
1) Prepared my channels for combination (Ha, Sii, Oiii). I combined with PM using a custom PM blend. (Here it is in case you care: R= .4Ha+.6sii G= .4Oiii+.3Ha+.3Sii B=Oiii)
2) Created clone of the resulting RGB image
3) Applied a maximum arcsinh stretch to one of the clones. (below on the left)
4) Applied a custom HT stretch to the other clone. (below in the center)
5) Combined the two stretched images with the PM expression pictured below, which resulted in a NEW RGB (below on the right)
The new RGB had much better color, contrast, and star control than either of the other methods. Stars also retained color.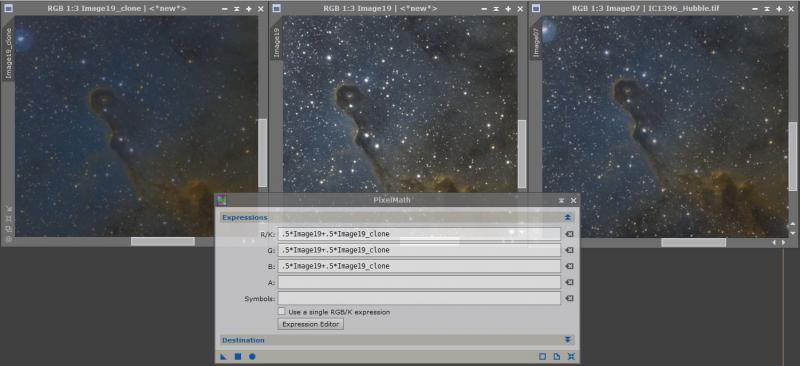 Here is a very fast process on the resulting image to show you what I was able to easily achieve. I plan to go back and do a careful process with Decon, NR, colors, etc.... Just wanted a quick and dirty to show what I was able to get with this combined stretching method.