Unexplained Issue with Darks over 30s
Was imaging 2 weeks ago and just starting to pre-process this week when I discovered an unexpected problem with Dark frames over 30s long. I am capturing with Nebulosity using Hyperstar on a 9.25SCT with a QHY10 so my exposures are 30s-120s. All exposures are gain=0, offset=130, temp = -15. Have used these settings forever with no issues.
I have never experienced this problem before; been troubleshooting all week without resolution.
I just ran a test routine this evening and here are the results (table below):
• All Light frames at any exposure are OK
• All Bias frames are OK
• All Darks under 30s are OK
• Some Darks @ 30s are OK, some go to 702/1404-1436
• Every Dark frame above 30s reverts to 702/1404-1436
Anyone can download and view sample fit files here: https://drive.google...emM?usp=sharing
Nebulosity preferences are set to save the file as a 16bit fit file. I have never changed this. Auto-stretch is left checked on the histogram as Nebulosity captures the series of frames and auto-saves the files to the folder. When Nebulosity has completed the series, I can then re-open any file in the folders.
The problem is just with Darks over 30s. Example: In Nebulosity during capture (actual Cygnus Lights for example, not test lights), the auto-stretched histo on a 120s exposure might be is 1170/46000 and on a 60s exposure 730/22000. But when the fit files are re-opened for pre-processing, the auto-stretched histos for every Dark frame @ 30s, 60s and 120s have all changed to 702/14041436. Not sure if there is any significance of these specific numbers.
There are no problems with Lights @ 30s, 60s and 120s, and no problems with Bias frames or Darks under 30s.
No light leaks (I put foil tape over lens cap), no bad cables, tried shorter cable. QHY10 is using the QHY10 driver.
The only thing that is different since before this problem occurred: I installed a QHY5LII-C guide camera, using the CMOS QHY5 ASCOM driver for PHD2 and updated ASCOM platform to most recent (I think its 6.2)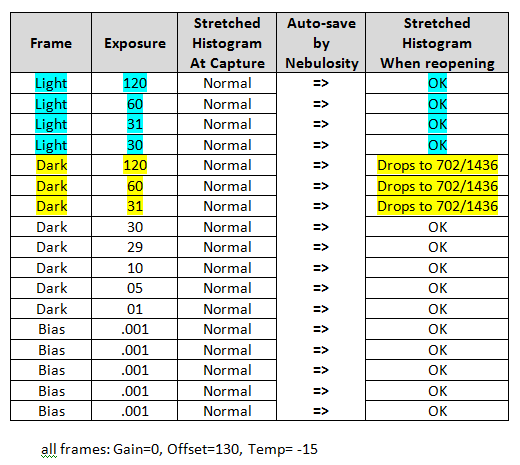 Edited by mat_64, 13 October 2017 - 11:01 AM.